"Check him out" seems to be the one liner that will define Narendra Modi's meeting with Donald Trump Monday, June 26 - a meeting of minds, a chance to exchange pleasantries, maybe invite Trump to visit India and so on which leaves the nitty gritty to the bureaucracy rather than get into detailing on thorny issues in the very first face-to-face.
"Let's say Modi does bring up H1B and Trump says we welcome high skilled workers but the lottery must not be gamed and Masters' degree holders must get priority, what do you say to that? That's not the kind of start you want if Trump stays his full term", say sources close to the #ModiTrump backroom.
Yet, avoiding thorny issues entirely does not work for Modi the politician, fresh from a thumping win in the Uttar Pradesh election that left the Opposition in tatters.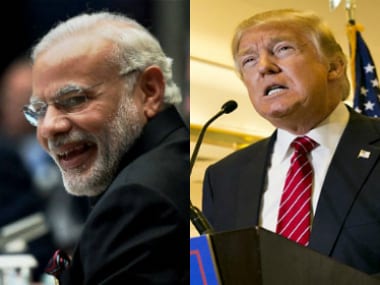 So far, the chaos in the Trump White House has played well for Modi's upcoming trip: Dates were finalised after the Comey testimony because "you know how unpredictable things are", Trump's choppy meeting with Merkel was followed by Modi's smooth sailing in Europe, the spotlight remains firmly on Trump's unpredictability and therefore the black swans that may emerge from the Indo-US face to face.
Sure enough, think tankery is on overdrive ahead of the Modi Trump meeting and here is a collection of views from those closely following Indo-US relations.
"In fact, the whole point is NOT to have any big bangs", says Dhruva Jaishankar, Foreign Policy Fellow at Brookings India on his Twitter handle.
Hot off the press is the Brookings special report 'India and US in the Trump era' where Dhruva Jaishankar writes on how India can hedge its bets. "India will have little choice but to explore alternatives to the U.S. partnership. When it comes to India's development, the United States remains the most important external actor, both in terms of the depth and breadth of collaborative efforts. But India will likely seek alternatives with Japan, Germany, China, the United Kingdom, France, and Russia, as countries with the scale and potential to contribute to India's development, particularly in areas in which they hold comparative advantages", writes Jaishankar.
Daniel Twining of the German Marshall Fund of the US on disasters that may befall "spheres-of-influence" geopolitics:
"A real-world and real-time example of what happens when American power retreats in an effort to encourage regional powers to solve their own problems is the mess in Syria. It has produced the greatest refugee crisis since 1945 — a stain on the consciousness of human civilization — and has led many to conclude that the Middle Eastern order of states dating to the end of World War 1 is collapsing."
Alyssa Ayres, Senior Fellow, Council on Foreign Relations, on the three issues she is watching out for:
"It would be good to see if they announce anything further on defence and and security partnership - that was a big headline of PM Modi's visit to the US last June where it was announced that India has become a "major defence partner." How can that move forward? We've been urging for years that one very helpful thing the US could do is to get India into APAC for India's integration on the economic side. It'll be interesting to see if both countries have something to say on Afghanistan. There's obviously a big concern in the US on our own troop presence in Afghanistan. India is the Number 5 bilateral donor, has a very good relationship with the political class in Afghanistan, has a lot of infrastructure expertise. How the US and India can partner to bring more stability to the region - these are the areas I would be looking at. And yes, I would be surprised if the H1B visa issues does not come up. This is not a new issue, it's been ongoing and there have been complaints on both sides. The leaders will talk about it, I think."
Srinath Raghavan, Senior Fellow, Centre for Policy Research,  on "fluidity of summit visits":
"A great rapport does not mean you translate it into policy as well. Thing don't align automatically. Ever since Rajiv Gandhi's time or certainly Atal Behari Vajpayee's time, the assumption of US-India relations has been about accepting that American domination of the international system will work in India's interest as well. That was the key switch which happened. The challenge for India is going to be that if the United States itself is no longer prepared to play that kind of hegemonic role by which I mean you have to do things that are not in your short term interest - take Bretton Woods for example where everyone had floating exchange rates vis a vis the dollar but the dollar was on hold. That means there were very serious constraints on what America could do with their own domestic economy but it gave freedom to others. Similarly, you allow other allies in Europe and East Asia to have protectionist policies in their markets but give them access to American markets. None of these things are uncontroversial. But the United States believed that upholding the alliance system that it wanted meant that you had to deal with asymmetric costs. Now that assumption is what Trump is challenging. He is either saying that we have run out of that period of systemic gains or that short term gains matter. This is the first problem. The second problem as I see it is not Trump's transactional nature, it is that there is no interrelation between tranches of policy. So you can blast India on climate change but you say that we'll work with India on Asia Pacific markets. So they're not saying, listen, can there be segmental trade offs or compromises. Every policy has some transactional element but the question is whether the whole is more than sum of parts or now. Is it a discreet set of transactions that need to be added up - a bookkeeping exercise, or is it a strategic exercise where you are consciously willing to make some trade-offs. So yes, in the context of China's rise in Asia, there will be a role for India but whether that will be put in a wider context like how Obama or George Bush did....? From India's side too, there's a limit to what we can do in terms of quid pro quos."
Updated Date: Jun 15, 2017 21:21 PM