Modi-Sharif meet: Why it needs to go beyond a mere photo-op
While the Ministry of External Affairs termed the meet as 'substantive', Sharif himself held a press conference in New Delhi and called it a 'historic opportunity' for both countries.
It was a first when Prime Minister elect Narendra Modi invited Pakistan Prime Minister Nawaz Sharif to his swearing-in ceremony. Now a day after taking his oath, after meeting his Pakistani counterpart, Modi has grabbed media attention not just in India, but in Pakistan as well.
While the Ministry of External Affairs termed the meet as 'substantive', Sharif himself held a press conference in New Delhi and called it a 'historic opportunity' for both countries.
"I stressed to Prime Minister Modi that we have a common agenda of development and economic revival, which is not possible to achieve without peace and stability in the region. I urged that together, we should rid the region of instability and insecurity, that has plagued us for decades," Sharif said.
There have been many such goodwill meets between the two countries earlier which have brought no solution to the issues. In the light of past events, can this meet be termed more than just a photo-op?
BJP MP Chandan Mitra during a debate on CNN-IBN said, "It is simply a good beginning and a great initiative that Narendra Modi took. I don't think it is a game changing event. Pakistan is now on trial."
"This is not yet a full fledged dialogue. Lets see how Pakistan reacts. Lets see whether Pakistan acts on the concerns spoken of in the meeting," he added.
Former Pakistan minister Senator Tariq Azeem Khan retorted saying, "Nobody is on trial. Neither should we put too much expectation on this meeting. We may say it is a photo-op plus. We are satisfied with the meeting. We did not expect a break through. They will have many more opportunities to meet in future."
However when asked if Pakistan was willing to keep their word on the commitments made during the meeting, he said, "We have always maintained that we are against terrorism. Pakistan has been a victim of terrorism. There have been non-state actors who act without the consent of the government. We have also said we will not allow Pakistan to be used as a ground for terrorism."
Meanwhile former diplomat KC Singh said, "When a seasoned politician like Nawaz Sharif says it was a good and constructive meeting we should take it for what it is. They have definitely broken more than ice. We can call it talks about talks. It is good that both sides are being cautious and sticking to the script. They should let the foreign secretaries take it from here."
During his campaigns Modi had maintained an eye for an eye attitude when it came to India's troubles with Pakistan. Does the gesture of inviting SAARC leaders to his swearing-in an indication that he has matured as a statesman?
Former editor-in-chief of The Hindu N Ram said, "We have to see this in positive light from both sides. Concerns are being raised and they are handling it maturely. Both PM Modi and Sharif deserve praise."
Is the Congress party too influenced by Modi's move? Party spokesperson Abhishek Manu Singhvi said, "I don't think any one in his right mind can criticise the initiative. However all the hype must be separated from it. The core of it is that nothing much has happened and nothing much can happen at this time."
"Any attempt to create a good atmosphere is a good thing. It is just a re-statement of old statements. It has to be carried forward and taken slowly," Singhvi said.
The BJP had always maintained that dialogue between India and Pakistan can only take place when Pakistan keeps its commitments on terrorism and the ceasefire on the Line of Control. These issues, as expected, were brought up during the meeting. What happens if there is another terror attack? Will the BJP change its tune?
Mitra said, "Our policy will evolve. Today Modi has put across his concerns very clearly to Sharif. And Sharif knew these concerns. This has been said by the previous governments as well, but I don't think the Pakistanis took the other governments seriously. Let us see if they do it now."
When asked if Pakistan did take Modi more seriously than his predecessor Manmohan Singh, Khan said, "We have no say on who gets elected in India. It is your business. But obviously if someone gets elected with such majority then he will be able to take tough decisions."
Not taking the criticism against the Congress government lying down, Singhvi said, "It is most unfortunate that Chandan Mitra has virtuously insulted India. In foreign policy to make such a statement is ridiculous. Other countries engage with us as India. We have had coalition governments in India since 1991. It would be saying that Indian foreign policy has been croaky since then. No country takes India less seriously whether it is government A, B or C."
Terming foreign policy as a river, former diplomat Singh said, that one cannot say there were taking it over from only a particular point. "Manmohan Singh was PM for 10 years. Composite dialogue was started by IK Gujral. There is also a problem on the Pakistani side. Sharif keeps going back to 1999 Lahore. Does that mean everything done by Musharraf will be overlooked?" Singh asked.
Despite the promises made by Pakistan earlier, the feeling in India is that the country is run by the Army and not by the prime minister. Criticising the Indian media over such statements Khan said, "Indian media can be so hawkish that it spoils the party. We had a good time and a good talk. I think that must augur well for the future."
Ram, agreeing with Khan said, "That criticism against the media is justified, It is not only hawkish but also inaccurate. I think we cannot underestimate Manmohan Singh's fine instincts on relations with Pakistan. He clearly wanted to continue the dialogue, but it just wasn't possible. It is simplistic to say that Pakistan will take Modi seriously than Manmohan Singh."
Singhvi meanwhile said, "There is perhaps no one in the recent past who has pushed the envelope on the table on relations with Pakistan farther than Manmohan Singh. There has been a view that he was pushing too far. It would be arrogance par excellence for someone who is in government for one day to swipe off his work."
Find latest and upcoming tech gadgets online on Tech2 Gadgets. Get technology news, gadgets reviews & ratings. Popular gadgets including laptop, tablet and mobile specifications, features, prices, comparison.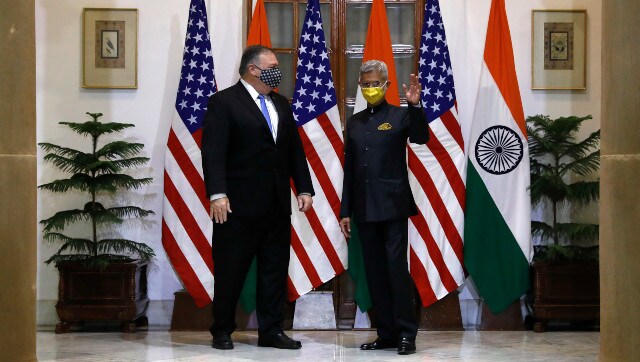 India
The focus on convergences and its institutionalisation through dedicated frameworks alleviates the pressures on the two sides to urgently contemplate formalisation of ties.
World
At last count, Donald Trump trailed Joe Biden 43 percent to 51 percent in national polls and was behind in every single battleground state apart from Ohio and Texas
India
The Delhi government has announced emergency measures from 15 October and set up a war room to monitor stubble burning and the resultant deterioration in air quality