Modi sets stage for Sushma Swaraj-led Pak smackdown at UNGA
India's prime minister Narendra Modi has set the stage for a fiery Sushma Swaraj smackdown of Pakistan's 'terror export' at the UNGA Monday in New York City.
India's prime minister Narendra Modi has set the stage for a fiery Sushma Swaraj smackdown of Pakistan's "terror export" at the UNGA Monday in New York City.
Swaraj is third in line to speak on the final day of the general debate which has run from September 20. Oman is first up at 9 am EST (6:30 pm IST same day), followed by Bahrain and then India.
Indian MEA officials in New York confirmed that Swaraj's speech will be around 7 pm IST. Even if there are delays, it's most likely well before 9pm IST because the entire list of 18 speakers have to wind up by around 11 pm IST. There is no layover session scheduled for Monday which coincides with the date of the first Clinton versus Trump presidential debate.
Watch Sushma Swaraj speech live here on Sep 26: http://webtv.un.org
For the short-lived shock value of Nawaz Sharif tirade delivered on September 21, India has delivered two deep gashes in the same week across geographies - Eenam Gambhir from India's permanent mission to the UN delivered the 'Ivy League of terrorism' rebuttal at UNGA, Prime Minister Modi made a powerful case for strategic restraint - "ask your leaders: both our countries got freedom together, so why does India export software and your country export terrorists?" - and now it's time for closure against the familiar green marble backdrop at the UNGA pulpit.
Most unlikely that the Sushma Swaraj coup de grace will be tame stuff.
Links: Modi first speech after Uri attack
That India has a 3 million strong diaspora in the US and India's economy and its brainpower are wooed aggressively by America is no secret on the world stage. If the Hillary versus Donald debate on the same night in New York is likely to grab a TV audience of 100 million at best, the Swaraj speech will be a runaway winner even on raw or repeat viewership metrics across both traditional and social media platforms. Modi's speech clip from Kozhikode has 500,000 views by Sunday evening EST and more than 3,000 shares which will grow at an average of 3x not possible with cable TV. Eenam Gambler's speech posted on Facebook has 130,000 plus views and 2500 shares by the same time.
As India's top diplomats are saying, "that Pakistan's speeches are not finding resonance means something horribly wrong with their diplomacy."
Although the theme of the general debate at UNGA's 71st session is Sustainable Development Goals" and a 'universal push to transform our world', it's by now well known that preaching from this lectern is becoming hyper local as politicians seek to reach their national audiences and settle scores in their neighbourhood.
Modi on Uri attack
Modi's speech in the southern Indian city of Kozhikode was his first since 19 soldiers were killed in an attack on an army base in Kashmir last Sunday.
Maps and weapons from the bloodstained attack site bear the stamp Jaish-e-Mohammed, an outlawed militant group based in Pakistan.
Pakistan, of course, denies the charge, like it does for the Pathankot attacks on New Year's day 2016, like it does for the Mumbai attacks in 2008 and so on. Pakistan's official line is that it provides political and diplomatic support to insurgents who have been fighting for Kashmir's independence from India.
"Let me tell Pakistan that the sacrifice of 18 Indian soldiers will not go to waste," Modi said in Kozhikode.
"There is one nation in Asia whose aim is to spread terrorism and is working toward ensuring that the 21st century does not belong to Asia," he said, referring to Pakistan. "Every nation is holding only one country responsible for terrorism. Only one country in Asia is a safe haven for terrorists."
Modi's speech follows soon after the verbal flogging of Pakistan scripted by the permanent mission in New York under Syed Akbaruddin's leadership - "When practiced as an instrument of state policy it (terrorism) is a war crime. What my country and our other neighbours are facing today is Pakistan's long-standing policy of sponsoring terrorism, the consequences of which have spread well beyond our region.
Read together, both Modi's and Eenam Gambhir's statements give you a sense of exactly how lethal Swaraj's final cut will be on Monday. Chances are it'll trump the pyrotechnics of the Hofstra debate later the same night.
Politics
Jammu and Kashmir: Differences emerge among Jammu and Kashmir politicos as Narendra Modi extends olive branch, including necessitating the restoration of Article 370 as a condition for the resumption of any political engagement with the Centre on Kashmir read all about it on Firstpost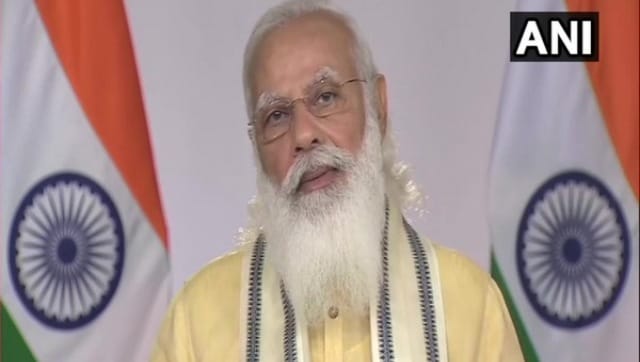 India
In his address, Modi sought the support of the G7 countries for a proposal moved at the WTO by India and South Africa, for patent waiver on Covid related technologies
India
Modi also conveyed his 'profound gratitude' to Benjamin Netanyahu, whose long tenure as Israeli prime minister ended on Sunday