Modi meets Trump: Despite differences, leaders bond over anxieties about China, distrust of Pakistan
If relationship experts were to write about Prime Minister Narendra Modi and US President Donald Trump, they would have concluded that both are definitely from different planets, perhaps from Mars and Uranus.
If relationship experts were to write about Prime Minister Narendra Modi and US President Donald Trump, they would have concluded that both are definitely from different planets, perhaps from Mars and Uranus.
The prime minister won an election that he was widely believed to dominate from the moment he entered the fray because of his image of a reformer and a dynamic administrator who would rid India of the corrupt establishment and revive its growth story. Within his support base, he was seen as an ascetic, sort of karma yogi, who put the country's need ahead of his own and, in his dedication and devotion to the job, renounced all familial ties and bonds.
If Abraham Lincoln rose from a log cabin to the White House, Modi's journey was no less inspirational. In popular perception, the son of a tea-seller, demolishing the ruling elite of New Delhi and becoming the face of an assertive and aspirational India was the stuff of legends.
In many ways, Trump is what Modi isn't.
To begin with, he won an election that was predicted to lead to his defeat. He marched into the White House without an iota of experience or history of holding a public office. Unlike Modi's 'Nation First' philosophy, Trump was more a poster man for an ''I, Me and My Family" credo. His history of history of running businesses that profited through evasion of tax and putting his family at the forefront, leading to charges that his children have benefitted from his office.
Trump, unlike Modi, rose from a privileged background — a wealthy billionaire, who led a life of extravagance and had a controversial history with many women. His election was seen more as a reflection of the American angst, frustrations and fears, instead of the deserved denouement of Trump's political life.
So, how does a guy from Mars gel with a guy from Uranus? On evidence put out in the public domain through choreographed chemistry, warm handshakes, bright smiles, uproarious laughter, mutual admiration and awkward hugs, it seems the two leaders of the world's largest democracies hit it off quite well.
At White House on Monday, the two leaders radiated warmth, showered effusive praise over each other and called each other true friends, virtually taking off from the bromance between Modi and Barack Obama, even though the America of Trump looks very different from that of his predecessor.
Having Modi in Trump's good books would not hurt India, especially because of the unpredictability of the US president and his unconventional politics. Many experts believe Trump's decision-making is inspired less by strategic, diplomatic or economic concerns. He invests more in personal relations — Trump's fascination for Vladimir Putin is routinely held up as an example — and takes vital decisions on the basis of his chemistry with other leaders.
Considering the bonhomie on display during the Modi-Trump meeting, India can be quite optimistic of its chances with the US president. If Trump really intends to treat Modi as a "true friend", sees India as an ally in the war against terrorism and radical Islam, he might just make some vital relaxations in his "America First" policy.
Early signs suggest two things. One, that the Trump administration is willing to address India's concerns on Pakistan and terror. Just before the meeting, the US declared chief of terrorist organisation Hizbul Mujahiddin, Syed Salahuddin a global terrorist. Then, in a joint statement, it asked Pakistan to not allow the use of its territory for terror attacks. These are welcome developments for India.
Secondly, it is clear that Trump wants to balance China by flirting with India. The two countries agreed on Maritime cooperation in the Indian Ocean, a move primarily aimed to keep China under check. The US also approved sale of drones to India — the first non-Nato country to be accorded the privilege — to help New Delhi keep a close watch on the Indian Ocean and Chinese submarines that may eye the waters. A joint maritime exercise with Japan joining the two countries is also in the offing, primarily to signal to China the rise of the new axis.
"I also thank the Indian people for their contributions to the effort in Afghanistan, and for joining us in applying new sanctions against the North Korean regime. The North Korean regime is causing tremendous problems and is something that has to be dealt with, and probably dealt with rapidly," Trump said in his statement. This was a clear message to both Pakistan and China, who have not been so eager to address the US concerns about these two regions.
Trump, of course, wants to tell the US that he is using his clout to address the US business concerns. He said his country wants to benefit from the growth of the Indian economy and its appetite for defence deals.
"I was pleased to learn about an Indian Airlines recent order of 100 new American planes, one of the largest orders of its kind, which will support thousands and thousands of American jobs. We are also looking forward to exporting more American energy to India as your economy grows, including major long-term contracts to purchase American natural gas, which are right now being negotiated, and we will sign them. Trying to get the price up a little bit,' Trump pointed out in an apparent underlining of his America First policy.
It is evident that in spite of the differences in their personalities, Modi and Trump share a lot in common — their anxieties about China, distrust of Pakistan, hardcore base of "nationalist" supporters and, of course, the desire to be the world leaders in social media.
Monday's meeting showed that two leaders from opposite ends of the spectrum can find a common meeting ground. Both metaphorically and geographically, the East could remain the East, and the West could remain the West. But the twain can indeed meet.
World
The new rules replace a hodgepodge of restrictions that had barred non-citizens who had been in certain countries in the prior 14 days from entering the US
World
Since taking office, US vice president Kamala Harris has met with or spoken to over thirty world leaders, promoting US interests on issues ranging from global health to climate change to cyber threats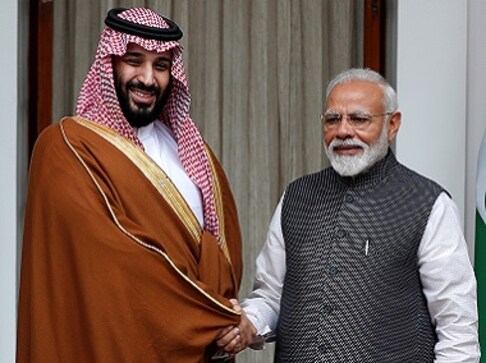 World
India's ties with Saudi Arabia, one of the world's leading oil producers and host to nearly three million Indians, have generally been on an upswing