Modi govt getting impatient with Mehbooba Mufti's handling of Kashmir unrest
Every headline about death and blinding of young Kashmiris is a handy diplomatic tool for Pakistan to beat India with.
In a series of meetings held recently on internal security chaired by Union Home Minister Rajnath Singh, everyone seemed to agree that the situation in Kashmir is deteriorating by the day. Just two days earlier, Rajnath Singh had expressed his frustration when he demanded to know what was so difficult about identifying and arresting stone-pelters in order to avoid the continuing unrest on Srinagar's streets.
The protests have been leading to clashes between citizens and security forces leading death and blinding of dozens of youth, in turn stoking more anger, more clashes and more casualties. The unrest has now continued unabated for more than 40 days and the state government has been felt more by its silence and absence.
Those attended the meeting nodded in agreement but did not have an answer to the rhetorical question asked by Singh. It was an extraordinary meeting attended by National Security Advisor Ajit Doval, home secretary, secretary Research and Analysis Wing (RAW), Director Intelligence Bureau (DIB) and officials responsible for coordinating and collating the data. But there seemed a grudging recognition of the fact that Jammu and Kashmir Chief Minister Mehbooba Mufti is too mild-mannered to cope with the "muscular approach" of the the Central government.
Does it mean that the Jammu and Kashmir is heading towards another stint of President's Rule? If the straws in the winds are any indication, the Union government is in the mood for taking a direct control of the situation in the valley in consonance with its rather "audacious" (in the words of a top official) shift in its Pakistan policy. If one looks at the manner in which the situation has been unfolding in Jammu and Kashmir, Prime Minister Narendra Modi's reference to Balochistan, Gligit and Pakistan occupied Kashmir (POK) did indicate a method in "perceived madness".
Also Read: Army to secure key highways, start moving convoys during day in Kashmir valley
The Union government is acutely aware of the fact that the situation in Jammu and Kashmir is critical in determining the contours of India's relations with Pakistan. It is in this context that Mehbooba Mufti's soft pedaling on stone-pelting is frowned upon by mandarins of North Block (office of the home ministry). Sources in the government say that a heavy deployment of army and Central paramilitary forces is on the cards in the valley to bring the situation under control.
By all indications the government is determined to deal with the situation strictly as law and order problem. With militants stepping up attack against security forces in the valley, the "healing touch" approach will stand postponed till Kashmir quietens down. Now that India's "concern" for the denial of rights of Balochistan is part of its avowed policy, the Centre does not want headlines of similar nature to emanate from the valley. That is why the Centre is getting impatient with Mehbooba Mufti.
Every headline about death and blinding of young Kashmiris is a handy diplomatic tool for Pakistan to beat India with. The government's new "muscular foreign policy" has added a new dimension to the urgent need for peace in the valley. That is why strategic thinkers and foreign policy experts are skeptical about the efficacy of this new policy.
Foreign Secretary S Jaishanker on Wednesday sought to suggest that the external affairs ministry was trying to align its thinking to the new policy shift when he described Pakistan as a "unique challenge". The implicit message was that Pakistan needs to be tackled in a manner which may not conform to norms of conventional diplomacy. Yet the whole episode has raised serious concerns for diplomats in South Block to grapple with, which are as follow:
1. How much will we gain by raising the Baluchistan issue?
2. Are we ready for a tit-for-tat policy to openly encourage unrest in Pakistan?
3. Will it not lead to escalation of tensions in South Asia, raising the specter of nuclear war?
4. We have so far maintained that Kashmir is a bilateral issue. Will not the emerging situation internationalise the issue to India's disadvantage?
What appears to have particularly rattled foreign policy experts is the possibility of squandering away "diplomatic credits" India has won internationally on the issue of terrorism. The UN Human Rights Commission has already demanded access to Kashmir in India and Pakistan to assess the human rights situation. As there is no sign of let up in prohibitory orders, the continued clashes in the valley resulting in 65-odd deaths is bound to raise the hackles of international community much to the discomfiture of India.
Those who dealt with Kashmir and Pakistan issue point out that it would be rather naïve to look at Kashmir issue like problems in North East, particularly Nagaland, which has a long history of insurgency. The reasons are not far to seek. Unlike Nagaland, Kashmir involves two nations and there is a Security Council resolution on the issue. What makes Pakistan distinctly different is the fact that the issue has been gradually acquiring the feature of Jihadist struggle, backed by a powerful Umma (Islamist fraternity). In this context it would be wrong to assume that Iran, Saudi Arabia, United Aram Emirates (UAE), Egypt and Turkey would support India and not Pakistan on Kashmir issue.
Then why did Modi play this card? Sources in the government feel that Modi seemed to have exercised this option when all other options failed. Recall the visit of Modi to Lahore in which he told Pakistan Prime Minister Nawaz Sharif to walk on the road to peace and prosperity instead of war. Modi was extremely cautious when the Pathankot attack happened and directed officials not to push Pakistan to a corner by blaming it without evidence. Even subsequently the government avoided to engage in mutual recrimination with Pakistan and allowed Pakistan's team for on the spot investigation. Pakistan however did not reciprocate and barred visit of India's NIA team.
That explains the foreign secretary described Pakistan a "unique challenge". Obviously Modi's audacious move has hugely upset the conventional diplomatic equilibrium in the subcontinent. It has unambiguously dragged down the rhetoric to a street-fight level which constricts the manoeuvring space for diplomats. That in part could be one of the reasons why the Central government wants a quick handle on the situation in Kashmir. For that it seems to be in mood to take direct control of the situation in the Valley to bring the heavy hand of the Indian state to bear on anti-India sentiments.
India
His comments at the first meeting of the MultiAgency Maritime Security Group came amid growing concerns over China's increasing forays into the Indian Ocean, considered the backyard of the Indian Navy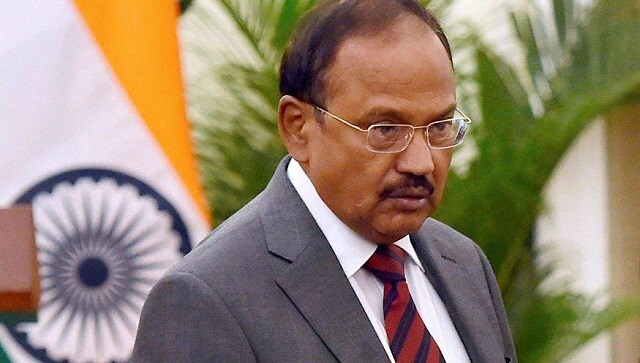 India
Ajit Doval talked about external security measures taken by India after its border standoff with China.
India
'I think protest, raising voice is justified in a democracy but violence and vandalism will not be tolerated, the National Security Advisor added