The scene shifted from New York's Hofstra University (presidential debate on 27 September) to Longwood University in Farmville, Virginia, where potential vice-presidential candidates Tim Kaine (Democrat) and Mike Pence (Republican) locked horns. Before the debate began, analysts on CNN' Anderson Cooper 360° spoke of how people were expecting this battle of the potential veeps to be a far more substantive affair than the Hillary Clinton-Donald Trump scrap. While noting that that's what Americans expected, they did wonder whether it was was really something Americans wanted.
One man, clearly, did not think much of this analysis and so, took to Twitter:
Wow, @CNN is so negative. Their panel is a joke, biased and very dumb. I'm turning to @FoxNews where we get a fair shake! Mike will do great

— Donald J. Trump (@realDonaldTrump) October 5, 2016
Nevertheless, Anderson Cooper's panelists needn't have worried, because their conundrum was rendered moot by the 90 minutes that followed.
It would be harsh to term Wednesday morning's (IST) event an 'exercise in tedium', but it almost was. After respectful exchanges at the start, the mood quickly changed and we were treated to this exchange:
Kaine: The thought of Donald Trump scares us to death... Hillary is a sharp contrast to Donald Trump, who always puts himself first.
Pence: Senator, you and Hillary Clinton would know a lot about an insult-driven campaign… Syria is a result of the failed and weak foreign policy Hillary Clinton helped create. Russia-…
Kaine: You and Trump love Russia!
Pence: The Hillary Clinton-Tim Kaine campaign has been an "avalanche of insults"
Kaine: You are Donald Trump's apprentice.
Naturally, some sections of the transcript have been omitted for brevity, but it gives an idea of the sort of mission both men were on. They were likely tasked with the job of building on the points won (largely, in the case of Kaine) and limiting damage caused (largely, in the case of Pence) by their respective running mates in the first debate. And for the large part, they stuck to that part. Kaine, on his part, spared no efforts to drive home the issue of Trump's statements against women and minorities, his unpaid taxes and his admiration for Russian president Vladimir Putin. Pence, on the other hand, steer deftly clear of defending his running mate, but flagged former secretary of state Clinton's 'failed foreign policy' in Syria and Iraq, her private email server and apparent softness on immigration.
The candidates
As the debate wore on, one thing became abundantly clear: Pence and Kaine, at least to the untrained eye, appeared to be on the wrong ticket, nay, in the wrong party (albeit, stylistically).
And it began with their sartorial choices, with Kaine opting for a red (a colour closely associated with the Republican Party) tie and Pence going for a blue (a colour closely associated with the Democratic Party) one. But beyond the superficial, it was the demeanour of the vice-presidential candidates that seemed to align with this particular observation. Pence was calm, composed, polite and hardly ever appeared to lose his cool — he came off statesmanlike and slightly Barack Obama-esque. Kaine, however, was rabid, hyperactive, excitable, constantly interrupting his opponent and at times, seemed awfully smarmy — he came off like a mini Rush Limbaugh or an Arnab Goswami with a much happier disposition.
One Trump supporter — whose tweet was very generously retweeted by the Republican candidate himself — took a slightly different view:
"@Jnelson52722: @realDonaldTrump @Susiesentinel Kaine looks like an evil crook out of the Batman movies"

— Donald J. Trump (@realDonaldTrump) October 5, 2016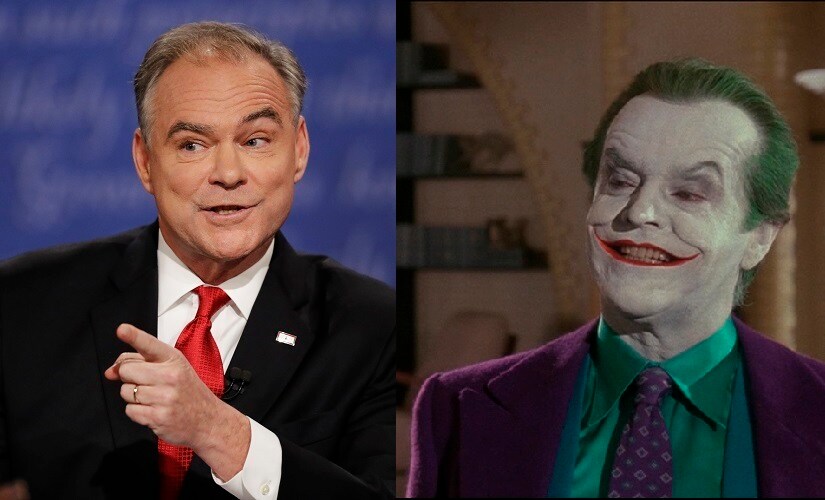 Maybe it's the smile or the eyebrows, but beyond that, we can't really see it. Instead, he seemed to come across a lot more like Gil Hicks (who majors in the fine arts and Greek Mythology from Rutgers and appeared as suitor number three on Truth or Date in the film Mallrats), while Pence shook his head and rolled his eyes.
What did they say?
The short answer is 'not a lot'.
The slightly longer answer is 'not a lot that we hadn't heard before'.
Kaine, expectedly, sang praises of Clinton's work as secretary of state and her passion for the empowerment of women and children, and extolled the virtues of their plans for how to create jobs, how to reform the process of immigration, how to tackle gun violence and so on. This, was largely, a repeat of what we had already heard from the presidential candidate in Hofstra University. But, as mentioned above, he spared no opportunity to take a crack at Trump, much to Pence's dismay. Here's an illustrative exchange:
Kaine: Donald Trump cannot start a Twitter war with Miss Universe without shooting himself in the foot. He does not have a plan. He said, "I have a secret plan," and then he said, "I know more than all the generals about the Islamic State," then he wants to call the generals to consult with them and finally, he said "I am going to fire all the generals." He does not have a plan. He trash talks the military: John McCain is no hero, the generals need to be fired, I know more than them. He wants to end alliances: Nato is obsolete and third, he loves dictators. He has a personal Mount Rushmore of Vladimir Putin, Kim Jong-un, and Saddam Hussein.
Pence: Did you work on that a long time? Because it had a lot of creative lines in it.
Pence appeared reluctant to defend Trump's statements or positions on a variety of issues, choosing instead to go after Clinton and her private email server, to attack Obama for his weak leadership and to insist that all of the US' problems would disappear with Trump's 'strong, broad-shouldered' leadership. Oh, and he spent a lot of time doing this:
Unfortunately, the problem for Pence is that he was unable to do the job he was meant to, which was to try and back up Trump's positions. His reluctance to do so was on display most clearly when replying to a claim by Kaine that Trump was in favour of punishing women who underwent an abortion. Pence shook his head, pursed his lips and conceded, "Trump is not a polished politician like you and Hillary Clinton" in the way of an explanation for the real estate mogul's erratic remarks.
Kaine had his finger on Pence's refusal to defend his running mate all night and even took to telling him, "Six times tonight I have said to Governor Pence, I can't imagine how you defend your running mate's position... He is asking everybody to vote for somebody that he cannot defend."
What did we learn?
Again, not very much. But there were three key issues that are worth revisiting.
The first is that Kaine and Pence have finally brought God to the party. Neither Clinton nor Trump are seen as the particularly religious or devout sort, which is probably why they picked running mates who would be able to play the religion card. Both vice-presidential candidates have spoken at length about their faith and how much it empowers them, so it was a nice contrast to see them slow down the rhetoric and take a moment to reflect on the role religion has played in their work. And while Kaine spoke about how he was faced with a dilemma about the death penalty (something upon which the Catholic Church frowns) and concluded that 'it is not the role of the public servant to mandate religious views on the public', Pence took the opportunity to attack Clinton for wanting tax dollars to go into providing abortions.
The second is that both Kaine and Pence seem to be have very strong views about a woman's right to choose whether or not to have her child.
The third thing we learned was how disaparate the views of Kaine and Pence are when it comes to the US' role in the world. The Democratic vice-presidential candidate was of the opinion that the US needs its allies and international partners. The Republican espoused the view of 'American exceptionalism' coupled with Team America: World Police-ism, wherein he is of the opinion that the world will be a better place if the US is strong, has the world's strongest military and pretty much runs the world (something he just stopped short of saying).
Bonus learning: We also learned that once CBS' Elaine Quijano — the debate moderator — is done with the journalism game, a stint as a primary school teacher would be a brilliant career choice. Just look at the way she kept Kaine and Pence from getting too rowdy and put them firmly in their places.
Who won the vice-presidential debate?
No one, really. Well, it could be argued that we, the viewers did — with the victory lying in the fact that there is only one vice-presidential debate.
While Pence definitely won the style round, Kaine picked up the substance round. But these were marginal wins and tell us little we didn't already know. This is apt since the debate also told us little we didn't already know: A damp squib, through and through.
Nevertheless, there's a lot of pride flying around:
Mike Pence won big. We should all be proud of Mike!

— Donald J. Trump (@realDonaldTrump) October 5, 2016
Couldn't be prouder of @TimKaine. Pitch in $5 now to make sure he becomes our next vice president: https://t.co/VAeZibDu26 #VPDebate

— Hillary Clinton (@HillaryClinton) October 5, 2016
Here's hoping next Monday's debate (the second presidential one) offers a better spectacle than this poor excuse for one.
Updated Date: Oct 25, 2016 12:27 PM