Migrant caravan streams out of Guatemala, halted by Mexican police
By Delphine Schrank TECUN UMAN, Guatemala (Reuters) - Hundreds of members of a caravan of migrants who had crossed Guatemala tried to breach the Mexican border on Friday, as the Mexican government vowed to tackle the convoy that U.S. President Donald Trump says must be stopped before it reaches the United States.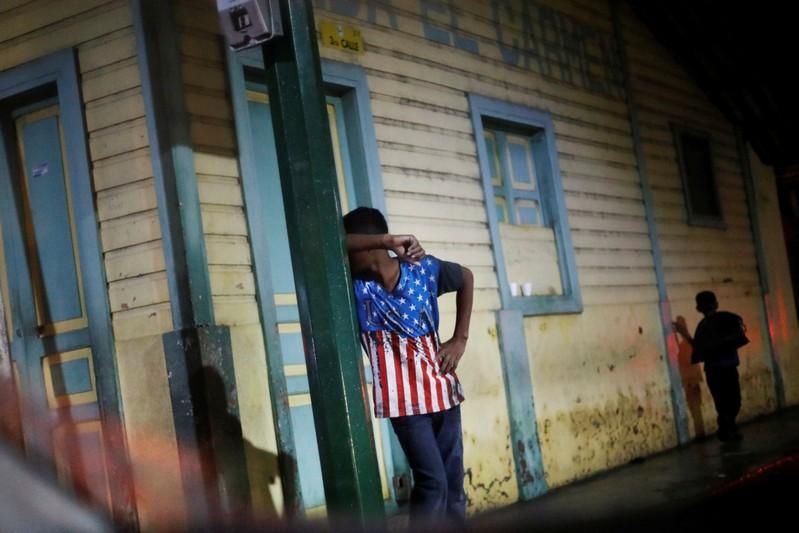 By Delphine Schrank
TECUN UMAN, Guatemala (Reuters) - Hundreds of members of a caravan of migrants who had crossed Guatemala tried to breach the Mexican border on Friday, as the Mexican government vowed to tackle the convoy that U.S. President Donald Trump says must be stopped before it reaches the United States.
Central American migrants pushed through Guatemalan border posts and streamed onto a bridge connecting the two countries, only to be halted by dozens of Mexican police dressed in riot gear on the other side, Mexican television footage showed.
Some migrants violently shook fences at the border, the footage showed. A handful jumped into the Suchiate river below to swim for rafts. Others turned back toward Guatemala.
Carrying backpacks and small children, many bedraggled migrants simply sat down on the bridge. Some said that they had been teargassed.
Jose Brian Guerrero, a 24-year-old Honduran travelling with neighbours and his extended family, said he had joined the caravan to escape violent street gangs, and to find work in the north.
"There's nothing for us in our country," said Guerrero, who used to sell beans in Honduras.
A similar caravan of Central Americans that formed in southern Mexico in late March also drew the ire of Trump, who on Thursday threatened to use the military and close the southern border if Mexico did not halt the new march.
Such a move would cause chaos on the crossing, one of the world's busiest, and badly disrupt trade.
Speaking in Scottsdale, Arizona on Friday, Trump said he "appreciated very much" Mexico's efforts to stop the caravan.
"If that doesn't work out, we're calling up the military - not the (National) Guard - we're calling up the military," he told reporters. "They're not coming into this country."
Honduras, El Salvador and Guatemala are among the poorest and most violent countries in the Americas. Their emigrants make up the bulk of people now caught trying to enter the United States illegally every year.
Several migrants at the Guatemala-Mexico border spoke of entire neighbourhoods leaving their homes to join the trek after news circulated on social media of a call for a new "caravan" to Mexico six months after the previous one.
U.N. ASSISTANCE
Earlier, Mexican Foreign Minister Luis Videgaray and U.S. Secretary of State Mike Pompeo met in Mexico City and discussed the caravan, which left Honduras last weekend.
"It's a challenge that Mexico is facing, and that's how I expressed it to Secretary Pompeo," Videgaray told a joint news conference.
In contrast to the earlier caravan, which was deep into Mexico before officials began intensive efforts to process the migrants, the Mexican government turned its attention on the new group right on its southern border.
The government has sought assistance from the United Nations High Commissioner for Refugees (UNHCR) to help process migrants claiming refugee status, which could allow it to disperse them.
Pompeo said he and Videgaray spoke of the importance of stopping the caravan before it reaches the U.S. border.
On Friday morning, Videgaray said the caravan had close to 4,000 people and that the migrants could individually present their claims to enter Mexico or seek refugee status.
"We haven't had a caravan or group of this size seeking refuge at the same time, that's why we've sought the support of the United Nations," he told Mexican television.
Mexico says the migrants will be processed and that those without a legitimate case to travel onwards or stay in Mexico will be returned to their countries of origin.
POLICE WAITING
Hundreds of Mexican police were sent to guard the border between the Guatemalan town of Tecun Uman and Ciudad Hidalgo in Mexico to prepare for the migrant caravan's arrival.
Manelich Castilla, the head of Mexico's federal police, said at the scene that his officers had restored order after the rush of migrants towards the border, and would begin allowing people to be processed in an orderly fashion.
Six police had been injured, Castilla said.
UNHCR spokesman Charlie Yaxley said the agency was reinforcing capacity in southern Mexico to offer counselling, legal assistance and humanitarian aid to asylum-seekers.
"UNHCR is concerned that the mobilization of such a large number of people in a single group will overwhelm the capacities that exist in the region," he told a news conference.
(Reporting by Delphine Schrank in Tecun Uman; additional reporting by Veronica Gomez, Julia Love and Daina Beth Solomon in Mexico City, Tom Miles in Geneva and Edgard Garrido in Tecun Uman; Writing by Dave Graham; Editing by Alistair Bell and Rosalba O'Brien)
This story has not been edited by Firstpost staff and is generated by auto-feed.
Find latest and upcoming tech gadgets online on Tech2 Gadgets. Get technology news, gadgets reviews & ratings. Popular gadgets including laptop, tablet and mobile specifications, features, prices, comparison.
Business
By Howard Schneider WASHINGTON (Reuters) - A rebounding stock market and massive federal aid payments pushed the net worth of U.S. households back to pre-coronavirus levels in the second quarter, the Federal Reserve reported on Monday, with savings accounts and equity portfolios both rising sharply despite the pandemic
Business
By Rodrigo Campos NEW YORK (Reuters) - Stocks across the world hit their lowest in seven weeks and other risk assets sold off on Monday on concerns over renewed lockdown measures in Europe and Britain, as well as the United States' inability to agree on fiscal stimulus that would support millions of unemployed. Oil prices fell nearly 5%, the dollar rallied and an index of emerging market currencies fell by the most in six months. The MSCI world equity index , which tracks shares in 49 countries, touched its lowest since Aug.
Business
By Rodrigo Campos NEW YORK (Reuters) - Stocks across the world hit their lowest in seven weeks and other risk assets also sold off on Monday on concerns over renewed lockdown measures in Europe and Britain, as well as the United States' inability to agree on fiscal stimulus that would support millions of unemployed. Oil prices fell more than 3%, the dollar rose against a basket of peers and an index of emerging market currencies fell by the most in six months. The MSCI world equity index , which tracks shares in 49 countries, ended at its lowest since Aug