Migrant caravan could be in Mexico City by Friday - Honduran official
By Delphine Schrank PIJIJIAPAN, Mexico (Reuters) - A caravan of Central Americans bound for the United States that has drawn fire from U.S.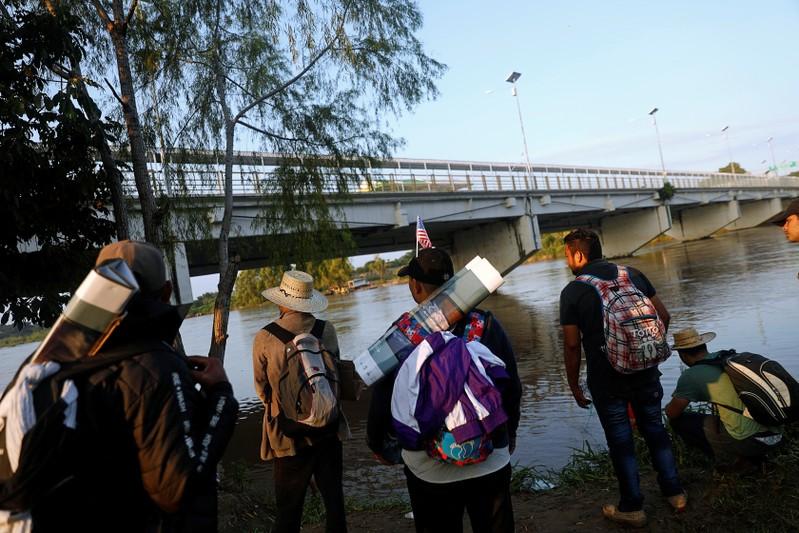 By Delphine Schrank
PIJIJIAPAN, Mexico (Reuters) - A caravan of Central Americans bound for the United States that has drawn fire from U.S. President Donald Trump could reach Mexico City by next Friday, the Honduran ambassador to Mexico said on Friday.
Trump has threatened to close the U.S.-Mexico border and cut aid to Central America to try to stop the caravan of several thousand people. U.S. officials have said that up to 1,000 troops may be sent to the U.S. southern border to prevent the migrants from crossing.
The caravan, moving through the southern Mexican state of Chiapas, which borders Guatemala, has enabled Trump to campaign hard on illegal immigration ahead of midterm congressional elections on Nov. 6, in which Republicans are battling to keep control of Congress.
Mexico's government has said that more than 1,700 people in the convoy have registered for asylum, while others have returned home. Estimates on the size of the group vary.
Alden Rivera, the Honduran ambassador to Mexico, told Mexican radio that the caravan could reach Mexico City by next Friday. He put an "official" headcount at 3,500, estimating that at least two-thirds of them were Hondurans.
The caravan set off in Honduras nearly two weeks ago, and has picked up other Central Americans en route. Rivera said it was not clear which route it would pursue in the coming days.
Alexander Fernandez, a Honduran travelling in the caravan, said people began leaving the town of Pijijiapan at about 3 a.m. to head for Arriaga, a town in the west of Chiapas. He said a stop was planned in the town of Tonala.
A banner hanging over a bridge on the migrants' path read: "Your hearts are brave, don't give up."
Tens of thousands of Central Americans set off for the United States every year, looking to escape violence and poverty. Hondurans, Guatemalans and Salvadorans make up the bulk of illegal immigrants apprehended at the U.S. border.
On Thursday night, thousands of people took refuge under small tents or teepees made from garbage bags in Pijijiapan's town square. Many people rushed to a nearby river in the afternoon to wash off the sweat of travel and extreme heat.
A White House official said on Thursday that "a wide range of administrative, legal and legislative options" were being considered regarding the migrants.
(Additional reporting by Veronica Gomez in Mexico City; Editing by Dave Graham)
This story has not been edited by Firstpost staff and is generated by auto-feed.
Find latest and upcoming tech gadgets online on Tech2 Gadgets. Get technology news, gadgets reviews & ratings. Popular gadgets including laptop, tablet and mobile specifications, features, prices, comparison.
World
LONDON (Reuters) - Prince Harry and his wife Meghan have refunded British taxpayers 2.4 million pounds ($3.2 million), the cost of renovating their UK home, in line with a commitment they made after announcing in January they would step back from royal duties. The refurbishment of Frogmore Cottage, a house within the grounds of Queen Elizabeth's Windsor Castle west of London, had been criticised by some British media as too expensive. The repayment comes as Harry and Meghan, an American former actress, seek to forge new careers for themselves and attain greater financial independence.
World
FRANKFURT (Reuters) - Biotech firm BioNTech said on Monday it widened an ongoing pivotal global study of its COVID-19 vaccine candidate to include testing in its home country of Germany.
News & Analysis
COPENHAGEN (Reuters) - A rapid switch to electric cars to meet Denmark's ambitious climate targets will leave a massive gap in its finances, a government commission said on Monday.