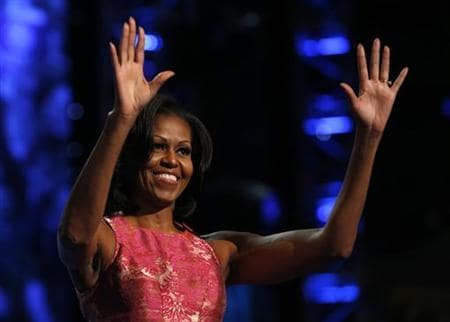 LOS ANGELES (Reuters) - Michelle Obama wowed Americans with an emotional speech at the Democratic National Convention that set the Twitterverse alight with gushing praise and boosted husband Barack Obama's social media standing as he makes his bid to stay in the White House.
TV viewing figures showed that the audience for the first lady's Tuesday night address in Charlotte, North Carolina, was about 22 million across the three main cable TV and three free-to-air U.S. networks, according to Nielsen data.
The preliminary figure was about 1.5 million higher than the 20.5 million people who tuned into the 10 p.m. hour a week ago to hear Ann Romney speak about her husband, Mitt Romney, Obama's Republican challenger in the November 6 presidential election.
Audience figures for cable news networks will be available later on Wednesday.
But in social media, reaction to Michelle Obama's speech was off the charts, and Twitter was packed with messages wondering whether she would one day run for the highest office in the land herself.
Mrs. Obama racked up 28,000 tweets per minute at the conclusion of her speech on the opening night of the convention, according to Twitter. That was double the 14,000 that Mitt Romney saw in his convention speech in Tampa, Florida, last week. Ann Romney's tweets per minute tally was just over 6,000.
CNN anchor Wolf Blitzer said the first lady had scored "not a home run but a grand slam."
Mark Iafrate, creative director for online tracking firm General Sentiment, said Michelle Obama was "the most discussed person at the DNC," next to the president himself.
She garnered twice as many mentions as former President Bill Clinton in traditional and social media mentions of convention speakers, according to General Sentiment.
Twitter hashtags #michelleobama and #firstlady were among the top five trending topics on Tuesday night. Mrs. Obama's Twindex score, which measures tweeters' feelings about a political person, rose from 71 before the speech to 84 immediately afterward.
President Obama got an even bigger boost. His Twindex score rose from 25 before his wife took to the stage to 54 immediately afterward. Traditional opinion polls, however, continued to show Obama and Romney in a tight race the week of the convention.
In a canny move, the White House put out a cozy photo of Obama and his two daughters curled on a sofa in the White House listening to Michelle's speech. The photo notched 82,000 views in just the first hour of its release.
Comedian and actor Chris Rock was among Americans energized by her performance. "I'm ready to vote NOW dammmit! Where's the ballot? What day is it? Where am I? Who am I? Michelle OBAMA ladies & gentlemen. wow," he wrote on Twitter.
Many others looked beyond the mom-in-chief mantle that Mrs. Obama has assumed as her main role.
"I think we need to stop comparing Michelle Obama's speech to first lady speeches and start comparing it to presidential ones. That strong." said Twitter user Heidi N. Moore.
"Screw it, make Michelle Obama the president of the whole damn world," said David Robert on the microblogging site.
(Additional reporting by Alex Dobuzinskis; Editing by Doina Chiacu)
Updated Date: Sep 06, 2012 02:16 AM