Michael Bloomberg says his White House campaign unknowingly used prison labour
WASHINGTON (Reuters) - Billionaire U.S.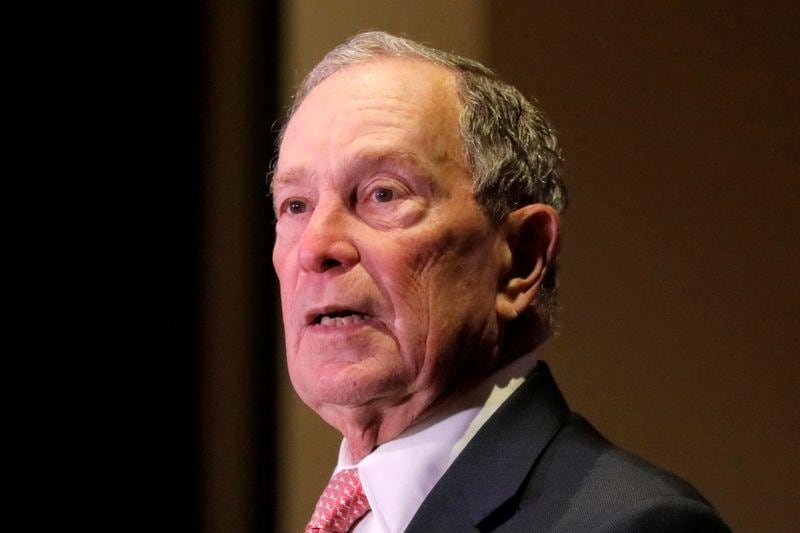 WASHINGTON (Reuters) - Billionaire U.S. presidential candidate Michael Bloomberg on Tuesday said his campaign had unknowingly used prison workers to make telephone calls on his behalf.
Bloomberg, who last month entered the Democratic Party race to face Republican President Donald Trump in the November 2020 election, said the campaign had ended its relationship with a company that used prison labour for making phone calls.
"We do not support this practice and we are making sure our vendors more properly vet their subcontractors moving forward," Bloomberg said in a statement.
Bloomberg said the campaign learned of the ties to prison labour when a reporter called. The Intercept, a news website, was first to report the use of prison labour.
Ranked by Forbes as the eighth-richest American, Bloomberg has spent more on campaign ads in the last few weeks than his main Democratic rivals have all year.
He has so far failed to crack into the top tier of candidates in public opinion polls.
A Reuters/Ipsos opinion poll conducted on Dec. 18-19 showed about 5% of Democratic-leaning voters support the billionaire former mayor of New York. Recent polls show former Vice President Joe Biden, Senator Bernie Sanders and Senator Elizabeth Warren are the party's leading candidates.
(Reporting by Jason Lange; Editing by Howard Goller)
This story has not been edited by Firstpost staff and is generated by auto-feed.
Find latest and upcoming tech gadgets online on Tech2 Gadgets. Get technology news, gadgets reviews & ratings. Popular gadgets including laptop, tablet and mobile specifications, features, prices, comparison.
World
DAKAR (Reuters) - More than 20 people, including children, were killed in an airstrike during a wedding ceremony in central Mali on Sunday, a health worker with knowledge of the attack told Reuters. (Reporting By Edward McAllister; Editing by Aaron Ross)
World
By Estelle Shirbon and Natalie Thomas LONDON (Reuters) - Britain began its third COVID-19 lockdown on Tuesday with the government calling for one last major national effort to defeat the spread of a virus that has infected an estimated one in 50 citizens before mass vaccinations turn the tide. Finance minister Rishi Sunak announced a new package of business grants worth 4.6 billion pounds ($6.2 billion) to help keep people in jobs and firms afloat until measures are relaxed gradually, at the earliest from mid-February but likely later
World
By Dominique Vidalon and Sudip Kar-Gupta PARIS (Reuters) - France is stepping up its COVID-19 vaccine rollout by widening the first target group to include more health workers and simplifying a cumbersome process to deliver shots more quickly, Health Minister Olivier Veran said on Tuesday. France's inoculation campaign got off to a slow start, hampered in part by red tape and President Emmanuel Macron's decision to tread warily in one of the world's most vaccine-sceptical countries. France has fallen behind neighbours such as Britain and Germany, and the president is now demanding the vaccination programme be expedited