Mexican president visits 'El Chapo's' home turf after guilty verdict
By Diego Oré MEXICO CITY (Reuters) - Andres Manuel Lopez Obrador on Friday became the first Mexican president in memory to visit the birthplace of the country's most infamous drug trafficker, Joaquin 'El Chapo' Guzman - just three days after a U.S. jury convicted the kingpin. Before the trip, Lopez Obrador said the visit to Badiraguato, a mountainous municipality in the northwestern state of Sinaloa long associated with Mexico's cartels, was aimed at 'regenerating public life.' 'We should not stigmatize,' he said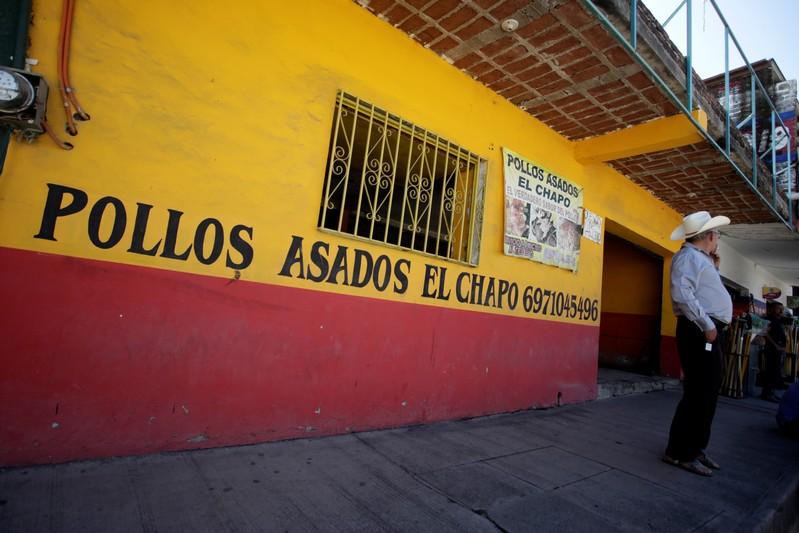 By Diego Oré
MEXICO CITY (Reuters) - Andres Manuel Lopez Obrador on Friday became the first Mexican president in memory to visit the birthplace of the country's most infamous drug trafficker, Joaquin "El Chapo" Guzman - just three days after a U.S. jury convicted the kingpin.
Before the trip, Lopez Obrador said the visit to Badiraguato, a mountainous municipality in the northwestern state of Sinaloa long associated with Mexico's cartels, was aimed at "regenerating public life."
"We should not stigmatize," he said. "Badiraguato is a historic town, lots of people deserving respect live there."
The left-wing populist was scheduled to give a speech in Badiraguato's municipal headquarters later on Friday.
Though warring gang factions have inflicted periodic bloodshed on the municipality, some villagers speak fondly of the largesse of their native son, who was born in the hamlet of La Tuna and whose Sinaloa cartel provided work for marijuana and opium poppy growers.
With a population of 32,000, Badiraguato is still one of the poorest municipalities in the state of Sinaloa and the country, according to Mexican statistics agency Inegi.
Lopez Obrador, who has spoken of the need to fight poverty across Mexico, was due to announce a development plan for Badiraguato that included a new highway, a public university and a program to plant trees.
"Until now, I've never seen a president come here," said Javier de la Rocha, a 41-year-old farmer.
El Chapo is not the only drug lord who calls it home - Rafael Caro Quintero and Ernesto Fonseca Carrillo, both former leaders of the Guadalajara cartel, were also born nearby.
In a district where 70 percent of residents live below the poverty line, the capos emerged as unlikely benefactors, building roads and buildings, locals say.
That may explain why some locals found Lopez Obrador's visit, coming after El Chapo's conviction on smuggling tons of drugs to the United States, so significant. With the drug lord behind bars, and facing a probable life sentence, Badiraguato will need a new champion.
"Mr. Guzmán helped the town a lot. Now that he is not here, let's hope the state responds," said Jose Carrillo, a 61-year-old day labourer, while eating at a chicken restaurant named after El Chapo.
Several residents said they were cautiously optimistic about Lopez Obrador's plans and eager to work on the construction of the projects.
"With the university, my family is no longer going to have to travel to study elsewhere," said de la Rocha, the farmer, leaning on his shovel in front of a huge sign welcoming Lopez Obrador to town.
(Reporting by Diego Ore; additional reporting by Roberto Ramírez and Daniel Becerril; writing by Julia Love; Editing by Frank Jack Daniel and Tom Brown)
This story has not been edited by Firstpost staff and is generated by auto-feed.
World
ATHENS (Reuters) - Greek police used teargas and water cannon to disperse people who had gathered in central Athens on Saturday to protest against mandatory COVID-19 vaccinations. More than 4,000 people rallied outside the Greek parliament for a third time this month to oppose mandatory inoculations for some workers, such as healthcare and nursing staff.
World
ISTANBUL (Reuters) - Two Turkish soldiers were killed and two were wounded in an attack on their armoured vehicle in northern Syria, and Turkish forces immediately launched retaliatory fire, Turkey's defence ministry said on Saturday. "Our punitive fire against terrorist positions is continuing," the statement on Twitter on said. It did not specify where the attack occurred, but media reports said it was in the al-Bab area.
World
By Marcelo Rochabrun SAO PAULO (Reuters) - Protesters took to the streets in several Brazilian cities on Saturday to demand the impeachment of far-right President Jair Bolsonaro, whose popularity has fallen in recent weeks amid corruption scandals against the backdrop of the pandemic. This week, news broke that Brazil's defense ministry told congressional leadership that next year's elections would not take place without amending the country's electronic voting system to include a paper trail of each vote. Bolsonaro has suggested several times without evidence that the current system is prone to fraud, allegations that Brazil's government has denied