Mevlut Altintas: All you need to know about the Turkish cop who killed Russian envoy Andrey Karlov
Twenty two-year-old Mevlut Mert Altintas shot Russian ambassador to Turkey, Andrey Karlov on Monday in Ankara, Turkey. The 62-year-old Russian ambassador was speaking at the inaguration of a pohoto exhibition in Ankara when Altintas fired nine bullets on Karlov.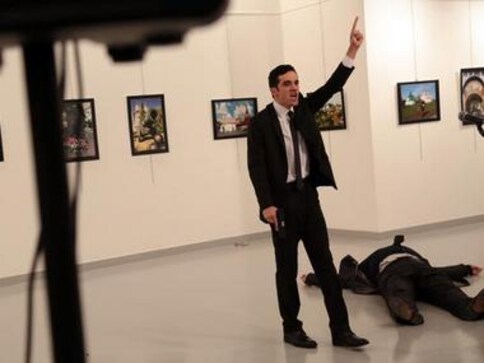 Andrey Karlov, Russia's ambassador to Turkey was shot dead on Monday by Mevlut Mert Altintas, a 22-year-old gunman, who was part of his security detail. Karlov was in the Turkish capital city Ankara to inaugurate a photo exhibition when Altintas fired nine bullets at him. The attack has dealt a fresh blow to Russia-Turkey relations, just as the two countries were warming up to each other following a straining of ties last year caused by Turkey shooting down a Russian plane in Syria. The two countries have also been at loggerheads over Syrian president Bashar al-Assad, who is supported by Russia, but opposed by Turkey
Investigations are on to find out more about Altintas and whether or not he was linked to any terrorist organisation. After shooting Karlov, he didn't flee the spot. He paced hurriedly on the stage, staying to should slogans, reminding Russia of those killed in Aleppo.
But what caused Altintas to resort to this step? Was he a terrorist or was he just frustrated with the situation in Syria? What caused a boy from a liberal family and upbringing to resort to violence? What was Altintas trying to achieve? Was he alone, or was he acting on behalf of a terrorist organisation? Let's take a look as to what we know so far of the assailant so far:
— A police official with Ankara's riot police unit for the last two-and-a-half years, Mevlut Mert Altintas is reported to be an agile officer.
— He is believed to be from a liberal family background. CNN Turk TV reported that police had detained Mevlut's sister and mother.
— According to reports, he was off duty when he entered the Contemporary Arts Gallery in Ankara's central Cankaya district. It's likely that he used his badge to gain entry.
— Based on video footage and images clicked, Altintas was dressed smartly in a black suit and tie and stood alone, behind the ambassador as the latter began his speech at the art exhibition titled Russia as seen by Turks.
— Before killing the Russian ambassador, Altintas allegedly shouted, "We die in Aleppo, you die here!" The gunman was later killed by special forces. Three other people were injured.
— According to reports, a video also showed Altintas shouting, "Don't forget Aleppo, don't forget Syria!" and "Allahu Akbar". He paced about on the stage, and shouted a mix of Turkish and Arabic words, holding the gun in one hand and waving the other.
— The ambassador was giving his talk when Altintas fired nine bullets. According to reports, people took refuge in adjoining rooms as the shooting continued.
— A senior security official said there were "very strong signs" the gunman belonged to the network of the US-based cleric Fethullah Gulen, who Ankara says orchestrated the failed coup in July. Turkish President Erdogan has denounced Gulen as a terrorist, but the cleric, a former ally, denies the accusation.
— Fifteen minutes after Karlov was shot dead, Altintas was killed by security officers.
Meanwhile, both Russia and Turkey have called the attack a terror strike. According to reports, Putin had called for stepping up the fight against terrorism. "A crime has been committed and it was without doubt a provocation aimed at spoiling the normalisation of Russo-Turkish relations and spoiling the Syrian peace process which is being actively pushed by Russia, Turkey, Iran and others," said a stern-faced Putin. "There can only be one response — stepping up the fight against terrorism. The bandits will feel this happening."
With agency inputs
India
In a statement addressed to President Droupadi Murmu and Prime Minister Narendra Modi, Vladimir Putin said that the Russian -Indian relations are developing in the spirit of the special and privileged strategic partnership
World
Amnesty listed incidents when Ukrainian forces appeared to have exposed civilians to danger in 19 towns and villages in the Kharkiv, Donbas and Mykolaiv regions
World
'There is a paradoxical situation in which the Zaporizhzhya plant is controlled by Russia, but its Ukrainian staff continues to run its nuclear operations, leading to inevitable moments of friction and alleged violence,' he said