Merkel - no arms exports to Saudi until 'monstrous' killing cleared up
ORTENBERG, Germany (Reuters) - German Chancellor Angela Merkel on Monday called the killing of journalist Jamal Khashoggi in the Saudi consulate in Istanbul a 'monstrosity' and vowed to halt all German arms exports to Saudi Arabia until the case is cleared up. Merkel decried what she called 'the monstrosity there in the Saudi consulate in Turkey'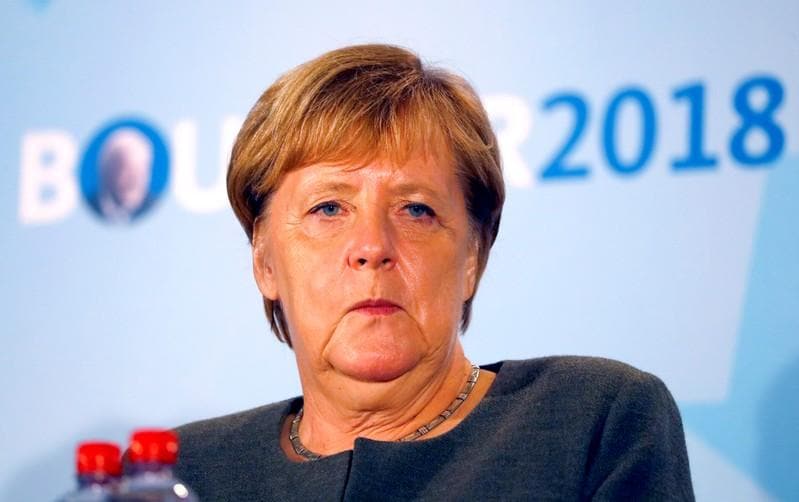 ORTENBERG, Germany (Reuters) - German Chancellor Angela Merkel on Monday called the killing of journalist Jamal Khashoggi in the Saudi consulate in Istanbul a "monstrosity" and vowed to halt all German arms exports to Saudi Arabia until the case is cleared up.
Merkel decried what she called "the monstrosity there in the Saudi consulate in Turkey".
"It must be cleared up. As long as it's not cleared up, there will be no arms exports to Saudi Arabia. I assure you of that very decidedly," Merkel said at a campaign rally in the town of Ortenberg ahead of elections in the state of Hesse.
Riyadh has given multiple and conflicting accounts on what led to Khashoggi's death. On Sunday, Foreign Minister Adel al-Jubeir called the killing a "huge and grave mistake" but sought to shield Saudi Arabia's powerful crown prince.
Merkel first called for a stop to arms exports on Sunday, raising questions about whether that would also affect weapons deliveries that had previously been approved. Her spokesman told reporters earlier on Monday that was being reviewed.
Norbert Roettgen, a member of Merkel's conservatives and head of the parliamentary foreign affairs committee, said it was clear that all deliveries of weapons to Saudi Arabia should be halted.
"Even those deals that were already approved cannot happen now, as long as the case has not been resolved, and as long as there have been no substantial consequences in Riyadh," Roettgen told broadcaster ZDF. "We would completely lose our credibility."
Economy Minister Peter Altmaier earlier had called on other European Union member states to follow its example.
"The government is in agreement that we will not approve further arms exports for the moment because we want to know what happened," Atmaier told broadcaster ZDF.
So far this year the German government approved weapons exports worth more than 400 million euros ($462 million) to Saudi Arabia, making it the second-biggest recipient of German arms after Algeria.
(Reporting by Andreas Rinke in Ortenberg and Andrea Shalal and Maria Sheahan in Berlin; Editing by Alison Williams and Robin Pomeroy)
This story has not been edited by Firstpost staff and is generated by auto-feed.
Find latest and upcoming tech gadgets online on Tech2 Gadgets. Get technology news, gadgets reviews & ratings. Popular gadgets including laptop, tablet and mobile specifications, features, prices, comparison.
World
MOSCOW/BELGRADE (Reuters) - Serbia's president accused Moscow on Sunday of stooping to "primitivism and vulgarity" in an attack on him, after Russia's foreign ministry spokeswoman compared him to the actor Sharon Stone in an explicit film scene. Serbia is Moscow's closest ally in the Balkans, but President Aleksandar Vucic has long annoyed Russia by seeking better ties with the West
World
ISTANBUL (Reuters) - Turkish President Tayyip Erdogan and European Council President Charles Michel discussed developments in the Eastern Mediterranean on Sunday, CNN Turk reported. NATO allies Turkey and Greece have been locked in a row over hydrocarbon exploration in the sea's disputed waters and the extent of their continental shelves. There was no official confirmation of the talks.
World
LONDON (Reuters) - The sharp rise in COVID-19 cases in Britain of 2,988 recorded on Sunday, the highest jump since May, was "concerning", Health Secretary Matt Hancock said, although he added that the majority were younger people. "The rise in the number of cases that we've seen today is concerning," he said. "The cases are predominately among younger people, but we've seen in other countries across the world and in Europe this sort of rise in the cases amongst younger people leading to a rise across the population as a whole." He said everybody had to follow social distancing rules to prevent the spread of infections.