Maynard James Keenan and Ronda Rousey battle Donald Trump in Puscifer's new music video
MMA fighter Ronda Rousey and singer Maynard James Keenan kick Donald Trump-zilla's butt in Puscifer's new music video 'The Arsonist'
If the headline has you confused, no, weren't not taking about Donald Trump's infamous "grab 'em by the p***y" comment. We are talking about 'The Arsonist', a new surreal track by Puscifer, an American alternative rock band that was the brainchild of singer Maynard James Keenan. If you're a fan of Keenan, who also happens to be a part of bands like Tool and A Perfect Circle, you know that trolling is quite natural for the eccentric artiste.
Brace yourself for the hilariously surreal progressive track that features Keenan "preparing" for a fight against MMA fighter Ronda Rousey in a Ultimate Fighting Championship (UFC) charity match. The singer smugly claims that he'll emerge victorious, and if defeated he would undergo a gender reassignment surgery. Classic Keenan. UFC fighters Cat "Alpha" Zingano, Holly "Preacher's Daughter" Holm and Cristiane "Cyborg" Justino also joined Ronda and the band after all Trump-hell breaks loose.
Many influential musicians have been vocal of their disdain for the Republican Presidential Nominee, as this Billboard article makes pretty clear. Trump has also faced the wrath of musicians for playing their music at presidential rallies (without their permission, of course). So Puscifer isn't the first to campaign against the politician.
With less than a month left for the elections, tensions are high in the United States. One can only wait and watch till 8 November to see whether Trump-zilla will emerge victorious or not.
Watch the full video here: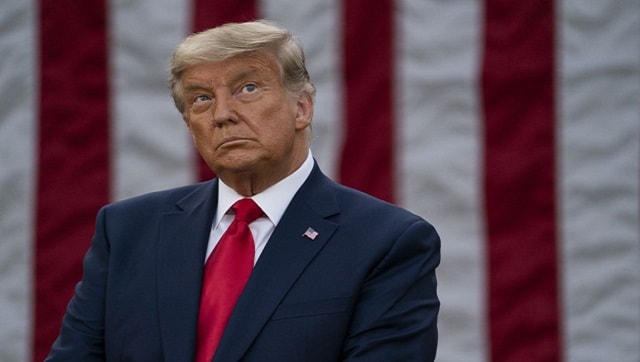 World
Former president Donald Trump has said the official ought to be tried for treason if the report was true
World
The speech Biden delivered sounded much like what he would have said before the Taliban took Kabul, Afghanistan, without resistance, and before the pivot to Asia became a hindrance to relations with Europe
World
The financial drain from a sprawling counterterrorism campaign has been vast, fueling the military's budgets even years after major combat in Afghanistan and Iraq ended