Mauritius shipping disaster caused by lack of attention to safety - owner
TOKYO (Reuters) - Japan's Nagashiki Shipping said on Friday the grounding of one of its large bulk carriers that caused an ecological disaster in Mauritius was due to a lack of safety awareness and a failure to follow rules as it pledged better training and oversight. The findings were assumptions based on interviews with crew members, the company said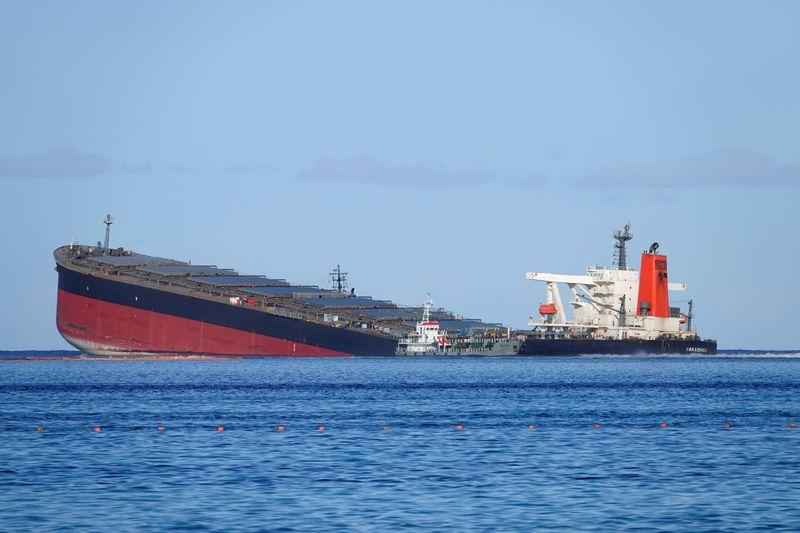 TOKYO (Reuters) - Japan's Nagashiki Shipping said on Friday the grounding of one of its large bulk carriers that caused an ecological disaster in Mauritius was due to a lack of safety awareness and a failure to follow rules as it pledged better training and oversight.
The findings were assumptions based on interviews with crew members, the company said.
A bulk carrier owned by Nagashiki and chartered by Mitsui OSK ran aground on a reef in Mauritius in July and began leaking oil, causing an ecological disaster in the pristine seas around the Indian Ocean island. Four people died when a tug sank during attempts to retrieve oil in the ocean.
The crew of the MV Wakashio, a nearly 300-metre Cape Size bulker used for carrying iron ore, changed direction to sail close enough to Mauritius to get cell phone coverage after also changing a set course two days earlier, Nagashiki said in a statement.
"There was a lack of awareness of the dangers of navigating close to the coast ... and insufficient implementation of regulations that must be observed in order to safely execute voyages," the company said, based on its interviews with crew members.
The company will ban private use of cell phones during working hours on bridges and install high-speed communications systems on all its ships, as well beef up training, it said.
The company has also started installed monitoring cameras on the bridges of some of its ships for testing and will consider doing so on all of them.
The Wakashio ran aground on July 25 and began leaking oil on Aug. 6, eventually spilling 1,000 tonnes of fuel oil into the ocean.
The clean-up, which includes returning 30 km (18.6 miles) of mangrove coastline to its former state, will likely be mostly completed by January, Nagashiki said last month.
(Reporting by Aaron Sheldrick; Editing by Mark Potter)
This story has not been edited by Firstpost staff and is generated by auto-feed.
Find latest and upcoming tech gadgets online on Tech2 Gadgets. Get technology news, gadgets reviews & ratings. Popular gadgets including laptop, tablet and mobile specifications, features, prices, comparison.
World
By William James LONDON (Reuters) -British Prime Minister Boris Johnson said on Sunday tougher lockdown restrictions were probably on the way as COVID-19 cases keep rising, but that schools were safe and children should continue to attend where permitted. COVID-19 cases in Britain are at record levels and the increase in numbers is fuelled by a new and more transmissible variant of the virus
World
By Maher Nazeh BAGHDAD (Reuters) - Tens of thousands of supporters of Iranian-backed Iraqi paramilitary groups chanted anti-American slogans in central Baghdad on Sunday to mark the anniversary of the U.S. killing of Iranian general Qassem Soleimani and an Iraqi militia commander.
World
By Nathan Layne and Joseph Ax CUTHBERT, Ga. (Reuters) -Control of the U.S. Senate – and with it, the likely fate of President-elect Joe Biden's legislative agenda – will be on the ballot on Tuesday when voters in Georgia decide twin runoff elections