Massive public sector strikes to rock France starting today: Transport, school, hospital staff up in arms against economic reforms
A wave of industrial action is set to hit France starting Thursday as labour unions lash out at President Emmanuel Macron's string of reforms.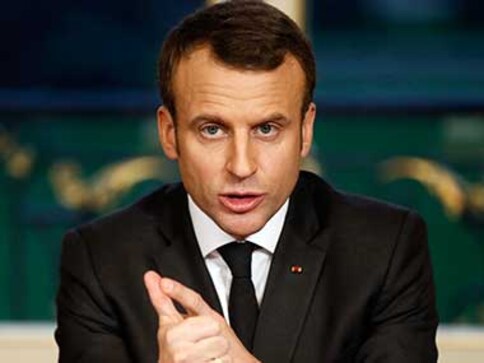 Paris: A wave of industrial action is set to hit France starting Thursday including rail strikes expected to create headaches for commuters as labour unions lash out at President Emmanuel Macron's string of reforms.
Here is what's at stake, and the likely consequences:
Who's going on strike?
Seven trade unions have called on public sector workers to strike on Thursday, including school and hospital staff, civil servants and air traffic controllers. More than 140 protests are planned across France, the biggest culminating at the Bastille monument in Paris where unions expect 25,000 demonstrators.
Rail workers will also join Thursday's action before launching strikes on two days out of every five from 3 April until 28 June, unless the government drops its reform plans.
Only 40 percent of high-speed TGV services will be running on Thursday, and four Eurostar trains between London and Paris have been cancelled. Just one in four regular mainline trains across the country will be operating, while in Paris, some suburban commuter lines will be affected though metro and bus services are expected to run normally.
Many parents will be scrambling as some schools and daycare centres will be closed, while strikes are also expected to affect hospitals, libraries and other public services.
A third of flights into and out of the main Paris airports of Charles de Gaulle, Orly and Beauvais will be cancelled during a strike by air traffic controllers, though long-haul flights are not affected. Separately, at Air France, staff including pilots and cabin crew will strike Friday seeking a six-percent salary hike, and have already promised another strike for 30 March.
What's the strike about?
Public servants are angry over pay that hasn't kept up with inflation, while unions accuse Macron of wanting to dismantle the public sector. FSU union official Bernadette Groison said the reforms would herald "the end of the social model we know today, with public services that have been broken apart".
Macron has pledged to cut 120,000 public jobs by 2022 and his government has raised the prospect of voluntary redundancies for civil servants, prompting fears that the quality of services will take a hit. Plans to use more contractors and increasingly offer pay based on merit, rather than on experience, are seen by unions as attacks on traditional job security.
On the railways, an overhaul that would strip new recruits of a guaranteed job for life and other benefits have riled unionists who also fear that a restructuring of the SNCF could eventually see it privatised.
Macron's critics also oppose plans to use presidential decrees to pass the rail reforms, a bid to avoid lengthy parliamentary debate which they say is undemocratic. He already used this strategy to pass labour reforms in September, which loosened France's strict regulations on hiring and firing workers.
What's the government perspective?
Macron has stayed sanguine through criticism over his reforms, insisting he was elected on a mandate to shake France up. "We're never happy when things change, yet we want things to change — that's the paradox of France," he tweeted last week.
The president argues the public sector is too bloated and he is keen to trim spending and balance France's national budget by the end of his term, for what would be the first time since the 1970s. His government says the behemoth rail operator in particular is crying out for reform, saddled with 46.6 billion euros ($57.3 billion) of debt.
The SNCF runs trains at a 30 percent higher cost than European neighbours, the government says, arguing it is urgent that it becomes more efficient as EU countries prepare to open passenger rail to competition by 2020.
How bad could the strikes get?
Macron has so far been spared the scale of industrial action seen under his Socialist predecessor Francois Hollande, but tensions have been growing. Though surveys suggest a majority see rolling rail strikes as unjustified, they could potentially be the biggest since 1995, when weeks of walkouts paralysed the national network.
Tens of thousands of people have already taken to the streets in three rounds of protests over Macron's labour reforms. Retirees have come out to demonstrate over tax changes that reduce their pensions and prison guards staged nearly two weeks of protests in January over security risks and poor pay. Care workers have gone on strike twice in six weeks over stretched resources and unsanitary conditions in many state retirement homes.
Education
The Education Department, Karnataka released the provisional answer key of KARTET on 10 November 2022. Check the steps to raise objections on the official website
World
Poland is protected by NATO's commitment to collective defence -- enshrined in Article 5 of its founding treaty -- but the alliance is unlikely to invoke it given the likely origin of the missile
India
The matter however, came to light after a group of students protested against the accused teacher inside the school premise. The incident allegedly prompted the counsellor teacher who had talked to the victim previously, to report the matter to police