Masked men in military uniforms kidnap 18 Turkish workers in Iraq
Masked men in military uniforms kidnapped 18 Turkish employees of an Ankara-based construction company in Baghdad.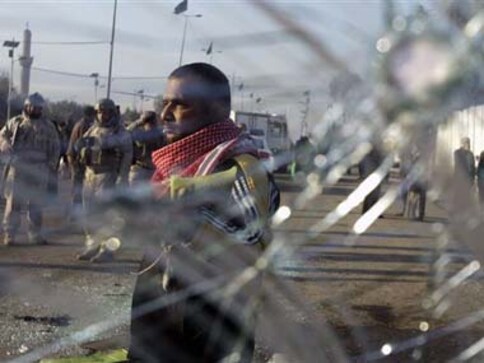 Baghdad: Masked men in military uniforms kidnapped 18 Turkish employees of an Ankara-based construction company in Baghdad early Wednesday, bundling them into several SUVs and speeding away, Iraqi and Turkish officials said.
They said the 18 are employed by Nurol Insaat, a Turkish construction company contracted to build a sports complex in the sprawling Shiite district of Sadr City. The kidnappers stormed the construction site, where the workers were sleeping in caravans, breaking down doors and disarming the guards before taking the workers away.
The Iraqi officials said an Iraqi national was kidnapped along with the Turks.
Turkish Foreign Ministry Spokesman Tanju Bilgic said those kidnapped included 14 workers, three engineers and one accountant. He said the kidnappers specifically targeted Turkish nationals, picking them out from the rest and leaving behind workers from other countries. There were no reports of violence.
Turkish Deputy Prime Minister Numan Kurtulmus confirmed the kidnapping and said Ankara was in close contact with authorities in Iraq. "The Iraqi authorities for the time being do not have information on how the incident occurred or who captured them," he told reporters.
In Baghdad, Interior Ministry spokesman Saad Maan told AP that authorities are investigating the incident and that a contingent of security forces has been tasked with tracking down the kidnappers.
Neither the identity nor the motives of the kidnappers were immediately known.
The Iraqi officials spoke on condition of anonymity because they were not authorized to speak to the media.
Associated Press footage of the site taken hours after the kidnapping shows the sports complex to be almost complete. A sign outside says it includes a 30,000-seat soccer stadium, a track and field facility and a 50-room hotel.
Turkey recently began launching airstrikes against the Islamic State group in Syria and allowing US warplanes to use bases in southeastern Turkey to strike the Sunni extremist group.
It launched a simultaneous air campaign in northern Iraq against the Kurdistan Workers' Party, or PKK, a Kurdish militant group.
IS militants seized 49 diplomatic staff and family members from the Turkish consulate in Mosul when they captured the northern Iraqi city in June 2014. The group held them for three months before releasing them unharmed. Turkish officials have suggested — but never formally confirmed — that the release was secured in exchange for IS prisoners held in Turkey.
Turkey held back from contributing to the US-led coalition against the IS group as it sought to free the 46 Turks and three Iraqi hostages.
The style and scale of Wednesday's kidnapping harkened back to the sectarian violence in Baghdad in 2006 and 2007, when Sunni and Shiite militants kidnapped followers of the other sect. In most cases, the bodies of those kidnapped were found a day or two later with marks of torture and a bullet wound to the head.
Baghdad has been torn by violence for over a decade now, with roadside bombs, suicide attacks and assassinations occurring almost daily. While kidnapping for ransom has continued, abductions on the scale seen Wednesday have been almost unheard of in the past few years.
AP
also read
India
The third G20 Tourism Working Group meeting begins in Kashmir's Srinagar Monday amid a tight security blanket. There have been reports of a plot to carry out a 26/11-type attack and terror threat to schools. The itinerary of foreign delegates has been altered with a visit to Gulmarg cancelled
World
"It's like IS but actually worse than IS. There is no distinction between someone who forcibly converts you at gunpoint, like IS, and someone who manipulates your difficult circumstances to pressure you into converting"
World
With foreign reserves tumbling, some analysts say Turkey could face another economic crash as soon as this year that sends inflation soaring again and strains its balance of payments - unless the government changes course