Maryland school on lockdown after shooting, three injured; county sheriff tells parents to stay away from campus
Maryland school on lockdown after shooting; incident 'contained', county sheriff tells parents to stay away from campus.
The campus of a high school in US state of Maryland was on lockdown following a shooting which erupted on Tuesday morning at Great Mills High School. However, officials said that the event was "contained".
St. Mary's County Sheriff's Office confirmed the "incident" and urged parents on Twitter to not approach the campus.
The county sheriff's spokeswoman Julie Yingling said three people have been injured, including the shooter. There have been no fatalities in shooting.
Yingling said the two victims were shot, but she doesn't know how the shooter was injured. She also didn't have the identities of the any of the three injured. All three have been transported to hospitals.
St Mary's County Public Schools said on its website that the school was on lockdown and the incident had been "contained" but provided no further details.
There has been a Shooting at Great Mills High School. The school is on lockdown the event is contained, the Sheriff's office is on the scene additional information to follow.
Parents/Guardians should go to Leonardtown HS for reunification with GMHS students

— SMCPS_MD (@SMCPS_MD) March 20, 2018
"It happened really quickly, right after school started" after 8.00 am (local time), Jonathan Freese, a student at the school, told CNN. "The police came and responded really quickly," Freese said.  "Right now, the police are going through classrooms," he said. "Soon we are going to be escorted from the school." FBI agents are on the scene of a shooting at the high school to assist the local sheriff's office. Federal agents from the bureau of Alcohol, Tobacco and Firearms have also been sent to the school.
The Great Mills incident comes about five weeks after a shooting at a Florida high school left 14 students and three adult staff members dead.
Maryland governor Larry Hogan and Representative Steny Hoyer tweeted that they're monitoring reports and urged people to follow the instructions of local law enforcement at the scene.
With inputs from agencies
World
The US Army investigation focused on an operation by a special force operating in Syria, which launched an airstrike on an Islamic State bastion in Baghouz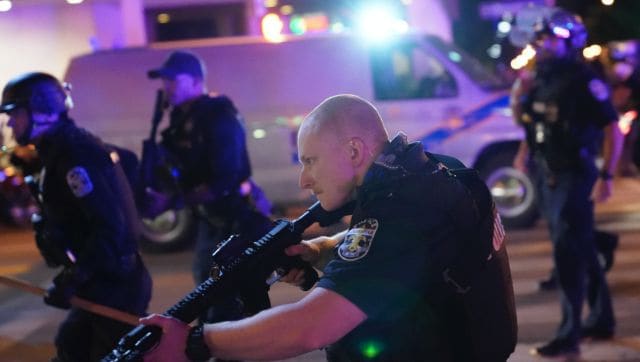 World
The Justice Department report came out after a shocking weekend showed how the vast surplus of guns has made its mark on US society