In US, Manohar Parrikar brings up Kashmir, blames Pakistan for fomenting trouble
Defence Minister Manohar Parrikar, who in the US, alleged that forces across the border are fomenting trouble in violence-hit Kashmir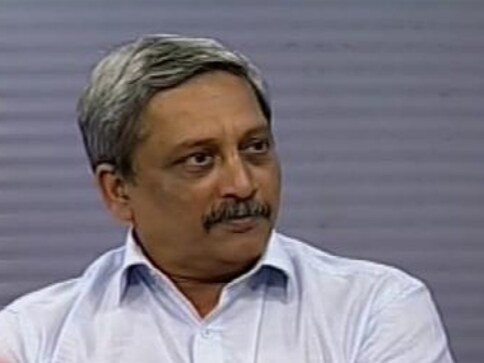 Defence Minister Manohar Parrikar, who is in the US, alleged that forces across the border are fomenting trouble in violence-hit Kashmir and said that "a small percentage" of people in the Valley are holding the majority to ransom. He said the government is working "proactively" in handling the violence in the state.
"As far as Kashmir is concerned, the Indian government has been very proactive in handling the violence which comes from across the border" Parrikar told Pentagon reporters at a joint news conference with US Defence Secretary, Ashton Carter.
"A few small percentage is holding the majority to ransom," he added.
Asked about the current situation in Kashmir, he said curfew has already been lifted and an all-party delegation is also heading to the Valley.
"Kashmir is actually having a government which is a democratically elected. And the chief minister belongs to the Valley," he said.
Additionally, India and the US on Monday signed a historical agreement on sharing logistics, though both Parrikar and US Defense Secretary Ashton Carter clarified that it will not involve in setting up of military bases.
The two countries signed the Logistics Exchange Memorandum of Agreement (LEMOA), which facilitates the provision of logistical support, supplies, and services between the US and Indian militaries on a reimbursable basis, and provides a framework to govern them.
This may include food, water, billeting, transportation, petroleum, oils, lubricants, clothing, medical services, spare parts and components, repair and maintenance services, training services, and other logistical items and services.
"It (LEMOA) doesn't have anything to do with the setting up of base. It's basically logistics support to each other's fleet, like supply of fuel, supply of many other things which are required for joint operations, humanitarian assistance and many other relief operations. So, it basically will ensure that both navies can be supportive of each other in the joint venture operations we do, exercises we do," said Parrikar.
Referring to the Communications and Information Security Memorandum of Agreement (CISMOA); Basic Exchange and Cooperation Agreement (BECA) for Geospatial Intelligence, Parrikar indicated that India is not in a hurry to sign these agreements which America has been pushing for the past several years.
"I think after 12, 13 years, we have managed to get logistic agreement in place. You could see the logistic agreement was being mixed up with setting of bases. So let me get this logistic agreement in the public domain properly and explain to the people. Then we will eventually go into the other aspects," Parrikar told reporters at a joint news conference with Carter.
Carter, on the other hand, said he has spent more time with Parrikar in little over an year than any of his other foreign counterparts, a relationship he attributed to "the new bonhomie" in India-US ties.
"Even before today's very productive discussion, which was our sixth meeting since I became Secretary of Defence, I had already spent more time with Minister Parrikar than I had with any other defence counterpart anywhere in the world," said Carter.
Carter described Parrikar as a strong and effective leader and said, "He's a great partner and a true friend."
"The second reason that Parrikar and I spent so much time together is that the US-India relationship is
destined to be one of the defining partnerships of the 21st century," he said.
"We share so much, so many interests and values, as well as a common vision for peace, for stability and prosperity in the Indo-Asia-Pacific region. As Parrikar's busy itinerary and our extensive deliberations today demonstrate, that destiny is rapidly and surely becoming a reality," Carter said.
After according Parrikar a ceremonial welcome at the Pentagon, the Defence Secretary accompanied him to the 9/11 memorial at the Pentagon.
"Fifteen years ago this week, our DOD community lost so many friends and colleagues and our nation lost too many fathers and mothers and brothers and sisters, sons and daughters," he said.
"Unfortunately, I know also that the Indian Air Force recently experienced a tragedy of its own. One of its aircraft disappeared last month with nearly 30 people on board. On behalf of the men and women of the Defence Department, I offer our thoughts and our prayers for those missing and their families," Carter said.
World
The Supreme Court's decision overturning the right to abortion nearly 50 years ago will have far-reaching implications for reproductive health care across the United States
World
Removal of tariffs would carry substantive political and strategic costs, without any tangible economic benefits
World
Major legislation passed and signed by Governor Gavin Newsom, aims to significantly reduce single-use plastic packaging in the state and drastically boost recycling rates for what remains