Manchester Arena blast Britain's deadliest since 2005 London bombings: Here's a chronology of terror attacks in Britain
Nineteen people have been killed in a terrorist attack during a pop concert by US star Ariana Grande in the northwest English city of Manchester, police said Tuesday.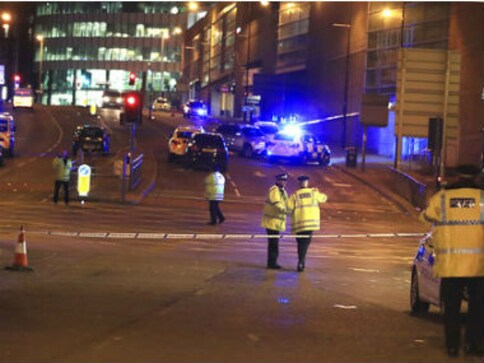 Nineteen people have been killed in a terrorist attack during a pop concert by US star Ariana Grande in the northwest English city of Manchester, police said Tuesday. British Prime Minister Theresa May condemned the "appalling terrorist attack". "All our thoughts are with the victims and the families of those who have been affected," she said in a statement.
After Irish republicans ended regular bombings in 2001, terror attacks in Britain became more rare. Most attacks since have been carried out by homegrown Islamists, the deadliest remains the July 2005 assault on London transport:
2003: Airliner attack foiled
Al-Qaeda plans to hijack planes leaving London Heathrow airport and crash them into the airport and into a high-rise building in London's Canary Wharf business district are foiled.
2004: Multiple attacks foiled
30 March, 2004: Seven British people are arrested and accused of planning a series of attacks in Britain, including on a "large disco" in London and electricity and gas installations.
2005: London transport attacked
7 July, 2005: Four British suicide bombers inspired by Al-Qaeda attack London's transport system during rush hour, killing 52 people, as well as themselves, and wounding 700. Two weeks later a failed attempt is made by another group to carry out a second wave of attacks.
2006: Transatlantic flight attacks foiled
10 August, 2006: British police foil a plot by an eight-man British gang to blow up airliners flying between the United States, Canada and Britain over the Atlantic Ocean using explosives made from liquids. The plot results in new restrictions on what passengers can carry on board.
2007: Car bombs fail
29 June, 2007: Two Mercedes cars filled with fuel, gas canisters and nails are found outside a nightclub near Piccadilly Circus, London. A day later a flaming car slams into the main terminal of Glasgow Airport in Scotland. An Indian driving the car suffers serious burns after dousing himself with petrol, and dies a month later. The passenger, Iraqi doctor, Bilal Abdulla, 29, is jailed in 16 December for at least 32 years for plotting to murder hundreds of people.
2009: Spate of Northern Ireland shootings
March 2009 sees a sudden resurgence of political violence in Northern Ireland with two soldiers shot dead outside their barracks by republican militants as they went to collect a pizza delivery, the first such slaying since 1997. Two days later a police officer is shot dead by a different paramilitary republican faction.
2013: British soldier slain
22 May, 2013: British soldier Lee Rigby, 25, is hacked to death by two Britons of Nigerian descent near an army barracks in the southeast of the capital. Witnesses say the attackers encouraged them to film the scene as they shouted "Allah Akbar" ("God is greatest") before being injured and arrested by police. In February 2014, Michael Adebolajo, 29, is sentenced to life in prison for the murder while Michael Adebowale, 22, receives a minimum of 45 years behind bars.
2015: London underground stabbing
5 December, 2015: A paranoid schizophrenic knifeman stabs two people, including one seriously, at London's Leytonstone Underground station, two days after Britain's first air strikes on the jihadist Islamic State group in Syria. The knifeman, Somali-born Muhaydin Mire, 30, is sentenced to life behind bars. The police describe the incident as "terrorist".
2016: Lawmaker murdered
16 June, 2016: British Labour politician and serving parliamentarian Jo Cox is murdered by a pro-Nazi sympathiser shortly before the historic but deeply divisive vote later that month to leave the EU. The killer, far-right white nationalist Thomas Mair, is sentenced to life in prison later that year.
2017: Westminster Bridge attack
22 March, 2017: Five people are killed and more than 50 are wounded when a man rams his car into pedestrians on Westminster bridge in London before crashing into the fence surrounding parliament. The attacker, 52-year-old Muslim convert Khalid Mahmood, is shot dead by police at the scene. Investigators describe the lone-wolf attack as "Islamist related terrorism".
2017: Ariana Grande concert attack
22 May, 2017: At least nineteen people are killed in a suspected terrorist attack at the end of a pop concert by US star Ariana Grande in Manchester.
India
Although not regarded as totally reliable, a host of law enforcement agencies around the world use the narco-analysis test or narco test during their investigations as they feel that this method allows them to extract true answers from their subjects
India
Armed with a stolen Aadhaar card, Mohammed Shariq rented an apartment in Mysuru where he stored items used to make explosives. On Saturday, he carried an IED-fitted pressure cooker in an auto rickshaw on the outskirts of Mangaluru. The blast has been called an act of terror by Karnataka Police
Opinion
26/11 must serve as a reminder that intelligence, preparation, and protection ought to be a 'whole of nation' approach to serve as a powerful bulwark against ominous surprises