Man Booker Prize 2018 shortlist announced: Robin Robertson, Daisy Johnson, Richard Powers make the cut
Three United Kingdom authors, two Americans and a Canadian are finalists for the Man Booker Prize for fiction for 2018.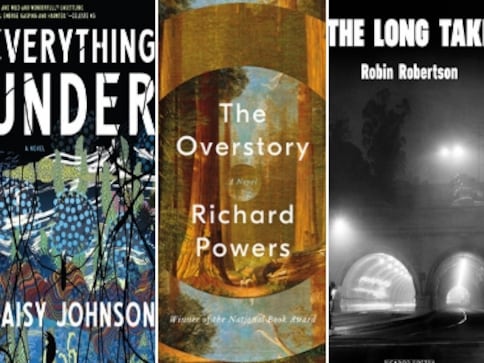 Three United Kingdom authors, two Americans and a Canadian are finalists for the Man Booker Prize for fiction for 2018.
The shortlist announced on Thursday, 20 September, includes two first novels: UK poet Robin Robertson's verse novel The Long Take and Everything Under by British writer Daisy Johnson. At 27, Johnson is the youngest-ever Booker finalist. The American finalists are Rachel Kushner's prison story The Mars Room and Richard Powers' tree-inspired tale The Overstory.
Washington Black, the saga of an escaped slave by Canada's Esi Edugyan, and Troubles-set story Milkman by Northern Ireland writer Anna Burns round out the list.
Favourites, including Canada's Michael Ondaatje, didn't make the cut from the 13-novel longlist, nor did Nick Dranaso's graphic novel Sabrina.
Here is a brief look at the finalists, one of whom will be the winner of the 50,000 pounds ($66,000) prize, which will be announced on 16 October 2018 during a black-tie dinner at London's Guildhall.
The Long Take, by Robin Robertson
The Long Take, a noir narrative, follows Walker — a D-Day veteran with post-traumatic stress disorder — through a sequence of poems as he moves through post-war American cities of New York, Los Angles and San Francisco. Unable to face a return to his family home in rural Nova Scotia, he goes in search of freedom, change, anonymity, and repair.
---
Everything Under, by Daisy Johnson
Everything Under, a reimagination of classical myths and tales, follows Gretel, a lexicographer, who grew up on a houseboat with her mother, inventing a language of their own. Not having seen her mother since the age of 16, her memories are fading. But everything changes when a phone call from the hospital interrupts her isolation and throws up questions from long ago.
---
The Mars Room, by Rachel Kushner
Romy Hall is at the start of two consecutive life sentences at a women's correctional facility, deep in California's Central Valley. Inside, she faces a new reality — thousands of women hustling for the bare essentials needed to survive; the bluffing and pageantry and casual acts of violence by guards and prisoners alike; and the deadpan absurdities of institutional living.
---
The Overstory, by Richard Powers
An Air Force loadmaster in the Vietnam War is shot out of the sky, then saved by falling into a banyan. An artist inherits a hundred years of photographic portraits, all of the same doomed American chestnut. A hard-partying undergraduate in the late 1980s electrocutes herself, dies, and is sent back into life by creatures of air and light. These three, and six other; in his twelfth novel, Powers tells the stories of nine Americans whose unique life experiences with trees bring them together to address the destruction of forests.
---
Washington Black, by Esi Edugyan
Working in the sticky heat of the Barbados sugar plantation where he was born, 11-year-old field slave Washington Black is terrified when he's made manservant to his master's offbeat brother. But naturalist/explorer Wilde, or "Titch," eagerly introduces Wash to a brave new world and protects him when a bounty is placed on his head, as they flee north along America's Atlantic coast to the chilly Arctic.
---
Milkman, by Anna Burns
In this unnamed city, to be interesting is dangerous. Middle sister, the book's protagonist, is busy attempting to keep her mother from discovering her maybe-boyfriend and to keep everyone in the dark about her encounter with Milkman. But when first brother-in-law sniffs out her struggle, and rumours start to swell, middle sister becomes 'interesting'. The last thing she ever wanted to be.
With inputs from The Associated Press
Entertainment
Ruskin Bond says that surprisingly, he has started writing more now that he has turned 84. His new book, Stumbling Through Life, released on his birthday.
Arts & Culture
Dedicated is Davis' attempt to show that commitment, so often associated with conservatism and traditionalism, can be a radical act.
Arts & Culture
Libertie is the kind of historical figure who is rarely celebrated: someone who simply wants to survive and thrive, not to be the first or the only one of anything.