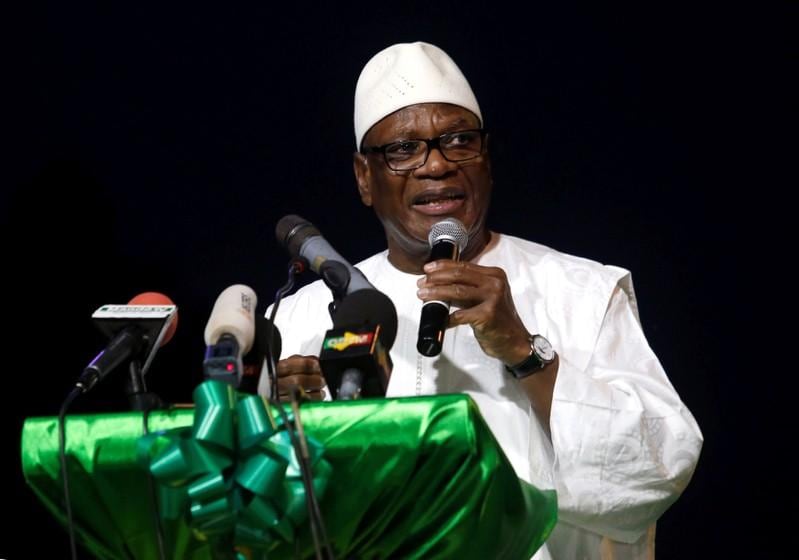 By Tiemoko Diallo
BAMAKO (Reuters) - Malians lined up to vote in a run-off presidential election under the watchful eyes of thousands of soldiers on Sunday following a first round last month that was marred by militant attacks and opposition allegations of fraud.
Incumbent Ibrahim Boubacar Keita, 73, is expected to win even though he has been unable to stem a surge in ethnic and militant violence during his first term in office.
Challenger Soumalia Cisse, 68, the main opposition leader and a former finance minister, said however he was confident of victory but he also accused the government camp of trying to stuff ballot boxes.
Militants, some linked to al Qaeda and Islamic State, have regrouped in the vast West African country since French troops pushed them back in 2013 from areas they had seized in the north.
They are now expanding their influence again across the desert north and into the fertile centre, keeping the country high on the list of Western powers' security concerns. Former colonial ruler France and the United States have deployed thousands of troops across the region.
Elections observers giving initial assessments as voting got underway said no serious incidents had been reported and most polling stations were functioning well. However, it could be sometime before reports trickle in from conflictive areas in the north and centre.
Armed soldiers ran body checks on voters in the capital Bamako as they waited in line under rainy skies to cast their ballots.
"I voted without problem. I came to fulfil my duty as a citizen," said Dramane Camara, 31, at a polling station in a school in Bamako.
"I expect the new president to solve the problem of the north, which is peace. Because the return of peace means the return of NGOs, investors, so creating jobs."
The first round on July 29 was marred by armed attacks and other security incidents at about a fifth of polling places, as well as opposition charges of fraud.
Keita called for a peaceful day and urged people not to respond to any provocation as he voted in Bamako on Sunday morning. "I pledge that all the difficulties we faced are now behind us," he told cheering supporters.
The government has stepped up security for the run-off, deploying an extra 6,000 troops on top of the 30,000 already on duty. The Mopti region in central Mali, where most of the attacks in the first round took place, is a particular concern.
The head of the European Union observer mission, Italian politician Cecile Kyenge, told reporters there had been no major incidents at 40 polling stations it had monitored.
The mission had deployed 90 observers across the country "but unfortunately not to Timbuktu, Mopti and Kidal" -- areas where violence has been rife.
The independent Mali Citizen Observation Pool also reported minor incidents and some delays, but generally gave a positive assessment of the voting so far.
FRAUD CLAIMS
Keita -- known as IBK -- took 41 percent of the vote in last month's first round against nearly 18 percent for Cisse.
Results from the first round took five days to emerge and authorities have not said when they expect the final result to be announced.
Cisse, who lost against Keita in a peaceful 2013 run-off, said he was confident of victory when he voted in his hometown Niafunke.
"We travelled across the whole country and we found an extremely strong desire for change everywhere. Malians want to change, Malians want a different future, a different hope," he said.
Cisse also accused the other side of cheating, saying in Bamako they had found people before the vote who already had ballot papers.
"But we will win because we are on the path of truth. Malians don't need a president who cheats to win," he said.
Cisse, who blames Keita for the worsening violence and accuses his government of rampant corruption, also alleged fraud in the first round but the constitutional court upheld the result.
On Saturday evening, about 100 opposition supporters demonstrated in Bamako's Liberty Square to complain about the result of the first round. Chanting "No to electoral fraud" and calling for transparency in the second round, they said there had been many instances of cheating in the first vote.
Armed troops watched over the protest but did not intervene.
Civil society website Malilink recorded 932 militant attacks in the first half of 2018, almost double that for all of 2017.
Jihadists are also stoking inter-communal conflict, mostly between herders and traditional hunters. Killings along ethnic lines have claimed hundreds of civilian lives this year, including at least 11 last week in the Mopti region.
The 2013 elections followed a military coup a year earlier.
Fatoumata Cissé, a 38-year-old teacher, said: "I voted, no problem. I voted IBK. He has a positive balance especially for us teachers, our living conditions have improved. I hope that it will continue to improve the conditions of workers."
(Additional reporting by Cheick Amadou Diouara and Fadimata Kontao; Writing by Aaron Ross and Angus MacSwan, Editing by Susan Fenton, Richard Balmforth)
This story has not been edited by Firstpost staff and is generated by auto-feed.
Firstpost is now on WhatsApp. For the latest analysis, commentary and news updates, sign up for our WhatsApp services. Just go to Firstpost.com/Whatsapp and hit the Subscribe button.
Updated Date: Aug 13, 2018 00:05:38 IST