Maldives sends out envoys to 'friendly nations' of China, Pakistan, Saudi Arabia; India not on list
Amid intensifying political turmoil in Maldives, the tiny Indian Ocean archipelago nation has decided to send out envoys to 'friendly nations', including China, Pakistan and Saudi Arabia. India is not a part of this list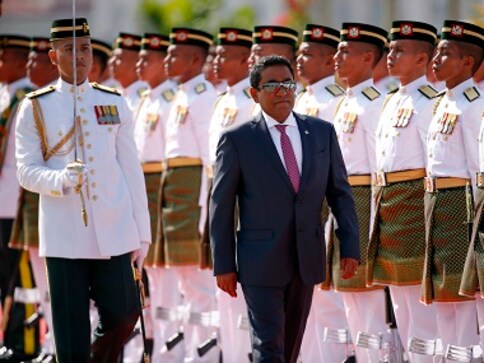 Amid intensifying political turmoil in Maldives, the tiny Indian Ocean archipelago nation has decided to send out envoys to "friendly nations", including China, Pakistan and Saudi Arabia. India, geographically the nearest country from the islands, however, is not a part of this list.
A press release from the office of the President of the Maldives said three envoys have departed for "friendly nations of the Maldives", and that they will "provide updates on the current situation".
The choice of the three countries isn't surprising, especially given the close ties Maldives has enjoyed with China, and the growing Islamic influence on the country under Abdulla Yameen has meant it has grown closer to Pakistan and Saudi Arabia as well.
Here's a brief look at ties between Maldives and its friends.
China: The press release said that Mohamed Saeed, minister of economic development, has departed for China on Wednesday evening. Ever since Abdulla Yameen took charge in 2013, Maldives has grown increasingly close to China, a marked change from the policies of his predecessor, Mohamed Nasheed, who had once said ties with India were 2,000-3,000 years old, and Maldives would prioritise this over the billions of dollars of funds pumped in by Beijing.
However, Yameen has pursued a different course. Yameen became the first Asian Head of State to visit China after the 19th National Congress of the Communist Party of China (CPC) was held in October.
In December last year, the two countries signed 12 agreements, including a memorandum of understanding on the Belt and Road construction, a free trade agreement and agreements on the economy, human resources, oceans, environment, health care and finance.
Three years before this, in September 2014, Chinese president Xi Jinping had made a State visit to Male, whereby he called his host country as being a "string of pearls that God had left on the Indian Ocean". He also promised to extend all help for the construction of the 'Male-Hulhule Bridge'.
Pakistan: Mohamed Asim, minister of foreign affairs, departed for Pakistan on Wednesday evening. As member nations of SAARC, Pakistan and Maldives have enjoyed bilateral relations for nearly half a century. In May 2015, as Abdulla Yameen visited Islamabad, he called Pakistan had proven itself a a "sincere friend".
Sharif then said, "Our relations are characterised by cordiality, mutual respect and commonality of interest." He said Pakistan is aware of Maldives' concerns on climate and environmental issues and is willing to cooperate on these issues bilaterally with Maldives as well as under the ambit of SAARC.
The two sides further consolidated their bilateral ties by signing a number of MOUs on tourism, trade promotion, higher education and human resource capacity building would help in further consolidating bilateral relations, as reported by The Nation.
But perhaps the most momentous part about ties between Pakistan and Maldives is the Parliament building at Male. Pakistan had built the Parliament building as a gift to Maldives, the Dawn reported. It was Nawaz Sharif, incidentally, who visited Male in 1996 for the inauguration of the Parliament building, the article said.
Saudi Arabia: While Maldivian envoys have already arrived in China and Pakistan, a delegate will be leaving for Saudi Arabia later on Thursday. Mohamed Shainee, minister of fisheries and agriculture, will depart for Riyadh on Thursday, the press release said.
Maldives, with a 100 percent Sunni population, has moved increasingly towards Saudi Arabia in recent years. As reported by BBC in 2014, soon after Yameen took charge, Saudi Arabia promised to invest in building 10 "world-class" mosques in Maldives, while visiting Saudi scholars also pledged a grant of $100,000 for Islamic education in the archipelago.
Crown Prince of Saudi Arabia, Salman bin Abdulaziz al-Saud, then booked three entire Maldivian islands for nearly a month. Moreover, Saudi Arabia had promised the Maldives a five-year soft loan facility of $300m (£181m), pledged when Yameen's predecessor Mohamed Nasheed had visited Riyadh in the final year of his presidency.
Last year, the Yameen government then decided to give control of an entire atoll to Saudi Arabia. As reported by The Times of India in March 2017, Faafu — one of the 26 Maldivian atolls — was to be sold to Saudi Arabia, which India feared, would aggravate Wahabism in the Indian Ocean country.
"Saudis fund scholarships for 300 students every year. About 70 percent of Maldivian population already subscribes to the Wahabi sect," an official of Nasheed's Maldivian Democratic Party (MDP) was quoted as saying in The Times of India report. "There is a plan by Yameen to bring in Islamic teachers from Saudi Arabia. This will turn these schools to madrasas."
Further, Male also severed relations with Qatar in 2017 in solidarity with the GCC nations, who boycotted the West Asian.
News & Analysis
In terms of sound quality and ANC, the Sony WF-1000XM4 are perhaps the best TWS earbuds in India under Rs 20,000 at the moment
Politics
While BJP candidate from Loni Nand Kishore Gurjar says he has banned meat, and crime has come down in the constituency, RLD's Madan Bhaiya promises communal harmony and development
Politics
The cadre has been camping at RLD chief Jayant Chaudhary's house in Delhi that a Jat leader should contest from Siwalkhas instead of SP candidate and former MLA Gulam Mohammad