Malaysia's Prime Minister to announce economic measures on Monday | Reuters
KUALA LUMPUR Malaysian Prime Minister Najib Razak is expected to announce measures to strengthen the economy on Monday as falling commodity prices weigh on growth and the ringgit currency plumbs near 18-year lows. Slowing demand from China and a political crisis swirling around Najib have also shaken investors in Southeast Asia's third-largest economy in recent months, pushing the ringgit down nearly 19 percent against the U.S
KUALA LUMPUR Malaysian Prime Minister Najib Razak is expected to announce measures to strengthen the economy on Monday as falling commodity prices weigh on growth and the ringgit currency plumbs near 18-year lows.
Slowing demand from China and a political crisis swirling around Najib have also shaken investors in Southeast Asia's third-largest economy in recent months, pushing the ringgit down nearly 19 percent against the U.S. dollar so far this year.
Najib is expected to announce the new measures at around 11:30 pm (0330 GMT) after a weekly meeting of the economic council on Monday, officials at the Prime Minister's office said on Saturday, without giving details.
Last month, he set up a special economic committee to propose immediate and medium-term measures to strengthen the economy and to restore investor confidence.
Malaysia has been gripped by political tensions which escalated in early July after a report that investigators looking into debt-laden state investment fund 1MDB had found that close to $700 million had been deposited in an account held by Prime Minister Najib Razak.
Najib, who also chairs 1MDB, has denied any wrongdoing, but the scandal has not died and has weighed on the economy.
Both Najib and Malaysia's central bank governor have pledged not to impose capital controls.
Najib has maintained that Malaysia's current economic situation was stronger than during the 1997-98 Asian financial crisis.
Massive outflows of capital during that crisis forced Malaysia to peg the ringgit at 3.8 to the dollar, which was retained that 2005.
Fitch Ratings said last week that Malaysia's deteriorating currency position - reflected in the ringgit's sharp depreciation, falling foreign exchange reserves and shrinking current account surplus - could force it restore a negative outlook on the country's credit rating.
(Reporting by Yantoultra Ngui; Writing by Praveen Menon; Editing by Kim Coghill)
This story has not been edited by Firstpost staff and is generated by auto-feed.
Find latest and upcoming tech gadgets online on Tech2 Gadgets. Get technology news, gadgets reviews & ratings. Popular gadgets including laptop, tablet and mobile specifications, features, prices, comparison.
Lifestyle
In MD Pallavi's 'Salt', a woman and her daughters walk the hard line between hunger and dignity.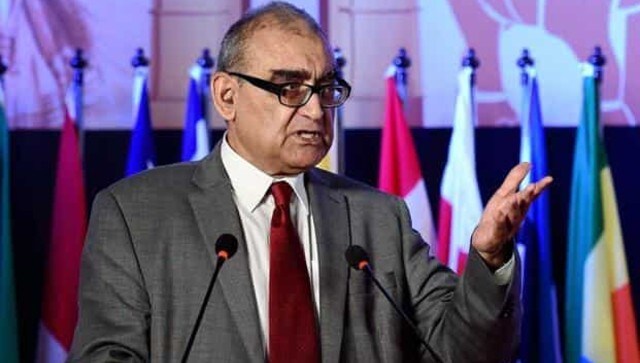 India
Katju also repeatedly made comparisons between India and Germany under the Nazi regime, saying Nirav Modi has been made a convenient scapegoat for India's economic crisis
Business
Manufacturing sector, which constitutes 77.63 percent of the IIP, recorded a decline of 11.1 percent in July as against a growth of 4.8 percent in same month last year