Former Malaysian PM Najib Razak to take 'short break' to spend time with family amid graft allegations
Razak said he would take a short break hours after reports that his name was on the flight manifest of a private jet set to leave for Jakarta on Saturday
Kuala Lampur: Former Malaysian prime minister Najib Razak said on Twitter that he would take a short break to spend time with his family, hours after reports that his name was on the flight manifest of a private jet scheduled to leave for Jakarta on Saturday morning.
"After over four decades in politics and the recent election campaign, which was regrettably personal and perhaps the most intense in Malaysian history, I will take a short break to spend time with my family whom I have not seen enough of in recent years," Najib said in a tweet.
Najib lost to former prime minister Mahathir Mohamad in this week's general election. Mahathir has vowed to investigate a multi-billion-dollar graft scandal at state fund 1Malaysia Development Berhad (1MDB), which was founded by Najib.
Najib has consistently denied any wrongdoing in connection with 1MDB.
The Wall Street Journal, citing people close to Mahathir, reported earlier on Saturday that Najib would be prevented from leaving the country. Reuters was unable to verify the report.
The manifest of the jet, which is scheduled to fly from an airport near Kuala Lumpur to the Indonesian capital at 10:00 a.m. (0200 GMT), names Najib and his wife, Rosmah Mansor, as the only two passengers, two sources and two media reports said earlier.
A source in Mahathir's government told Reuters that Najib would be taking a holiday. Malaysiakini, a news portal, cited an unnamed source close to Najib as saying that he would take a two-day break in Indonesia.
Mahathir, previously prime minister for 22 years, was once Najib's mentor but turned against him over the 1MDB scandal and led the opposition challenge to him in this week's election, defeating the coalition that had ruled Malaysia for six decades.
Mahathir has vowed to return billions of dollars lost from 1MDB.
He is expected to announce his cabinet line-up later on Saturday.
Find latest and upcoming tech gadgets online on Tech2 Gadgets. Get technology news, gadgets reviews & ratings. Popular gadgets including laptop, tablet and mobile specifications, features, prices, comparison.
Business
SHANGHAI (Reuters) - Tesla is planning to export Model 3 vehicles made in China to Asian and European markets, two sources familiar with the matter told Reuters on Friday. The U.S.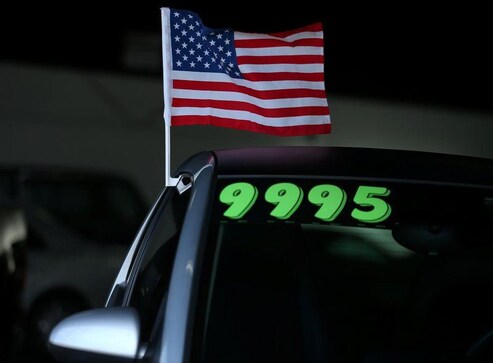 Business
By Lucia Mutikani WASHINGTON (Reuters) - U.S. consumer prices rose solidly in August, with the cost of used cars and trucks accelerating by the most in more than 51 years likely as Americans shunned public transportation because of fears of contracting COVID-19
Business
By Tanishaa Nadkar and Pushkala Aripaka (Reuters) - Life and general insurer Aviva is offloading its Singapore business to a consortium led by Singapore Life, for S$2.7 billion ($1.98 billion), as the London-listed firm sharpens its focus on Britain, Ireland and Canada.