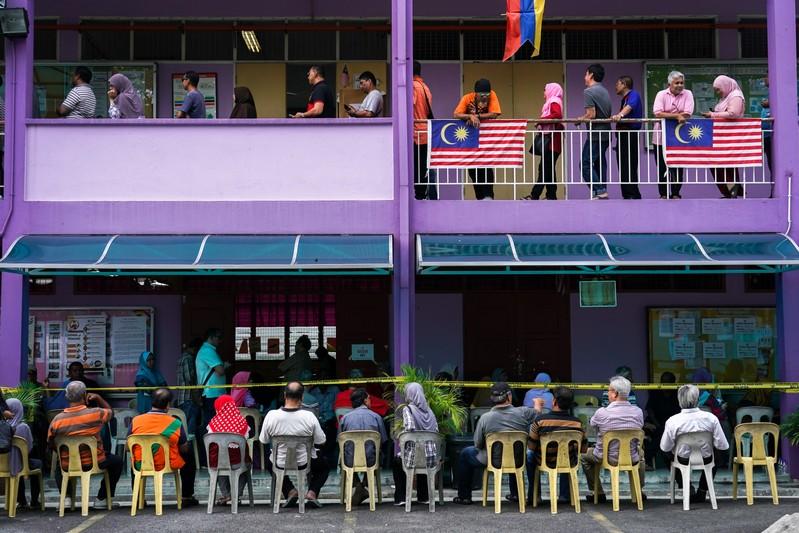 By Rozanna Latiff and A. Ananthalakshmi
KUALA LUMPUR (Reuters) - Malaysia's Mahathir Mohamad said the opposition alliance he leads had won enough parliament seats in Wednesday's general election to form the next government, but the count was continuing and official results so far did not back his claim.
The Election Commission said that some results that had gone "viral" were unofficial and had not been verified.
"Of course, political parties can declare whoever (they believe has won), but ... please wait," commission chairman Mohd Hashim Abdullah told reporters shortly after midnight. "We would like to announce it as quickly as possible as well."
Official results showed that, so far, Mahathir's Pakatan Harapan (Alliance of Hope) had won 52 of parliament's 222 seats and Prime Minister Najib Razak's ruling coalition, Barisan Nasional (BN), had won 42.
A simple majority of 112 seats is required by a party or alliance to rule, a number 92-year-old Mahathir said his Pakatan Harapan (Alliance of Hope) believed it had won.
"We believe that from our official counting that they're left far behind. The likelihood is that they will not be forming the government," Mahathir told reporters, referring to the prime minister's coalition.
There was no immediate comment from the ruling coalition.
Early results showed that BN had lost seats in key states that have traditionally been its strongholds, raising the prospect that it could be voted out of power for the first time in the country's six decades of independence from Britain.
BN faced a far greater challenge in this election than ever before amid public anger over the cost of living and a multi-billion-dollar scandal that has dogged Najib since 2015.
An election-eve opinion poll had suggested that support for BN was slipping and Mahathir's alliance would land the most votes in peninsular Malaysia, home to 80 percent of the population in this Southeast Asian nation.
However, under Malaysia's electoral system, the party or alliance with the majority of parliament seats wins, and going into the poll most experts had believed that was within the prime minister's reach.
NAJIB DOGGED BY SCANDAL
The opposition claimed the contest would be skewed by a revision of electoral boundaries and a decision to hold the poll midweek, which it said would discourage millions from voting. The Election Commission and government dismissed the charges.
Malaysia's majority ethnic-Malay Muslims have tended to support BN for affirmative-action policies that give them government contracts, cheap housing and guaranteed university admissions.
Mahathir's opposition alliance, which counts on urban votes and support from the minority ethnic-Chinese and Indian communities, hoped that with the former leader as its standard bearer it would draw in Malay voters traditionally loyal to BN.
However, Mahathir is a polarising figure and many voters are suspicious of him because of his attacks on independent institutions when he was prime minister between 1981 and 2003.
Najib has another formidable opponent in former deputy prime minister Anwar Ibrahim, who is currently serving a five-year prison sentence on a sodomy conviction that has been attacked by human rights groups as politically motivated.
Anwar led the opposition in the 2008 and 2013 polls. In an unlikely reconciliation, he has joined hands with Mahathir, who sacked him as deputy prime minister in 1998.
Najib, 64, has been buffeted by the scandal over 1Malaysia Development Berhad (1MDB), a state fund from which billions of dollars were allegedly siphoned off.
U.S. Attorney-General Jeff Sessions has described the scandal at the fund set up by Najib as the worst form of kleptocracy. The U.S. Department of Justice has filed several lawsuits to seize more than $1.7 billion in assets believed to have been stolen from 1MDB.
Najib, who was chairman of 1MDB's advisory board, has denied any wrongdoing and has been cleared of any offence by Malaysia's attorney general.
(Additional reporting by Joseph Sipalan, Emily Chow, Fathin Ungku, Liz Lee and Praveen Menon; Writing by John Chalmers; Editing by Nick Macfie)
This story has not been edited by Firstpost staff and is generated by auto-feed.
Firstpost is now on WhatsApp. For the latest analysis, commentary and news updates, sign up for our WhatsApp services. Just go to Firstpost.com/Whatsapp and hit the Subscribe button.
Updated Date: May 10, 2018 00:08 AM