Malaysia sends back over 300 containers of illicit plastic waste
KUALA LUMPUR (Reuters) - Malaysia said on Tuesday it had sent 267 containers of illegal plastic waste back to their countries of origin since 2019, and was in the process of returning 81 more. Malaysia became the destination of choice for the world's plastic waste after China banned imports in 2018, but is struggling to fend off a deluge of generally unlicensed unrecyclable garbage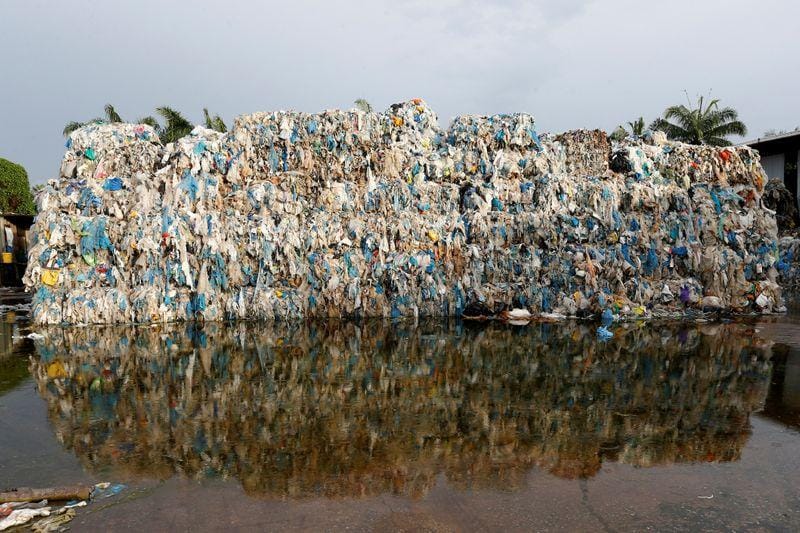 KUALA LUMPUR (Reuters) - Malaysia said on Tuesday it had sent 267 containers of illegal plastic waste back to their countries of origin since 2019, and was in the process of returning 81 more.
Malaysia became the destination of choice for the world's plastic waste after China banned imports in 2018, but is struggling to fend off a deluge of generally unlicensed unrecyclable garbage.
New U.N. rules on the trade of hazardous waste under the Basel Convention came into force on Jan. 1, intended to discourage the production of hard-to-recycle plastics and to prevent rich countries dumping trash in the developing world, where it often ends up polluting the local environment and the ocean.
Signatories to the Convention may only trade plastic waste if it is clean, sorted and easy to recycle - unless the importing country has granted an exemption.
In a statement on Tuesday, Environment Minister Tuan Ibrahim Tuan Man noted how much illicit waste Malaysia had succeeded in intercepting, and promised that shipping companies or agents who broke Malaysia's environment and import laws would face "strict action".
The United States, which produces more plastic waste per capita than any other country, is the only major nation not to have ratified the Basel Convention. However, under the treaty, Malaysia cannot accept prohibited plastic waste from the United States.
(Reporting by Mei Mei Chu; writing by A. Ananthalakshmi; Editing by Kevin Liffey)
This story has not been edited by Firstpost staff and is generated by auto-feed.
World
CARACAS (Reuters) - Human rights groups from Venezuela and Colombia on Wednesday called on the United Nations to appoint a special envoy to address the humanitarian crisis caused by clashes between Venezuelan troops and Colombian armed groups near the countries' border. Colombian officials estimate that some 4,000 people have fled Venezuela for Colombia since March 21 following a military offensive in Venezuela's Apure state.
World
By Anton Zverev and Andrew Osborn MOSCOW (Reuters) - Jailed Kremlin critic Alexei Navalny went on hunger strike on Wednesday in an attempt to force the prison holding him outside Moscow to provide him with proper medical care for what he said was acute pain in his back and legs. The fate of Navalny, one of President Vladimir Putin's most prominent critics, is in focus after he said last week that being woken up by a guard every hour during the night amounted to torture and that his appeals for medical treatment had been ignored. In a handwritten letter addressed to the governor of his prison which was posted to social media by his team on Wednesday, Navalny said daily requests for a doctor of his choice to examine him and for proper medicine had been ignored
World
By Stephanie van den Berg THE HAGUE (Reuters) - The International Criminal Court on Wednesday upheld its 2019 acquittal of former Ivory Coast President Laurent Gbagbo on charges of crimes against humanity during post-election violence and ordered all conditions of his release be removed. The decision may open the way for Gbagbo, 75, who has been living in Belgium, to return to Ivory Coast