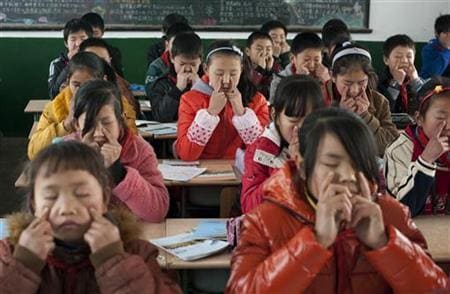 BEIJING (Reuters) - Three major cities plan a limited relaxation of restrictions on the children of migrant workers seeking to enter university-track schools, China National Radio reported on Sunday, an apparent response to protests over discriminatory practices.
High school students are restricted to taking competitive university exams where they are registered, a stipulation that effectively locks the children of migrant workers out of a path to higher education in the cities.
Reformists had seized on the case of Zhan Haite, 15, the daughter of migrants who had been raised in Shanghai but was ineligible to attend a university-track high school there. Her case triggered protests in Beijing and Shanghai this month, while her father was detained for several days for campaigning to secure education rights in Shanghai.
The rules as announced still do not treat the children of migrants equally to city residents with a hukou, or legal registration.
Beijing and Shanghai as well as Guangdong Province, whose Pearl River Delta factories are a magnet for migrants, will phase in access to the higher-education exams to students living within their borders, China National Radio reported.
But in practice, high-performing migrant children will still face discrimination.
From 2016, Guangdong will allow migrant children to sit the exams and apply to university on an equal footing with legal residents.
Beijing and Shanghai plan to relax admission to vocational-track schools and in some cases open the door to university education to students who have first graduated from a vocational school programme.
Migrant children may take the university exam in Beijing from 2013 and in Shanghai from 2014, but their university applications will still be processed in their legal hometown.
The children of migrants long resident in Beijing already have some rights to attend elementary school, but in practice they are often kept out through high fees, red tape and confusing procedures. (Reporting By Lucy Hornby and Sabrina Mao; Editing by Ron Popeski)
Updated Date: Dec 30, 2012 20:00 PM