Mainland China reports 16 new COVID-19 cases vs 17 a day earlier
SHANGHAI (Reuters) - Mainland China reported 16 new COVID-19 cases on Nov. 20, down from 17 the previous day, with seven cases of local transmission and nine cases originating overseas, the country's health authority said on Saturday. The National Health Commission said in its daily bulletin that five of the local transmissions took place in Tianjin and two in Shanghai
COVID-19
cases vs 17 a day earlier" src="https://images.firstpost.com/wp-content/uploads/reuters/11-2020/21/2020-11-21T010905Z_1_LYNXMPEGAK014_RTROPTP_2_HEALTH-CORONAVIRUS-CHINA.jpg" alt="Mainland China reports 16 new COVID19 cases vs 17 a day earlier" width="300" height="225" />
SHANGHAI (Reuters) - Mainland China reported 16 new COVID-19
cases on Nov. 20, down from 17 the previous day, with seven cases of local transmission and nine cases originating overseas, the country's health authority said on Saturday.
The National Health Commission said in its daily bulletin that five of the local transmissions took place in Tianjin and two in Shanghai.
Tianjin, which neighbours the capital Beijing, will launch a three-day universal screening programme covering nearly 3 million of its residents on Saturday.
Local officials said on Friday that one community in Tianjin had been placed in lockdown and around 1,900 people have been quarantined, according to the China Daily newspaper.
Mainland China also reported another 18 cases of asymptomatic cases on Nov. 20, up from 14 on the previous day.
It has so far reported an accumulated total of 86,414 COVID-19
cases, with the official death toll at 4,634.
(Reporting by David Stanway; Editing by William Mallard)
This story has not been edited by Firstpost staff and is generated by auto-feed.
Find latest and upcoming tech gadgets online on Tech2 Gadgets. Get technology news, gadgets reviews & ratings. Popular gadgets including laptop, tablet and mobile specifications, features, prices, comparison.
World
By Daniel Ramos and Aislinn Laing LA PAZ (Reuters) - Bolivia's new president, Luis Arce, has moved swiftly to restore ties with Iran and Venezuela, receiving the credentials of ambassadors from the two countries on Wednesday, just three days after his socialist party retook the reins of power.
World
RIYADH (Reuters) - Saudi Arabia's King Salman urged the international community on Thursday to take a decisive stance that "radically" addresses efforts by Iran to develop nuclear and ballistic missile programs. The king made his remarks virtually in an annual address to the appointed Shura Council, a top governmental advisory body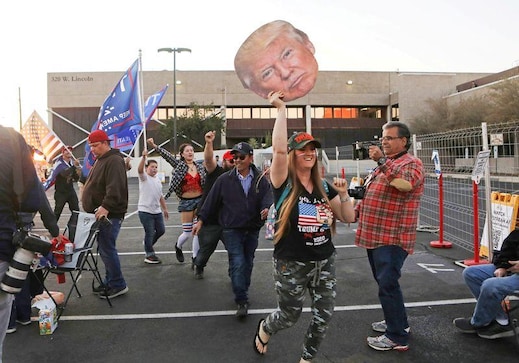 World
By Jarrett Renshaw and Joseph Tanfani (Reuters) - As President Donald Trump seeks to discredit last week's election with baseless claims of voter fraud, his team has bombarded his supporters with requests for money to help pay for legal challenges to the results: "The Left will try to STEAL this election!" reads one text. But any small-dollar donations from Trump's grassroots donors won't be going to legal expenses at all, according to a Reuters review of the legal language in the solicitations