Mahinda Rajapaksa, family reported to anti-corruption body in Sri Lanka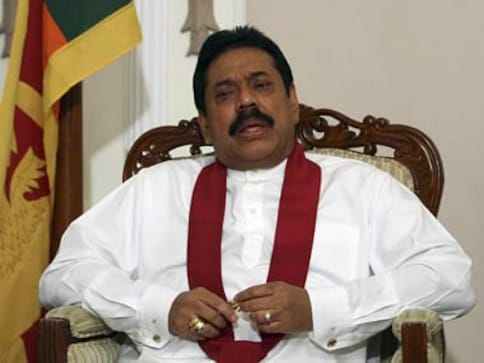 Sri Lanka's former President Mahinda Rajapaksa and his family members were today reported to the country's anti-corruption watchdog by a key coalition partner of the new president, Maithripala Sirisena, over graft claims.
The Marxist Janatha Vimukthi Peramuna (JVP) called on the Bribery and Corruption Commission to probe Rajapaksa and his family members over the allegations.
"This morning we lodged a complaint against Mahinda Rajapaksa, Basil Rajapaksa, Namal Rajapaksa and Gotabhaya Rajapaksa to the bribery commission," said Vijitha Herath, a JVP legislator.
The JVP complained about 12 individuals and institutions, which also include two ministers while others are high-ranking officials of the Rajapaksa dispensation. Herath said his party expects the watchdog to launch a full-scale investigation into the bribery and corruption allegations.
Rajapaksa, meanwhile, has responded to the reports that he may flee the country. He said he would stay and continue to fight.
In the run-up to the January 8 presidential elections, the opposition had accused Rajapaksa and his family of being involved in large-scale corruption, nepotism and of having a disregard for law and order and good governance. The opposition had also severely criticised Sri Lanka's central bank for investing in what was termed as Greece "junk bonds" in the aftermath of the euro crisis.
It said Sri Lanka invested in those bonds against normal procedures and regulations which resulted in the country incurring a loss of Rs 2 billion.
Rajapaksa witnessed a shock defeat in January after being at the helm of Sri Lankan affairs for 10 years.
Newly-elected President Maithripala Sirisena, in his election manifesto, had pledged a 100-day programme to set up independent commissions to suggest ways to free the key governance sector of political interference.
World
Protesters who forced their way into the capital's "Temple Trees" residence then attempted to storm the main two-storey building where Mahinda Rajapaksa was holed up with his immediate family
World
After being attacked by supporters of outgoing Premier Mahinda Rajapaksa, anti-government protesters went on a rampage across Sri Lanka. They vandalised a museum about the Rajapaksa family, torched houses of politicians, and damaged vehicles
World
Mahinda Rajapaksa has been accused by the Opposition of inciting the ruling party mobs to attack peaceful protesters by making a defiant speech while addressing several thousands of his supporters to deflect calls for his resignation