Magnitude 5.6 earthquake rocks buildings in Albania
TIRANA (Reuters) - An earthquake with a preliminary magnitude of 5.6 and an aftershock only slightly weaker shook the Albanian port town of Durres on Saturday, rocking buildings there and in the capital Tirana and sending residents rushing out into the streets. The Defence Ministry said it was the most powerful quake in Albania in the last 30 years. Residents in Tirana ran out of buildings onto the streets and into parks for safety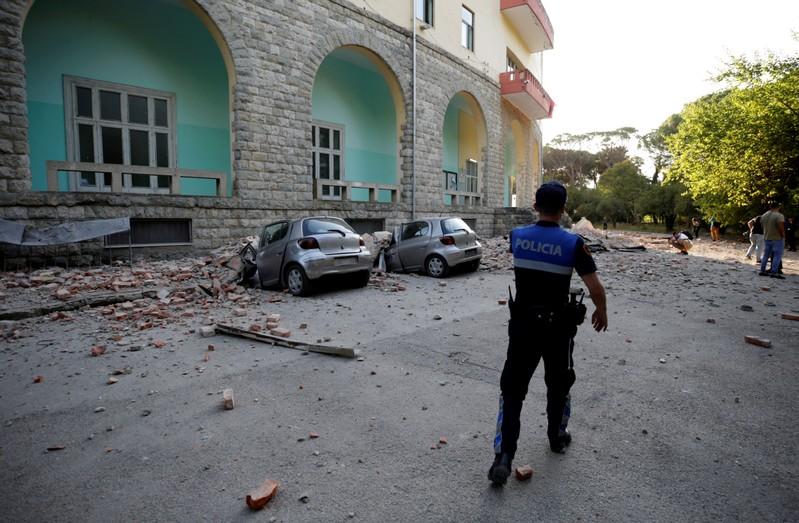 TIRANA (Reuters) - An earthquake with a preliminary magnitude of 5.6 and an aftershock only slightly weaker shook the Albanian port town of Durres on Saturday, rocking buildings there and in the capital Tirana and sending residents rushing out into the streets.
The Defence Ministry said it was the most powerful quake in Albania in the last 30 years. Residents in Tirana ran out of buildings onto the streets and into parks for safety.
"All our neighbours came out screaming. Thank God it did not last long - about 20 seconds. It was a nightmare on the 10th floor. I don't remember a more powerful one than this," a pensioner in Tirana called Agim, 67, told Reuters.
Local media reported that 49 people were being treated for injuries at Tirana's main hospital. One person in Durres reportedly suffered a broken leg when rushing out of a building, and some others in rural areas were reportedly injured by falling bricks and plaster.
The U.S. Geological Survey gave the quake an initial magnitude of 5.6, while the Albanian Geosciences Institute reported it as registering 5.8 with an aftershock 11 minutes later measuring 5.3.
One apartment building in Durres was heavily damaged, with a crack running down it from the sixth floor all the way to the ground.
An old building in Tirana was evacuated after cracks appeared in its walls, while debris from fallen bricks could be seen scattered across the courtyard at the Geology Faculty at the city's university.
(Reporting by Benet Koleka; Editing by Hugh Lawson)
This story has not been edited by Firstpost staff and is generated by auto-feed.
Find latest and upcoming tech gadgets online on Tech2 Gadgets. Get technology news, gadgets reviews & ratings. Popular gadgets including laptop, tablet and mobile specifications, features, prices, comparison.
World
By Carl O'Donnell and Jonathan Allen NEW YORK (Reuters) - The governors of New York and Florida sought to accelerate the slower-than-expected rollout of coronavirus vaccines by warning hospitals on Monday that they would reduce future allocations to those that fail to dispense shots quickly enough. In New York, hospitals must administer vaccines within a week of receiving them or face a fine and loss of future supplies, Governor Andrew Cuomo said. "I don't want the vaccine in a fridge or a freezer, I want it in somebody's arm," the governor said
World
By Michael Holden LONDON (Reuters) - A British judge ruled on Monday that WikiLeaks founder Julian Assange should not be extradited to the United States to face criminal charges including breaking a spying law, saying his mental health problems meant he would be at risk of suicide. U.S. authorities accuse Australian-born Assange, 49, of 18 counts relating to the release by WikiLeaks of vast troves of confidential U.S
World
By Steve Holland and Aziz El Yaakoubi WASHINGTON/RIYADH (Reuters) -A breakthrough has been reached in Qatar's three-year-old dispute with Saudi Arabia and three other Arab countries and an agreement aimed at ending their rift is to be signed in Saudi Arabia on Tuesday, a senior Trump administration official said. The development is the latest in a series of Middle East deals sought by Washington - the others involving Israel and Arab states - aimed at building a united front against Iran. As part of the deal, Saudi Arabia will reopen its airspace and land and sea border to Qatar as of Monday, Kuwaiti Foreign Minister Ahmad Nasser al-Sabah said on Kuwait TV ahead of a Gulf Arab summit in Saudi Arabia on Tuesday.