Lula's party weighs Brazil northeast vote in search for stand-in: sources
By Lisandra Paraguassu BRASILIA (Reuters) - Steadfast support for jailed former president Luiz Inacio Lula da Silva in Brazil's poor northeast may give a former governor from the region an edge in the search for the leftist icon's substitute, three Workers Party officials told Reuters this week. Jaques Wagner, a former governor of Bahia state and a minister under Lula and his successor Dilma Rousseff, is gaining ground and could displace former São Paulo Mayor Fernando Haddad as the party's likely presidential candidate in the October election, the sources said. They requested anonymity to speak freely about internal deliberations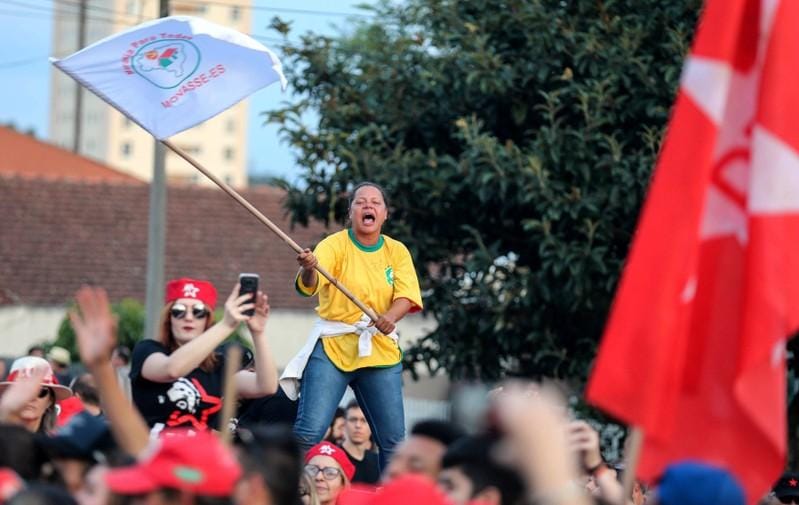 By Lisandra Paraguassu
BRASILIA (Reuters) - Steadfast support for jailed former president Luiz Inacio Lula da Silva in Brazil's poor northeast may give a former governor from the region an edge in the search for the leftist icon's substitute, three Workers Party officials told Reuters this week.
Jaques Wagner, a former governor of Bahia state and a minister under Lula and his successor Dilma Rousseff, is gaining ground and could displace former São Paulo Mayor Fernando Haddad as the party's likely presidential candidate in the October election, the sources said. They requested anonymity to speak freely about internal deliberations.
The evolving debate in the Workers Party suggests that Lula, the most influential Brazilian politician of the past two decades, and allies may be coming around to the idea of transferring his support rather than having him mount his own campaign from jail.
Lula, whose eight years in office saw millions of Brazilians lifted from poverty, is still Brazil's most popular politician despite several corruption indictments and a conviction that will most likely bar him from running.
Lula's spokesman Jose Crispiniano denied that the Workers Party was moving on. "Ex-president Lula da Silva is the candidate and there is no discussion of a substitute," he said.
"The party is not evaluating any hypothesis other than Lula's candidacy," said a Workers Party spokesman.
Wagner and Haddad declined to comment.
While Lula, 72, started his political career as a union leader in São Paulo's industrial belt, his greatest support today is in his native northeast, where his policies contributed to dramatic improvements in social conditions since the turn of the century.
Behind bars since April, serving a prison sentence for his bribery conviction, Lula has insisted he will run in October. Yet the party insiders said the reality is setting in that his candidacy may soon be struck down by the electoral court.
"His priority today is more Jaques. Not to deny Haddad's merits, but Wagner has more political experience and, being from the northeast, he could start out with considerably more voter support," said one of the party officials.
The 67-year-old Wagner, whose parents were Jewish immigrants from Poland, is a founding member of Lula's Workers Party and was Rousseff's defence minister before her 2016 impeachment for breaking budget rules.
Wagner is under investigation for allegedly taking bribes in the building of the World Cup soccer stadium in Bahia's capital of Salvador during his time as governor from 2007 to 2015. He has denied any wrongdoing.
Haddad, 55, of Lebanese Christian descent, lost his 2016 bid for re-election to São Paulo's city hall in a stunning first-round defeat to rising conservative star João Doria, who is now running for governor of São Paulo state.
Haddad's relative youth and distance from the major corruption scandals roiling Brazilian politics bolstered expectations that he could be the most likely stand-in for Lula.
Still, his resounding 2016 defeat and lack of a connection with the party's northeastern base has raised concerns.
Wagner was slapped down by party leaders earlier this year for proposing that they find a candidate outside their ranks to avoid disaster in the October general election. He has since insisted that Lula should run. One of the sources said Wagner may now give in to inside pressure to be the party's candidate.
(Reporting by Lisandra Paraguassu; Writing by Anthony Boadle; Editing by Brad Haynes and Phil Berlowitz)
This story has not been edited by Firstpost staff and is generated by auto-feed.
Find latest and upcoming tech gadgets online on Tech2 Gadgets. Get technology news, gadgets reviews & ratings. Popular gadgets including laptop, tablet and mobile specifications, features, prices, comparison.
Business
By Jessica Resnick-Ault NEW YORK (Reuters) - Oil prices strengthened on Wednesday, as OPEC and its allies were seen complying with a pact to cut oil supply in September, even as concerns loomed that recovery in fuel demand will be stalled by soaring global coronavirus cases. Early in the day crude was boosted by a bullish stock market. Even as equities whipsawed on pandemic worries, oil stayed higher, buoyed by expectations that OPEC could staunch a supply glut
Business
By Tina Bellon and C Nivedita (Reuters) - Tesla Inc will further cut the price of its Model S "Long Range" sedan in the United States to $69,420, the electric carmaker's chief executive, Elon Musk, announced in a tweet https://bit.ly/2H0JCP0 on Wednesday. The anticipated drop marks the second time this week Tesla has cut the price for the high-end sedan, following a 4% cut of the Model S's price in the United States on Tuesday to $71,990.
World
By Jeff Mason DES MOINES, Iowa (Reuters) - Under siege over his handling of the novel coronavirus pandemic, President Donald Trump on Wednesday cited what he said was his son's mild bout of the virus as a reason why American schools should reopen as soon as possible. Trump made the comment about his son, Barron, as the president swept into Iowa on a mission to shore up support in battleground states that he won in 2016 but is in danger of losing to Democrat Joe Biden barely three weeks before the election. First lady Melania Trump announced in a statement earlier in the day that the virus that struck both her and her husband had also infected their 14-year-old son