London Mayor declares major incident over COVID hospital pressure
LONDON (Reuters) -Mayor of London Sadiq Khan declared a major incident in the British capital on Friday, saying hospitals in the city were at risk of being overwhelmed if people do not stay at home. Khan warned that the number of hospital beds will run out in the next few weeks unless urgent action was taken to drastically stop the spread of the disease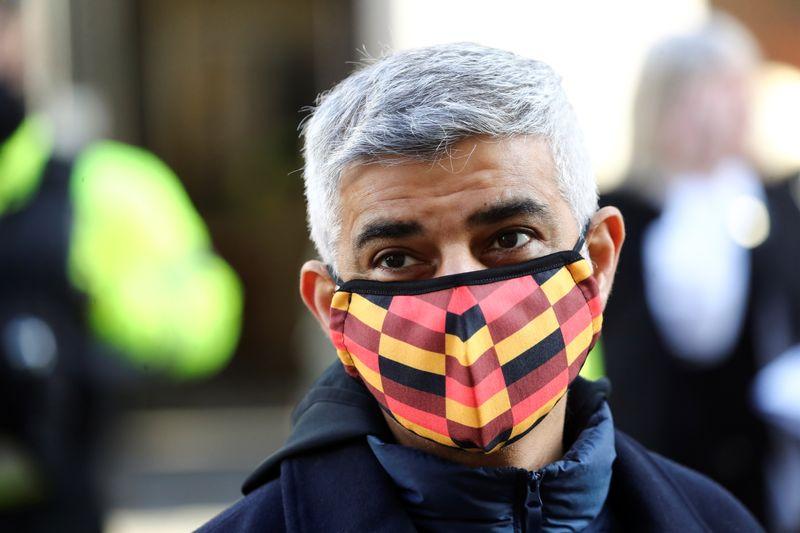 LONDON (Reuters) -Mayor of London Sadiq Khan declared a major incident in the British capital on Friday, saying hospitals in the city were at risk of being overwhelmed if people do not stay at home.
Khan warned that the number of hospital beds will run out in the next few weeks unless urgent action was taken to drastically stop the spread of the disease.
"The situation in London is now critical with the spread of the virus out of control," Khan said. "One in 30 Londoners now has COVID-19
. If we do not take immediate action now, our NHS (National Health Service) could be overwhelmed and more people will die."
The number of COVID-19
cases in London is now more than 1,000 per 100,000 people, and between Dec. 30 and Jan. 6, the total number of hospital patients in the capital rose by 27%. In the last three days there were 477 deaths of patients who had tested positive for the virus.
The number of people in hospital is 35% higher than during the peak of the pandemic on April, and there are concerns admissions will continue to rise.
"We are declaring a major incident because the threat this virus poses to our city is at crisis point," Khan said. "Londoners continue to make huge sacrifices and I am today imploring them to please stay at home unless it is absolutely necessary for you to leave."
A major incident is defined as being "beyond the scope of business-as-usual operations, and is likely to involve serious harm, damage, disruption or risk to human life or welfare, essential services, the environment or national security".
The last major incident in London was declared following the Grenfell Tower fire in 2017 when 72 people died in Britain's worst blaze in a residential building since World War Two.
(Reporting by Michael Holden; Editing by Kate Holton)
This story has not been edited by Firstpost staff and is generated by auto-feed.
Find latest and upcoming tech gadgets online on Tech2 Gadgets. Get technology news, gadgets reviews & ratings. Popular gadgets including laptop, tablet and mobile specifications, features, prices, comparison.
Business
By Uday Sampath Kumar (Reuters) - Target Corp reported a 17.2% rise in comparable sales for the holiday season on Wednesday as its online sales more than doubled, thanks to faster deliveries and higher demand for home goods, electronics and beauty products.
Business
By Medha Singh and Devik Jain (Reuters) - The S&P 500 and the Nasdaq rose in choppy trading on Wednesday as Intel shares jumped thanks to a change in management while broader sentiment was muted after a recent run to record highs. Intel said it would replace Chief Executive Officer Bob Swan with VMware Inc CEO Pat Gelsinger next month
Business
By Danny Ramos LA PAZ (Reuters) - The Bolivian government said on Wednesday it had signed a contract with India's Serum Institute for the supply of 5 million doses of AstraZeneca's COVID-19 vaccine. President Luis Arce said that combined with a recent deal to buy 5.2 million Sputnik V vaccine doses from Russia, Bolivia now expected to be able to inoculate all of its vaccinable population. Both vaccines require two doses to be given, meaning they would be used to inoculate a total of 5.1 million people from Bolivia's 11.51 million-strong population.