Live: Russia to help India build 20 new nuclear power reactors, says President Putin
Putin's India visit comes at a time when the Russian economy is buffeted by Western economic sanctions over Ukraine and falling oil prices that has led to a sharp fall in the rouble. We track the latest updates.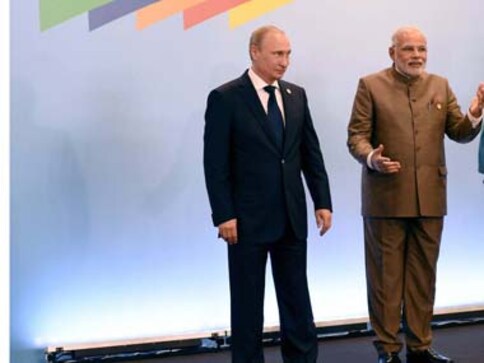 3:55 pm: Putin says India Russia can work together on tackling terrorism
Putin said that Russia advocated a new security architecture in Asia and said that the two countries could work together on tackling various problems like terrorism and organised crime.
He said that the two nations could work together in the UN Security Council and other forums.
"I am grateful to the PM and all Indian colleagues for their traditional cordial welcome,"Putin said.
3:50 pm: Will help India build at least 20 new nuclear reactors, says Putin
The Russian president said that under the nuclear power agreement with India, Russia would help build 20 new reactors in India that will set the ground for deep ties between the two nations.
He said that the Russian co-operation with India on defence equipment would continue to grow.
3:45 pm: Content with the outcome of the visit, says Putin
The Russian President said that he was happy with his visit so far and the range of discussion he'd enjoyed with the Indian Prime Minister.
"We are mostly content with the outcome of this visit," said Putin.
The Russian President said he intended to deepen the co-operation between the two nations.
3:41 pm: Confident partnership between two countries will achieve new heights in years to come, says Modi
Areas of priority for the two nations remains battling terrorism, ensuring peace in Aghanistan and co-operating for development in other countries, Modi said.
He said he was confident that the partnership between the two countries would achieve new heights in the years to come.
3:40 pm: At least 10 more nuclear reactors to be built with Russian assistance, says Modi
Modi said the Russian president and he had discussed a variety of issues and Russia had agreed to manufacture one of its most advanced helicopters in India as part of his 'Make in India' campaign.
Modi said he had requested Russia setting up manufacturing facilities for defence equipment spares in India and that Putin had responded positively.
The Indian Prime Minister also spoke of the civil nuclear agreement with the Russian President.
"We have outlined an ambitious vision for nuclear energy for at least 10 more reactors," he said.
3:35 pm: India's policy towards Russia won't change, says Modi
Speaking after the MoUs were announced, Modi said he had met with the Russian President in the past and was honoured to host him in India and said that Putin had been a longstanding partner of India.
"We have friendship of unmatched friendship, trust and mutual confidence," he said speaking about the relation between India and Russia.
He pointed out that India has always stood by Russia no matter international politics and said it wouldn't change anytime soon.
"Russia has been India's foremost Indian partner through decades...Russia will remain our most important defence partner," he said.
3:30 pm: India and Russia ink a variety of agreements on various issues. 
India and Russia have signed a range of agreements. One on oil wells in Russia, another on joint drills between Indian and Russian armed forces, an agreement on civil nuclear energy. Other areas on which the two nations signed MoUs  included medical research, power, fertilisers and other areas.
2:52 pm: India, Russia agree to look for 2nd site for nuclear power units
With Nuclear energy being the main agenda for the summit, India and Russia agreed to find another site for another Russian designed nuclear power plant. MEA spokesperson Syed Akbarrudin tweeted:
11:45 am: Putin meets Modi, deals set to be discussed
Modi and Putin posed for the customary photograph before beginning talks on the various deals that are set to be signed between the two countries.
Will Putin agree to invest the Indian Prime Minister's Make in India campaign? Let's wait and see.
10.44 am: Putin and Modi to discuss speeding up Kudankulam reactors
Russian President Vladimir Putin will be invited to take part in a helicopters project today. The $3 billion light-utility chopper project is touted as the first major 'Make In India' initiative in the defence sector, Hindustan Times reported.
According to the report in the newspaper, the helicopters are meant for both the defence and export purpose.
Apart from this, speeding up processes at Kudankulam nuclear plant's reactors 3 and 4 is also part of the agenda, the HT report added.
9:00 am: Putin expected at Rashtrapati Bhavan soon
After arriving last night, the Russian President is to be received by the Indian President at Rashtrapati Bhavan this morning. But that's pretty much the sum of ceremonial functions during this visit.
After being received by the President and Prime Minister, Putin is expected to meet with the PM, sign agreements later this afternoon and interact with CEOs of Indian firms. He'll then be at the joint inauguration of the World Diamond Conference at Vigyan Bhavan with the Prime Minister and will meet with the President before returning tonight.
8:00 am: Russian president may be in India, but he's looking more hopefully at China 
As Firstpost columnist Rajeev Sharma points out, the Russian premier may be in India but he's more focussed on China given deteriorating ties here. As he pointed out, from a stage to contributing over 90 per cent of weapon systems in Indian arsenal, the Russians today have slipped to just 60 per cent. The United States has already overtaken Russia as India's biggest arms exporter. Israel is threatening to push Russia even further down to the number three spot anytime soon.
Why has this happened? Russia alone is to be responsible for this sad state of affairs mainly because of its repeated delays in completing projects, cost-overruns and supply of inferior defence equipment.
However, he notes that Russia is enormously important for India and needless to say India too is equally important for Russia. The two age-old strategic partners must not allow their bilateral ties to go astray. (Read more here)
7:00 am: Nuclear energy, diamonds and defence key focus areas for Putin in India
The Russian President will be hoping to give the Russian nuclear energy, diamond and defence industries a push with his India visit.
India and Russia are expected to sign 20 agreements in various sectors in the field of civil nuclear energy, defence and trade.
Putin's visit comes at a time when the Russian economy is buffeted by Western economic sanctions over Ukraine and falling oil prices that has led to a sharp fall in the rouble.
India has already laid the ground for taking forward the close ties by stating that it has clearly spelt out that it "cannot be party" to any economic sanctions against its old friend.
Today's talks will be the first full-fledged summit between India and Russia after the Modi government took office in May.
However, the Indian PM took to Twitter to welcome his counterpart to India:
India
Meanwhile, Japanese Prime Minister Fumio Kishida also congratulated PM Narendra Modi as India assumed the G20 Presidency. He looked forward to working with PM Modi in addressing various challenges faced by the international community
India
Prime Minister Narendra Modi on Thursday shared his thoughts on how he wants India to work in the coming years based on inclusive, ambitious, action-oriented and decisive agenda to further global good.
India
India was handed over the presidency of the influential bloc at the end of the two-day G20 summit in Bali, hosted by Indonesia last month. The next G20 Leaders' Summit at the heads of state or government level is scheduled to be held on September 9 and 10 in New Delhi