Live: Germanwings co-pilot had nightmares of crashes, says ex-girlfriend
An Airbus A320 has crashed in the southern French Alps, a security source has told AFP, adding that there were about 142 passengers and six crew on board.
5. 20 pm: Andreas Lubitz's ex-girlfriend says his health problems were serious
The Germanwings co-pilot who crashed his Airbus in the French Alps, killing all 150 aboard, told his ex-girlfriend that "one day everyone will know my name", according to German newspaper Bild.
In an interview, the 26-year-old flight attendant known as Maria W told Bild that when she heard about the crash she recalled Andreas Lubitz telling her last year: "One day I'm going to do something that will change the whole system, and everyone will know my name and remember."
According to Bild, the young woman, who was "very shocked", flew with Lubitz on European flights for five months last year, during which time they are believed to have been romantically involved.
If Lubitz did deliberately crash the plane, "it is because he understood that because of his health problems, his big dream of a job at Lufthansa, as captain and as a long-haul pilot was practically impossible", she told Bild.
The pair separated "because it became increasingly clear that he had a problem", she told the daily, adding that at night he would wake up and scream "we're going down" and was plagued by nightmares. - AFP
Updates for 27 March end
10. 48 pm: French police officials recover 600 pieces of body remains, none intact
French police working to recover remains from the Germanwings crash site say so far they have recovered between 400 and 600 pieces of remains from the 150 people who died in Tuesday's plane crash.
Speaking from the French Alps town of Seyne-les-Alpes, Col. Patrick Touron of the gendarme service said "we haven't found a single body intact."
He also said DNA samples have been taken from objects provided by the victims' families — such as toothbrushes — that could help identify the victims.
Touron also said jewelry and other objects could help in the identification process. - AP
10. 30 pm: Hospital says Andreas has been a patient for over the two months
A Duesseldorf hospital says the co-pilot of Germanwings flight 9525 had been a patient there over the past two months.
Duesseldorf University Hospital said in a statement Friday that Andreas Lubitz last came to the hospital for "diagnostic evaluation" on March 10. It declined to provide details about his condition but denied German media reports that it had treated the 27-year-old pilot for depression.
The hospital says it has submitted Lubitz's patient record to prosecutors in Duesseldorf, where he lived.
Prosecutors say Lubitz deliberately crashed his plane into a mountain in the French Alps, killing all 150 people on board. - AP
10.00 pm: German airlines agree to new safety police, 2 crew members in cockpit always
German airlines have agreed to a new safety rule to keep two crew members in an airplane's cockpit at all times, the aviation association BDL announced today.
The decision came after the co-pilot of a Germanwings airliner locked the captain of the Airbus out of the cockpit and crashed the plane into the French Alps, killing all 150 aboard. - AFP
9.30 pm: Lufthansa appoints official to oversee safety procedures
Lufthansa says it's appointing an official to take care of "examining and further refining all flight safety-relevant procedures" at the company following the Germanwings crash.
Werner Maas, the safety pilot at Lufthansa, is taking on the new job of group safety pilot — responsible for overseeing safety procedures across the airline group, which also includes Germanwings and carriers such as Austrian Airlines and Swiss.
Lufthansa says airlines in the Lufthansa Group will introduce the two-person in the cockpit rule "as soon as possible" in consultation with their regulators.
Investigators believe Germanwings co-pilot Andreas Lubitz intentionally slammed a plane into a mountain on Tuesday, killing all 150 people onboard, during a flight from Barcelona to Duesseldorf. - AP
5:10 pm: German prosecutor says no suicide note or claim of responsibility from co-pilot has been found
They also said that they have found evidence that the co-pilot of the Germanwings plan which crashed in the French Alps appears to have hidden evidence of an illness from his employers.
Prosecutors in the western city of Duesseldorf say they seized medical documents from the home of Andreas Lubitz that indicate "an existing illness and appropriate medical treatment."
Prosecutor Ralf Herrenbrueck said in a statement that torn-up sick notes for the day of the crash "support the current preliminary assessment that the deceased hid his illness from his employer and colleagues."
He said the search of Lubitz's home revealed no suicide note or evidence of any political or religious motivation for his actions.
Meanwhile, Denmark's transport minister says a recommendation will be sent Friday to all airlines with a base in the Scandinavian country to have two people in the cockpit when in the air.
Airlines and officials around the world are starting to impose the rule after details emerged that the co-pilot of Germanwings Flight 9525 had apparently locked himself in the cockpit and deliberated crashed the plane into the mountains below.
4:30 pm: French pilots file lawsuit over Germanwings crash probe leaks
France's leading pilots union is filing a lawsuit over leaks about the investigation into the Germanwings crash.
Guillaume Schmid, a representative of the SNPL union, said Friday that pilots are angry that information about the dramatic final moments of the flight were reported in the media before prosecutors and others were informed.
After the media reports, a prosecutor announced that cockpit recordings indicate the co-pilot of the Germanwings A320 jet intentionally flew the plane into a mountain on Tuesday. All 150 aboard were killed.
The lawsuit is over violating a French law on keeping information about investigations secret while they are ongoing. The lawsuit doesn't name an alleged perpetrator, a common method in French law that leaves it to investigators to determine who is at fault.
Schmid said that pilots are saddened by the accident and understand the public's wish for immediate information, but decried pressure on investigators and said that can lead to misleading the public instead.
3:40 pm: In 'these darkest hours', Germanwings sets up assistance centre for family of those killed in crash

Germanwings is setting up a family assistance center in Marseille for relatives of the 150 people killed when one of its planes crashed in the French Alps.
Investigators believe Germanwings co-pilot Andreas Lubitz intentionally crashed the plane into a mountainside during Tuesday's flight from Barcelona to Duesseldorf.
Germanwings spokesman Thomas Winkelmann said in a statement that "in these dark hours our full attention belongs to the emotional support of the relatives and friends of the victims of Flight 9525.The suffering and pain this catastrophe has caused is immeasurable. No words can express it and no amount of consolation is sufficient but we want to be there for visiting family members and friends if our support is desired."
"Our focus in these darkest hours is to provide assistance to the families & friends of the victims of flight 4U9525" /Thomas Winkelmann

— Germanwings (@germanwings) March 27, 2015
The airline, a subsidiary of German carrier Lufthansa, says some grieving relatives took part in a religious service on Thursday afternoon near the crash site.
Meanwhile, parent airline Lufthansa has released a video message from its CEO Carston Spohr
A video message from our CEO Carsten Spohr. #indeepsorrow http://t.co/ueQiAUVrnz

— Lufthansa (@lufthansa) March 25, 2015
2:40 pm: Police search Germanwings co-pilot's home, hunt for motive amid depression reports

Police have searched the homes of co-pilot Andreas Lubitz in two German cities in search of an explanation for why he may have crashed a passenger plane into the French Alps, killing all 150 people on board.
German tabloid Bild reported Friday that Lubitz had a "serious depressive episode" six years ago and that a medical problem was noted in aviation records.
The Federal Aviation Office couldn't immediately be reached for comment.
French investigators believe the 27-year-old locked himself inside the cockpit and then intentionally smashed the Germanwings plane into a mountainside.
A spokeswoman for Duesseldorf police, Susanna Heusgen, said "no crucial piece of evidence has been found yet" after the searches in Duesseldorf and Montabaur.
2:11 pm:  Police seize items from Germanwings co-pilot's home, no crucial evidence yet
German police have searched the home of co-pilot Andreas Lubitz in Duesseldorf and seized material that will now be examined as part of the investigation into the crash that killed 150 people in the French Alps.
French investigators believe Lubitz locked himself inside the cockpit and then intentionally smashed the Germanwings plane into a mountainside.
A spokeswoman for Duesseldorf police denied reports Friday that the officers had made any significant discovery yet.
"No crucial piece of evidence has been found yet," Susanna Heusgen told The Associated Press.
Duesseldorf prosecutors say they plan to release an update on their investigation around noon.
Post Germanwings air crash, airlines say 2 crew members must in cockpit at all times

13:00 Airlines and officials around the world began requiring two crew members to always be present in the cockpit, after details emerged that the co-pilot of Germanwings Flight 9525 had apparently locked himself in the cockpit and deliberated crashed the plane into the mountains below.
Leading European budget airlines Norwegian Air Shuttle and EasyJet, along with Air Canada, say they will now require a minimum of two crew members in the cockpit while a plane is in the air.
A group representing Germany's biggest airlines, including Lufthansa and Air Berlin, say they plan similar rules. German Aviation Association spokeswoman Christine Kolmar said the plan will be presented to German aviation authorities on Friday and the airlines will implement it "as soon as possible."
Germanwings co-pilot, who 'intentionally' crashed plane, battled depression in 2009
11:15 am Germanwings co-pilot Andreas Lubitz, who is believed to have deliberately crashed flight 9525 into the French Alps, killing all 150 aboard, reportedly battled depression and burnout in the past.
Lubitz' friends told German magazine Der Spiegel that the co-pilot took a break in 2009 for six months from his lifelong pursuit of flying because of depression.
A member of Luftsportclub, who watched Lubitz learn to fly, told the magazine that he was happy to have a job with Lufthansa's Germanwings and was doing well. Residents who knew Lubitz were dumbfounded to know that their neighbor could have committed such an atrocious act.
Lubitz began flying with Germanwings in 2013 and had 630 flight hours. After completing his training, Lubitz spent an 11-month waiting period working as a flight attendant before becoming a co-pilot on the Germanwings A320 fleet.
The Wall Street Journal said Lubitz finished in the top 75 out of 780 participants in a 10-kilometer post-New Year's run in Montabaur in 2007. He raced alongside his then 54-year-old father, Günter Lubitz.
Lufthansa CEO Carsten Spohr said that the training involved rigorous psychological testing and that pilots had to undergo yearly medical exams but added that those did not include psychological tests.
Spohr said Lubitz "was 100 percent fit" to fly."
End of updates on 26 March, 2015
8.20 pm: France approaches FBI for investigation into crash
CNN reports, quoting French government officials that the FBI has been requested to assist in investigating the crash of the Germanwings aircraft into the French Alps.
7.15 pm: Impossible for anyone to break into cockpit, say Airline officials
"There is a procedure where the person who is outside can knock, ring and wait for the door to open. After a bit it opens. But there is a procedure to block that option from the inside. Which appears to be the case. Since 9/11 the doors have been armoured and it is impossible for anyone from the outside to break into the cockpit," Germanwing and Lufthansa officials told media.
In India, according to DGCA rules, a pilot cannot be left alone inside the cockpit and an airline crew has to be present if one of the pilots leaves the cockpit for a short while.
Lufthansa officials confirmed there is no rule in Europe about how long a pilot can stay away from the cockpit.
7.10 pm: We are in a state of shock, we're horrified: Germanwings/Lufthansa
Below is a translation of the Germanwings/Lufthansa press conference: 
This is our worst nightmare... everyone who knows us, the training we go through, our ethos, our work ethics... Not just to be appropriately trained but also to be psychologically fit..."
"We ensure to recruit only the best quality staff possible and we're proud of our record. For something like this to happen is shocking. We ensure quality in everything we do. This is a complete shock for us. We cannot understand this. Why the co-pilot behaved in the way he did. What motivated him to behave in the manner he did.
This is the worst possible moment, the darkest chapter in the history of our airline. We have full confidence in our pilots. In principle we have the very best pilots in the world.
This is a totally tragic case, we hope it's one of a kind and never happens again. Our hearts go out the relatives and friends of the victims.
Main objective has always been quality and safety. For something to happen like this is terrible.
6.00 pm: Nothing indicates it was a terrorist attack, say prosecutors
French authorities said that according to voice recording information obtained, passengers on-board the Germanwings aircraft could be heard screaming.
They have however maintained that nothing indicates that there was a terrorism link to the crash.
Marseille prosecutor Brice Robin says work on identifying remains of the 150 victims from Tuesday's crash of the Germanwings flight has begun.
Analysis of Flightradar24 ADS-B/ModeS data: Autopilot was manually changed from 38,000 to 100 ft at 09:30:55 #4U9525 pic.twitter.com/YKZKPxMnm7

— Flightradar24 (@flightradar24) March 26, 2015
5.50 pm: French authorities name co-pilot as German national Andreas Guenter Lubitz
French authorities identified the pilot as German national Andreas Lubitz who has never been flagged as a terrorist.
According to the Wall Street Journal, Lubitz, 28, belonged to Montabaur, WSJ reports quoting those familiar in a flight club where he was a member.
"Andreas became a member of the club as a youth to fulfill his dream of flying," the LSC club said in a death notice on its website.

"He fulfilled his dream, the dream he now paid for so dearly with his life," the club said. It said he was the co-pilot of the flight. A member of the flight club identified him to The Wall Street Journal on Thursday."
In September 2013, the Federal Aviation Administration (FAA) recognised Andreas Guenter Lubitz in the prestigious FAA Airmen Certification Database.
The database, which appears on the agency's website at www.faa.gov, names Lubitz and other certified pilots who have met or exceeded the high educational, licensing and medical standards established by the FAA.
In the German town of Montabaur, acquaintances said Lubitz was in his late twenties and showed no signs of depression when they saw him last fall as he renewed his glider pilot's license.
"He was happy he had the job with Germanwings and he was doing well," said a member of the glider club, Peter Ruecker, who watched him learn to fly. "He gave off a good feeling."
Lubitz had obtained his glider pilot's license as a teenager, and was accepted as a Lufthansa pilot trainee after finishing a tough German college preparatory school, Ruecker said. He described Lubitz as a "rather quiet" but friendly young man. - Associated Press
5.30 pm: 'Co-pilot intentionally destroyed airline'

In a shocking development, French prosecutors have said that the Germanwings co-pilot appeared to want to 'destroy the plane'.
"Alarms sounded as banging is heard on armored door of Germanwings cockpit. Co-pilot, alone at the controls of Germanwings flight, was conscious until impact. Co-pilot, alone at helm of Germanwings, began descent manually, 'intentionally'," prosecutors said.
Marseille prosecutor Brice Robin says pounding could be heard on the door during the final minutes as alarms sounded. He said the co-pilot "voluntarily" refused to open the door, and his breathing was normal throughout the final minutes of the flight.
Prosecutor says information was pulled from the black box cockpit voice recorder, but the co-pilot did not say a word once the captain left the cockpit. "It was absolute silence in the cockpit," he said. He identified the pilot as a German national and who had never been flagged as a terrorist. - AP
Updates end for 25 March

12:30 pm: Black box damaged but information can still be obtained, says French Minister
The French interior minister has said that the black box from plane crash is damaged but can be used to find information, reports Reuters.
Pierre-Henry Brandet, spokesman for France's Interior Ministry, has said that investigators are working to recover information from the black box retrieved from the scene of the crash.
Brandet told French network iTele that recovery crews are expected to reach the site where the Germanwings went down sometimes Wednesday morning. He said no causes had been ruled out yet in the crash that killed 150 on board, reported AP. 
Meanwhile, helicopter operations have resumed over mountainsides in the French Alps despite overcast skies, with temperatures just above freezing.
10.07 am: Investigators to seek clues as to why did the Germanwings plane crash
French investigators will sift through wreckage on Wednesday for clues into why a German Airbus ploughed into an Alpine mountainside, killing all 150 people on board including 16 schoolchildren returning from an exchange trip to Spain.
The A320 jet operated by Lufthansa's Germanwings budget airline was obliterated when it went down in a rugged area of ravines on Tuesday while flying over France en route to Duesseldorf from Barcelona, a Reuters report said on Wednesday.
No distress call was received from the aircraft, but France said one of the two "black box" flight recorders had been recovered from the site 2,000 metres (6,000 feet) above sea level.
A person familiar with the recovery effort told Reuters that this was the cockpit voice recorder. Investigators will also need the other black box which records flight data, information that is essential for probing air accidents.
Civil aviation investigators from France's Bureau d'Enquetes et d'Analyses (BEA) are expected to hold a news conference on Wednesday afternoon.
9.28 am: Maiden crash for Germanwings, say officials
Airplanes don't just fall out of the sky. The Germanwings plane that crashed on Tuesday in France was at the safest part of flight. Yet, something went horribly wrong, leading to the death of 150 passengers and crew.
The A320 family has a good safety record, with just 0.14 fatal accidents per million takeoffs, according to a Boeing safety analysis. This particular jet was delivered to Lufthansa — the parent company of Germanwings — in 1991 and had about 58,300 flight hours over 46,700 flights, a Reuters report said.
The first clue about what could have happened will be the wreckage itself. If the debris field is pretty compact, the plane most likely hit the mountains intact. If it is scattered, the plane probably broke up midair, report in Reuters further added.
Germanwings, the low-cost airline owned by German flag carrier Lufthansa, said that none of its aircraft has ever been involved in a crash prior to Tuesday's loss of an Airbus A320 in the French Alps.
"We've never had a total loss of aircraft in the company's history until now," a company spokeswoman told AFP.
9.16 am: German town mourns the death of 16 students
A stunned German town mourned 16 students who went down aboard Germanwings Flight 9525 on their way home Tuesday from a Spanish exchange, while the opera world grieved for two singers who were returning from performing in Barcelona — one of them with her baby.
"This is surely the blackest day in the history of our town," a visibly shaken Mayor Bodo Klimpel said after the western town of Haltern was shocked by news that 16 students from the local high school and two teachers had been on the plane. They had just spent a week in Spain.
A total of 67 Germans, many Spaniards, two Australians, and one person each from the Netherlands, Turkey, and Denmark were among the victims, according to their respective governments. -- Associated Press
Meanwhile, Lufthansa CEO Carsten Spohr with officials of German government will be in France on Wednesday evening for a press conference.
Lufthansa CEO Carsten Spohr and representatives of the German government are on their way to France. An evening press release is planned.

— Lufthansa (@lufthansa) March 24, 2015
Last update for 24 March 2015
10.50 pm: 16 German teenagers on school trip to Spain among passengers dead
Sixteen German teenagers on a school trip to Spain were on board the doomed aircraft that crashed in the French Alps, authorities said.
"The city is deeply saddened," said Bodo Klimpel, the mayor of Haltern am See, the students' hometown in northwestern Germany.
"Everyone is in a state of shock. It is the worst thing you can imagine."
The teenagers and their two teachers had been on a week-long exchange trip to Spain, and their names were on the passenger manifest of the Barcelona-Duesseldorf Germanwings flight, Klimpel told a news conference, fighting back tears. - AFP
10.20 pm: French officials say black box of crashed aircraft has been located
France's Interior Minister has confirmed to BBC that the black box of the aircraft has been located and operations are on to retrieve it.
The debris are located at an altitude of 2000 metres scattered across the region.
9.25 pm: First images of crash site come in, police say rescue could take days
French police and rescue officials have said that the region is extremely steep and it could take days to recover bodies from the site.
This, even as rescue operations are on and German Chancellor Angela Merkel has said that she will visit the crash site on Wednesday.
Teams from Lufthansa, Germanwings and Airbus are on their way to the crash site to ascertain what went wrong with the aircraft which took the same route it would otherwise travel on.
First photo of the Germanwings A320 plane's wreckage (via La Provence) pic.twitter.com/DepRTX9dT9

— Rodrigo (@RodrigoEBR) March 24, 2015
8.00 pm: Germanwings Captain was experienced, says CEO
Germanwings CEO Thomas Winkelmann today said that the aircraft that crashed was delivered to Lufthansa in 1991, and since 2001 it has been flying for Germanwings.
Here are some of the details he shared:
* The last routine check was yesterday, March 23, in Dusseldorf - by Lufthansa technicians.
* The last major check was, according to the manuals of the Airbus, in summer 2013.
* The captiain of the plane has flight experience of over 10 years for Lufthansa and Germanwings, and more than 6,000 flight hours with the Airbus model.
* There were 144 passengers on board, among them 2 babies.
* Six crew members; two in the cockpit and four in the cabin.
French rescue units prepare to reach #Germanwings crash site, near Seyne-les-Alpes, French Alps pic.twitter.com/Edt7N1IdgS

— Grasswire (@grasswire) March 24, 2015
7.50 pm: Modi express grief after Germanwings flight crash
Prime Minister Narendra Modi this evening expressed sorrow at the death of those aboard the Germanwings airline, saying the nation shared the sorrow and pain of the families.
Crash of the Germanwings flight is extremely unfortunate. We share the sorrow & pain of the families of those on board.

— Narendra Modi (@narendramodi) March 24, 2015
Meanwhile, German media report that there are about 67 German nationals on-board the flight. The airline has not yet confirmed the figure.
7.32 pm: Flight path matches that taken yesterday, reports FlightRadar
There was no visible deviation in the path of the Germanwings flight that crashed in the French Alps today.
Today's flight path of #4U9525 is exactly matching yesterday's flight path until the moment when signal was lost pic.twitter.com/eC62SfY9Ga

— Flightradar24 (@flightradar24) March 24, 2015
7.25 pm: Germanings, Lufthansa change social media logos to black and grey
After plane crash, Germanwings changes its logo on social media to black and grey http://t.co/z04Mz5AMAz pic.twitter.com/uWUq0LUllM

— Firstpost (@firstpost) March 24, 2015
7.10 pm: German Chancellor Angela Merkel to visit crash site
German Chancellor Angel Merkel says she will travel to the site of the crash, Reuters reported, quoting a spokesperson from her office.
Merkel was "deeply shaken" by news that a passenger plane operated by Germanwings had crashed in France, her spokesman said on Tuesday.
Meanwhile, the German government said it was sending air safety experts and its transport minister to the site of the plane crash in France.
"In these difficult hours our thoughts are with all those who must fear their relatives are among the passengers or crew members," said Foreign Minister Frank-Walter Steinmeier.
Transport Minister Alexander Dobrindt will travel to the crash site in southern France, his ministry said, adding that German air safety experts were already on their way. - Reuters
6.40 pm: First pictures from the French Alps, where rescue teams are ready
Photos show emergency services in French Alps after #Germanwings crash http://t.co/0Qa0hHxbbN pic.twitter.com/gKbTu6qopa #airlivenet

— Dave Thorpe (M6RUG) (@ThorpeDave) March 24, 2015
— AirLive.net (@airlivenet) March 24, 2015
6.30 pm: 'Germans, Spaniards and probably Turks in plane crash'
French President Francois Hollande said the 150 people killed in Tuesday's plane crash in the French Alps included Germans, Spaniards and "probably" Turks.
He said that he could not say with "total certainty" that no French nationals were aboard the Germanwings flight that crashed in a remote, snowbound area while en route from Barcelona, Spain, to Duesseldorf, Germany.
#BREAKING German, Spanish, 'probably' Turkish victims in plane crash: Hollande

— Agence France-Presse (@AFP) March 24, 2015

Here's his full statement

A terrible accident has happened on French territory. An accident has happened, in circumstances which are not yet clear.

Among the victims are many Spaniards; I want to express my firmest condolences to the King of Spain, his wife, Prime Minister Rajoy and the Spanish people.
I know there are other victims - notably Turk and German. I do not think there are French victims, but we are not certain.

We wish to express our most sincere condolences.

I understand perfectly the King's decision [to cut short his visit to France], taken after discussion with the prime minister and myself. I want to confirm that we are doing everything possible to find out what happened.

The accident happened in an exceptionally difficult place, and it will not be possible to get to the site for several hours.

I wish to thank all the security services for their efforts.

The minister for the interior, Bernard Caseneuve, and for the environment, Segolene Royal, will be travelling to the site with the minister for transport.
I understand that German and Spanish ministers will also be there.

I have already spoken to Chancellor Merkel, who is particularly touched.

We are very close friends to Spain.

It is the King's first state visit to a European country. And we are grateful to him for that.
6. 25 pm: Crash site located near ski resort Pra Loup
The crash site was at Meolans-Revels, near the popular ski resort of Pra Loup, according to Eric Ciotti, the head of the regional council in southeast France. But with mountains all around and few clear trails to the snow-covered area, access to the crash site was expected to take time.
The Germanwings Airbus A320 plane left Barcelona at 9:55 a.m., sent out a distress signal at 10:45 a.m., then crashed in a mountainous zone at an altitude of about 2,000 meters (6,550 feet), said Pierre-Henry Brandet, the French Interior Ministry spokesman.- AP
6.10 pm: Spanish PM Rajoy says shocked by accident in the Alps
Spanish Prime Minister Mariano Rajoy said Tuesday he was "shocked" by the crash of a Germanwings Airbus plane in the French Alps with 148 people aboard which had departed from Barcelona in Spain.
"Shocked by the air accident in the Alps. A tragedy. We are cooperating with the French and German authorities in the investigation," he said in a Twitter message after \french officials said nobody survided the accident. - AFP
6.05 pm: Germanwings-Lufthansa issue statement, say 'deeply concerned'
"It is a A320 plane. There were 144 passengers and 6 crew members on board. Lufthansa and Germanwings. Have connected a telephone hotline: 0800 11 33 55 77 where relatives of passengers can call up.
All employees of Germanwings and Lufthansa are deeply concerned their thoughts and prayers are with the families and friends of the passengers and crew members."
6.00 pm: AirIndia only airline that flies aircraft over 25-years-old
In India, Air India is the only airline that flies aircraft more than 25 years old. VT-EPB (manufactured in 1989, according to DGCA website and other aircraft websites) is still flying today. 
According to the A320 production list the Air India A320s are the oldest A320s still on active duty, with the exception of an older A320 flying with a small Jordanian airline and the first A320 built and used by Airbus.
5.55 pm: Spanish authorities hope for a miracle
Antonio San Jose, spokesman for Spanish airport authority AENA, told the Onda Cero radio station that authorities do not yet know how many Spaniards were on the jet but that the authority's best information is that 147 people were aboard the plane.
"It would be a miracle if there were survivors but hopefully there will be. We do not know the causes, simply that it lost contact," San Jose said.
5. 50 pm: My solidarity with the families of victims, tweets Hollande
"I want to express to the families of victims my solidarity. This is a tragedy," French President Hollande tweeted.
Je veux exprimer aux familles des victimes de cet accident aérien toute ma solidarité. C'est un deuil, une tragédie.

— François Hollande (@fhollande) March 24, 2015
5.45 pm: Details of passengers on-board suggest 45 were from Spain
News agency Reuters reports that at least 45 passengers were from Spain. The King of Spain was in France on an official visit, CNN reports. The channel further said that a college gym near the crash site is being used as a morgue.
The debris have been spotted at a location that is difficult to reach and can be flown into only by helicopters.
5.40 pm: 'Plane was at 5,000 ft when distress call came in'
The plane was at 5,000 feet - Alain Vidalies, France's minister of state for transport, said: "A distress call was registered at 10:47. The distress signal showed the plane was at 5,000 feet in an abnormal situation."
The crash happened shortly after the distress signal, he said. - AFP
5.30 pm: Thoughts are with the families of victims, says Eurocontrol
"Our thoughts are with the families and friends of those aboard the Germanwings flight 9525," tweets Eurocontrol, the European Organisation for the Safety of Air Navigation.
AFP's Michaela Cancela-Kieffer reports that journalists are surrounding the Swissport counter, which represents Germanwings there. "We cannot say anything," one of the three staff tells Cancela-Kieffer.
Our thoughts are with the families and friends of those aboard the Germanwings flight 9525

— EUROCONTROL (@eurocontrol) March 24, 2015
Meanwhile, a control room has been setup at the Barcelona airport for relatives and friends of the victims.
5.20 pm: Germanwings 'cancels' flight 4U9525

The latest airline update of 4U9525 shows its status as cancelled, various flight tracking websites including flightstats reported.
Meanwhile, a weather channel in France reports that the weather conditions were calm at the time of the crash. (@la_chaine_meteo)
5.05 pm: 'If true, a dark day for Lufthansa'
Carsten Spohr, Chairman of Lufthansa, today said if the reports were true, it would be a very dark day for the German airliner.
"We do not yet know what has happened to flighty 4U9525. My deepest sympathy goes to the families and friends..."
"We do not yet know what has happened to flight 4U 9525. My deepest sympathy goes to the families and friends of our passengers and crew 1/2

— Lufthansa (@lufthansa) March 24, 2015
"...on 4U 9525. If our fears are confirmed, this is a dark day for Lufthansa. We hope to find survivors." Carsten Spohr 2/2

— Lufthansa (@lufthansa) March 24, 2015
5.00 pm: Distress call was received at 9.47 am UTC
According to AirLive.net, a distress call was received by the Air Traffic Control at 9:47 UTC. The aircraft was about 24-years-old and has been with Lufthansa since 1991.
4.55 pm: Tragedy on our soil, says France President Hollande
French President Francois Hollande says no survivors are likely in the Alpine crash of a passenger jet carrying 148 people.
In a live briefing, Hollande said the area of the crash was remote and it was not clear whether anyone on the ground had been hurt. Hollande said it was probable that a number of the victims are German.
"It's a tragedy on our soil," he said, adding he would be speaking shortly with German Chancellor Angela Merkel. - AP
4.50 pm: 'Loss of radar of flight 4U9525/GWI18G'
A civil aviation official told AFP that there had been "a loss of radar of Germanwings flight GWI18G (4U9525)," which is thought to have been carrying 142 passengers, two pilots and four stewards.
BREAKING: French president says there are likely `no survivors' in Alps crash of passenger plane.

— The Associated Press (@AP) March 24, 2015
4.45 pm: 'Plane crashed in just about 12 minutes'
According to data provided by FlightRadar 24, the plane crashed from a height of about 38,000 ft in just about 12 minutes. At 9.29 local time, the plane was travelling at 463 KTS at 38,000 ft. The last reported time was 9.41 local time, at a height of 6800 ft travelling at 378 KTS.
The average height of the alps is 15,780 ft.
Last position of Germanwings flight #4U9525 at 09:40 UTC http://t.co/FHoX6q0GHt pic.twitter.com/72pxGKolRM

— Flightradar24 (@flightradar24) March 24, 2015
FlightRadar however said the descent was normal if there was an airport, but there wasn't any.
Flight #4U9525 was descending with a rate of about 3000-4000 feet per minute, which is quite standard for an airport approach.

— Flightradar24 (@flightradar24) March 24, 2015
4.35 pm: AFP confirms debris found in southern village
Quoting the interior ministry, France-based news agency AFP has reported that debris of the plane have been located in a southern village.
#BREAKING Debris from crashed airliner found near French village: interior ministry

— Agence France-Presse (@AFP) March 24, 2015
4.25 pm: Germanwings releases statement, says no confirmation as yet
INFO: We have recently become aware of media reports speculating on an incident though we still do not have any own confirmed information...

— Germanwings (@germanwings) March 24, 2015
... As soon as definite information is available, we shall inform the media immediately ...

— Germanwings (@germanwings) March 24, 2015
4.20 pm: France PM Valls says fears death of 150 passengers
French PM Manuel Valls said he feared the death of 142-150 passengers in plane crash, the cause of which is still unknown.
An Airbus A320 has crashed in the southern French Alps, a security source has told AFP, adding that there were about 142 passengers and six crew on board. The single-aisle A320 typically seats 150 to 180 people.
There has still been no official confirmation of the crash.
The aircraft reportedly lost signal at 6800 ft, while Airfleets reports that the plane was over 20 years old.
One of the sources said the plane belonged to Germanwings, an affiliate of German airline Lufthansa, travelling between Barcelona and Dusseldorf.
Airbus shares fell 3.3 percent after reports of the air crash.
More details are awaited.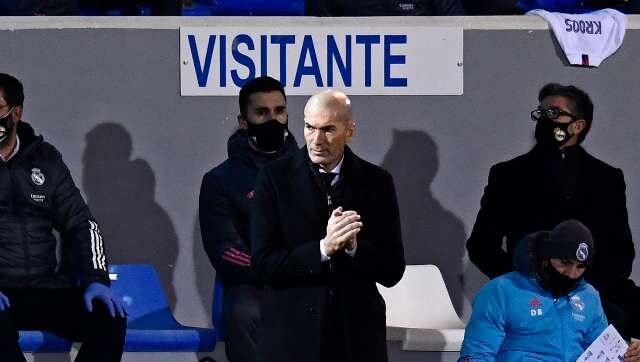 Sports
An impressive week has put Madrid in sight of winning both La Liga and the Champions League, after they beat Barcelona in the Clasico last weekend before knocking out Liverpool on Wednesday.
Sports
Both players' contracts are up at the end of the campaign and Messi is yet to commit to a new deal with Barca after trying to force an exit last summer.
Sports
Here are eight records that have defined this era of the El Clasico and the classic rivalry between Real Madrid and Barcelona.