New York: Saul Petersen is not one of Donald Trump's 6 million followers on Twitter.
Nor does he follow Hillary Clinton, Bernie Sanders or any candidate's social media accounts in the bizarre 2016 White House race.
Saul and wife DeShaunta are among America's growing club of cord cutters - no cable TV at home, but both have smartphones (and PhDs in their respective fields). Most likely DeShaunta will vote from New York in the November elections.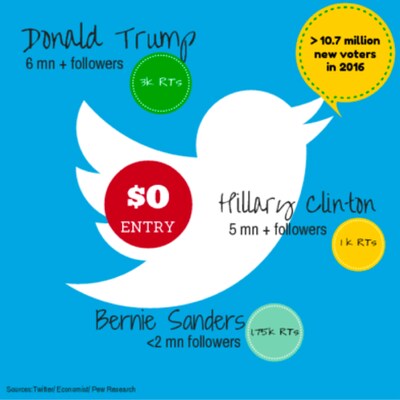 "I hope to goodness sake, whoever it is who becomes President is a Democratic candidate," says Petersen, an Irishman who lives in a quiet New Jersey suburb and insists on retaining his Irish passport.
Between 6 and 7 am, before he gets his kids ready for school or between 6-7 pm, after dinner, Petersen catches up on politics in one of many ways: either on his New York Times phone app that gives him 10 free articles a month - "not enough but I don't have time for more", or deferred live streaming of the post-debate analysis on any channel that's available on his computer screen. Ditto for DeShaunta.
Does what Donald Trump or Clinton or Sanders are saying on Twitter and Facebook and Instagram matter to the Petersons? Not one bit. The Petersens have three kids, two jobs and one vote which is settled for now.
But for some others, spittle spattered social media politics content is high entertainment.
Barely 24 hours to go before the winner takes all dogfight primaries of Florida and Ohio, #DonaldTrump trended in 4 countries and 15 cities with a top trend ranking of # 3 in Bournemouth and Singapore.
If you simplify that to just the #Trump hashtag, the Donald trended in 9 countries and 38 cities with a top #1 rank in 7 places including Brighton and Ho Chi Minh city.
Links: The New York Times on Trump's astonishing advantage using free media
So who is consuming Trump's tweets which get retweeted an average of 3000 times?
It's folks like Kim, 19, who sells Bernie Sanders T-shirts for $ 20 a piece in Union Square, New York.
Across all ethnic subgroups in America, millennials like Kim account for between 3 or 4 in 10 (30-44% ) eligible voters in the 2016 election - they all get their daily politics fix on social.
Kim's on Facebook, Twitter, Instagram, she follows all the candidates and is supporting Sanders. "I like his message of a political revolution," she says working herself up into a fury over Trump's "rude and ugly" rhetoric.
Kim is one of 10.7 million more eligible voters than there were in 2012. More than two-thirds of net growth in the U.S. electorate during this time has come from racial and ethnic minorities. Within that, Hispanics and Asians have seen the fastest jump in numbers.
Hispanics, blacks, Asians and other minorities had a net increase of 7.5 million eligible voters, compared with a net increase of 3.2 million among non-Hispanic white eligible voters.
Kim makes $ 2 on every tee she sells, sends the rest to Sanders. Between this gig, college, a part-time job at a coffee shop and a 60 train commute, social is the way Maria stays wired.
Social media is the most conspicuous way millennials get news, more so than any other generation but drops off sharply for older age groups.
6 in 10 online millennials in the US - those born between 1981 and 1996, get their news from Facebook.
More than 3 in 10 (35%) of 18- to 29-year-olds name a social networking site as their most helpful source type for learning about the presidential election.
This is about twice that of the next nearest type – news websites and apps (18%), another digital stream of information.
Putting all that data together: 3 in 10 eligible voters in the 2016 race will be under 30, they form a big chunk of the new 10.7 million voters in 2016, they are hyper connected on social, they are being wooed on their playgrounds.
"Meeting the audience where they are" is what Emily Withrow, Faculty at Medill School, Northwestern University, calls this.
Trump tweets often and sticks to a good/ bad/ stupid/ dummy genre of mean and pithy phrases, his tweets come mostly straight out of a smartphone and quicker than the others whose tweets get filtered through social media experts for messaging quality and coherence with agenda.
Parallels for India - max millennials on our planet are here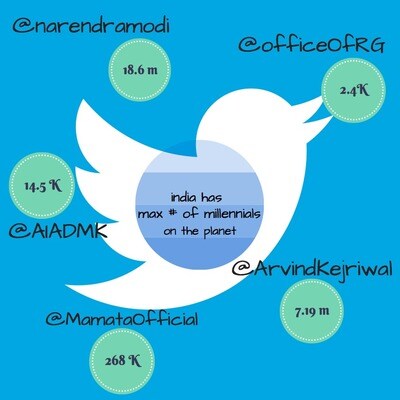 For politicians in India, which has the planet's greatest number of millennials and where smartphone uptake is breaking new records, how US candidates are using social doubles up as a real time case study considering how tipping points across technology and polity are criscrossing in at least three prominent ways : the better chunk of 2016 is pretty much poll season in 5 states; general elections come up in 2019, Cash-rich Reliance Jio is launching its telecom "bet of the century" in 2016 which promises to give even the Indian farmer high quality digital broadband connectivity comparable to the US in less than a year.
Prime minister Narendra Modi has a headstart on numbers in social media (see graphic) but lead actors in poll bound states are jumping in despite the inherent risks of polarised echo chambers and the risks of misinformation on social. Sometime in February, the queen bee south of the Narmada - Jayalalithaa got a verified handle for her AIADMK party and it's speeded up to 14.5 K followers in almost no time. Rivals DMK are in the ring too, so is Mamata Banerjee with a shade less than 300K follows.
Digital screens beat TV screens in India
The number of digital screens in India - smartphones, tablets, laptops and PCs, are already more than the number of TV and film screens put together as of calendar year end 2015. Clearly, digital will not decimate traditional media consumption in India because the cost model is very different from the West - In India, you can get your newspaper delivered home for less than Rs 400 ( $ 3-5 approx ) per month, but the coming telecom wars and digital explosion will give every Indian a second, more personal media consumption toy and change how the media industry operates.
As state governments in India grapple with the unavoidable choice of social, doubters balk at the risks of misinformation and trolling. They also use the old argument that English language mainstream media matters less than regional but the conversation has already moved on from either/or to all of the above.
Smartphone shipments crossed the 100 million mark in India in calendar year 2015 and two thirds of India is under 35. None of this is a simplistic translation to better voter turnout but it is certainly a mirror of where the audience is.
Take the World T20 for example - GIFs (a simple mosaic of pictures) plus humour is how Twitter erupts to an India loss to NZ. Images and video are the new currency for a mobile-first generation. Headline writers welcome.
India is one of the few countries, including Africa and Australia where over 25% of the population falls in the 15-29 age group. In absolute numbers, India has the most. It also has much higher voter turnout than America, for instance, which lags even among developed nations.
Projecting into the future, India will have between 20-22.5 % of total population aged 15-29 by 2050, which means more than an extra billion digital hours of consumption every day.
In the US, the online audience is on 5 different platforms, the candidates are there.
Is it helping?
Donald Trump claims his candidacy is bringing "millions and millions" of new voters to the polls.
Sanders, the oldest man in the race, often says in his Brooklyn drawl that if "we have a large voter turnout, we will win." He is running a hotly contested race against Clinton on the Democratic side.
Until each state is done with the months long barbecue party called the US Election primary, it's impossible to tell if Trump's claim is true, it's even more difficult to say if those numbers will tally with the final turnout in November - America has one of the lowest voter tunrouts in the developed world.
What can be determined, however, are voter registration numbers.
At least two of the winner-takes-all states - Florida and Illinois -- have seen marked increases in the number of registered voters.
For candidates in the US election, mastering social media is not about the message and the messenger, it's about the audience and where they are.
When the young show up at polling stations, democratic governments will listen up. Social media is adding a new dimension to that argument - provoke the young to get to the polling station first.
Turnout in the American primaries has surged to its highest levels since 2008 but those numbers are still in the below 20% range compared with total number of eligible voters.
Considering that the young are more liberal, less racist, way more tolerant than politicians calling to "ban all Muslims", the asymmetry of the math is what American liberals are hoping will kick in when and if millennials vote in large numbers in the 2016 election.
When New York Times put this story like this "The 202 People, Places and Things Donald Trump Has Insulted on Twitter: A Complete List" , Donald Trump replied on Twitter like this:
The failing @nytimes is truly one of the worst newspapers. They knowingly write lies and never even call to fact check. Really bad people!

— Donald J. Trump (@realDonaldTrump) March 13, 2016
Trump got 5000 plus retweets.
Here's why: Print sits right at the bottom of the pile in how the bulk of new voters are consuming politics.
For tin roof subtlety and depth, it's Twitter, folks - on the house, terse, always on fire.
PS: NYTimes has just slashed rates for digital access, 99 cents for a 4 week trial.
Firstpost is now on WhatsApp. For the latest analysis, commentary and news updates, sign up for our WhatsApp services. Just go to Firstpost.com/Whatsapp and hit the Subscribe button.
Updated Date: Mar 18, 2016 07:30:55 IST