Life after Robert Mugabe: What's next for a Zimbabwe that faces a future of relative uncertainty?
From the widely acclaimed liberator of his nation to a despotic dictator, Robert Mugabe's 37-year rule of Zimbabwe has been one of Africa's most controversial and influential
From the widely acclaimed liberator of his nation to a despotic dictator, Robert Mugabe's 37-year rule of Zimbabwe has been one of Africa's most controversial and influential, and his resignation as president on Tuesday shocked many around the world.
It also plunged the nation into relative uncertainty, raising institutional questions over succession although the military will likely retain power for some time now.
UK prime minister Theresa May hailed the development and said, "The resignation of Robert Mugabe provides Zimbabwe with an opportunity to forge a new path free of the oppression that characterised his rule. In recent days, we have seen the desire of the Zimbabwean people for free and fair elections and the opportunity to rebuild the country's economy under a legitimate government."
Rebuilding democracy and economy in the country will be an uphill task, but here is what can be expected in the near future (with inputs from AFP's interview with Derek Matyszak, an analyst at the Pretoria-based Institute for Security Studies):
What now?
"I think we're going to see (ousted vice-president) Emmerson Mnangagwa sworn in very quickly... As far as I understand (second vice-president Mphoko Phelekezela) is not in the country right now. The cabinet should meet if there's no president or vice-president and appoint one," Matyszak said.
The current crisis was triggered by a dispute over who would succeed Mugabe, and in his resignation letter, the 93-year-old president did not suggest who would succeed him.
Whoever takes over will only be there for "an interim period" he said, noting that Mugabe's ZANU-PF had already chosen Mnangagwa as their replacement leader to stand in elections slated for 2018. "The acting president is only supposed to be there for an interim period, while they wait for (the ruling) ZANU-PF to nominate a replacement for Mugabe — but they have already nominated Mnangagwa as their choice for elections in 2018."
Who is Emmerson Mnangagwa?
On Tuesday, erstwhile vice-president Mnangagwa, whose firing led to the military intervention, broke his silence and urged the embattled leader to resign. "The people of Zimbabwe have spoken with one voice and it is my appeal to Mugabe that he should take heed of this clarion call by the people of Zimbabwe to resign, so that the country can move forward and preserve his legacy," Mnangagwa said in a statement.
Mnangagwa fled Zimbabwe shortly after being sacked by Mugabe early in November. The crisis followed a factional squabble in the ruling ZANU-PF party over the 93-year-old Mugabe's successor.
Mnangagwa said he had rejected an invitation by Mugabe to return home to discuss the current political situation. "I told the president that I would not return home now until I am satisfied of my personal security, because of the manner and treatment given to me upon being fired."
However, Mnangagwa's role as the likely successor has raised many concerns, The New York Times reported. He was accused of orchestrating the crackdown in the 1980s in which thousands of members of the Ndebele ethnic group lost their lives. He was also accused of being behind deadly violence in 2008 a bid to rig polls in favor of Mugabe, a claim Mnangagwa denies.
At least a semblance of legitimacy — especially for a government led by Mnangagwa, who is known to enforce some of Mugabe's most ruthless policies — will be critical in gaining recognition from regional governments and international lenders.
What of the Opposition?
"What the Opposition should be doing is to use this moment to try and mobilise and lobby for the introduction of a more democratic dispensation," Matyszak said.
In his first remarks since the military takeover, Mnangagwa had on Tuesday appeared to make overtures to the Opposition, he said. "Mnangagwa's statement did mention that he is prepared to reach out to the Opposition."
Zimbabwe's main Opposition party, the Movement for Democratic Change, described Mugabe's resignation as a "new beginning for everyone in the country", News24 reported. "Its a good moment for Mugabe too as he now gets a chance to rest. It is an irreversible moment for us as citizens. It's a fresh start for all. We would get to usher in the rule of law and build our democracy," a party official said.
The official added that everyone hopes for a free and fair election to take place in 2018 as scheduled, the report said. "A free, fair and democratic election is supposed to take place in June or July next year. We are hoping that we are going to be able to stick to that mandate. We should be able to usher in a democratic government then."
What about the economy?
"The new leader needs to present a friendly face to the international community. The country is on the brink of an economic meltdown. If that meltdown occurs, the military won't get paid and you will have a possibility of another coup," Matyszak said.
"A lot needs to be done and done very quickly."
AP called Mugabe's mismanagement of Zimbabwe's economy "staggering". A piece published on the agency's platform says that the country has been transformed from one that could offer good employment opportunities to its well-educated population to a place of so little hope that people left in droves.
An estimated 3 million Zimbabweans are in neighboring South Africa, and it is routine to find a former schoolteacher working as a waitress at a Johannesburg restaurant. Tens of thousands of Zimbabweans are in Britain. And the 13 million who stayed behind in Zimbabwe have coped with an unemployment rate estimated at higher than 80 percent, the report added.
The industrial sector is estimated to be operating at less than 30 percent of its capacity, while tourism has dried up to a trickle. With significant deposits of diamonds, platinum, gold and chrome, Zimbabwe's mining sector has continued to function, but Mugabe's frequent threats of nationalisation significantly discouraged foreign investment.
What about Mugabe's family?
Several experts point out that Mugabe's downfall began the moment he tried to position his wife, Grace, as his successor. Although she was a newcomer to national politics and had no role in the nation's liberation war, she made clear that she wanted to be president and ridiculed politicians who had been waiting decades to succeed her husband, The New York Times report said.
Others say that Mugabe's modest tastes through the 1980s changed after his marriage to Grace. They built a 25-bedroom mansion on a sprawling property in Harare's Borrowdale suburb that became known as the Blue Roof house for its turquoise tiles imported from China. Sporting designer clothes, shoes and sparkling jewels, the first lady became known as "Gucci Grace."
In the last months of Mugabe's rule, the family's lavish ways became outlandish, even to Zimbabwe's jaded public. Grace Mugabe pressed a lawsuit against a Lebanese diamond dealer in which she charged she had paid him for a 100-carat diamond but he only gave her a gem of 30 carats. One of the couple's sons posted images on social media of himself pouring champagne over his diamond-encrusted watch.
Grace has not been spotted in the country since the military takeover of the government, Express reported, adding that reports suggest that she has now been arrested. "She was taken away both to prevent them colluding and conspiring, and to isolate her husband further," the report quoted a military official as saying. It is, then, safe to assume that the erstwhile first family will have no role in the political changes in Harare over the next months.
With inputs from agencies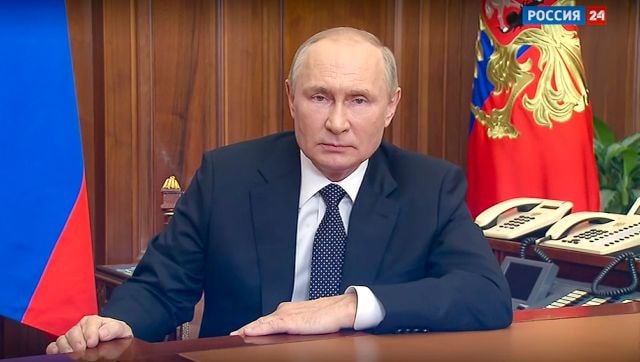 Explainers
Vladimir Putin on Wednesday, ordering Russia's first military mobilisation since World War Two, warned Moscow would respond with the might of all its vast arsenal if the West continued its 'nuclear blackmail'
Explainers
Experts say the area recaptured by Ukraine would represent a serious blow to Russia's military ambitions. Moscow has conceded having lost territory, but claimed its forces are 'regrouping' to the Donetsk region to focus military efforts there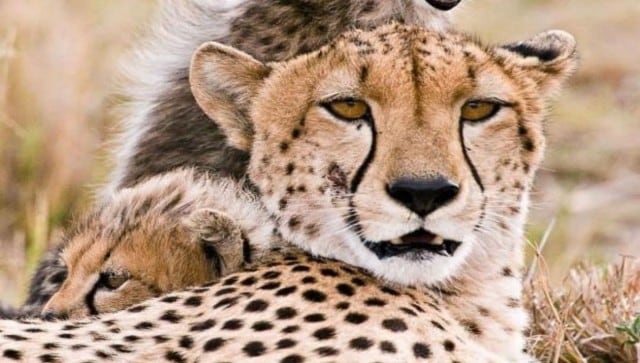 Explainers
Some say the presence of leopards in Kuno National Park could pose a problem for the big cats, while others point to reports of camera traps being removed and remain wary of poaching. But authorities say these lines of thinking miss the big picture