Libyan forces push back Haftar's forces south of Tripoli: witnesses
By Hani Amara HIRA, Libya (Reuters) - Forces supporting Libya's internationally recognised government pushed back troops loyal to eastern commander Khalifa Haftar more than 60 km southwest of the capital Tripoli on Tuesday, Reuters reporters said. The town of Aziziya was fully under the control of the Tripoli forces, with shops reopening after days of fighting, a Reuters team at the scene said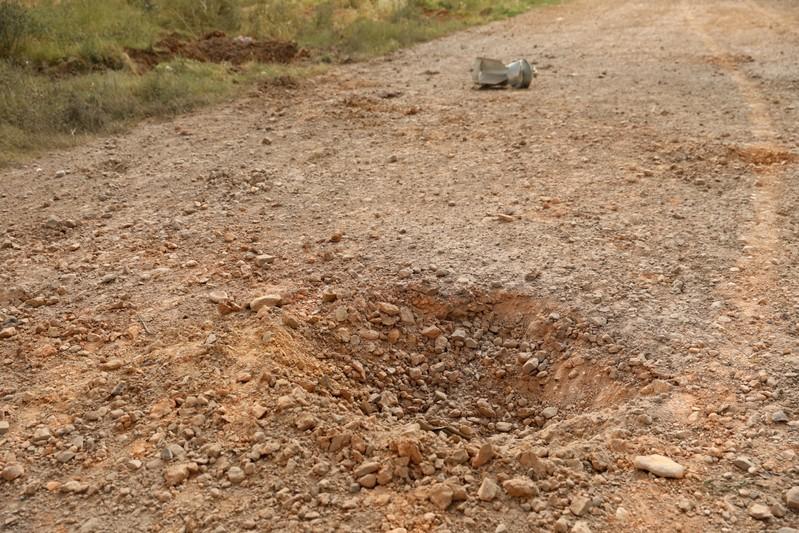 By Hani Amara
HIRA, Libya (Reuters) - Forces supporting Libya's internationally recognised government pushed back troops loyal to eastern commander Khalifa Haftar more than 60 km southwest of the capital Tripoli on Tuesday, Reuters reporters said.
The town of Aziziya was fully under the control of the Tripoli forces, with shops reopening after days of fighting, a Reuters team at the scene said.
Haftar's Libyan National Army (LNA), which is allied to a rival government in eastern Libya, mounted an offensive on the capital almost three weeks ago but despite heavy fighting last week it has failed to breach the city's southern defences.
In recent days, forces backing the Tripoli administration have pushed back the LNA in some areas.
Further south of Aziziya driving through villages on the road to Hira, the Reuters team saw several burnt-out cars belonging to Haftar's forces and five dead fighters.
The Reuters reporters drove to about 25 km (16 miles) from Gharyan, the forward base for Haftar's offensive to take Tripoli. The town could still be a challenge to recapture as it lies in the mountains starting after Hira.
One tired-looking LNA prisoner sat on the back of a pickup truck. The Tripoli forces had also seized two Soviet-made tanks from the arsenal of former ruler Muammar Gaddafi, one of them heavily damaged.
As the Reuters team was about to leave, rockets were fired nearby from LNA positions.
According to United Nations figures 264 people, including 21 civilians, have been killed since April 5 and 1266 wounded, including 69 civilians. About 32,000 civilains have fled their homes for safer areas.
The latest military action could signal the end of Haftar's immediate plans to install himself as ruler of the whole country and ease a dangerous situation that has divided and confounded foreign governments with an interest in Libya.
The North African country has been in a state of chaos since Gaddafi was toppled in 2011 with Western intervention, and the latest flare-up threatens to disrupt oil flows and leave a power vacuum that Islamist militants could exploit.
Libya is also the main departure point for migrants from elsewhere in Africa trying to reach Europe across the Mediterranean, a big concern for European Union nations.
(Reporting by Hani Amara and Ayman Salhi; Writing Ulf Laessing, Editing by Angus MacSwan)
This story has not been edited by Firstpost staff and is generated by auto-feed.
Business
By Pete Schroeder WASHINGTON (Reuters) - JPMorgan Chase & Co will resume making political donations to U.S. lawmakers but will not give to Republican members of Congress who voted to overturn President Joe Biden's election victory, according to an internal memo on Friday seen by Reuters. The bank was among many corporations that paused political giving following the deadly Jan
Business
(Reuters) - Fintech company Square Inc is considering making a hardware wallet for bitcoin, Chief Executive Officer Jack Dorsey said in a tweet https://twitter.com/jack/status/1400839179513339905 on Friday. As bitcoin and other crypto-currencies have gained in popularity, many companies have emerged to serve a growing need to protect these assets from online theft. Bitcoin wallets can be stored offline or online at cryptocurrency exchanges, venues where bitcoin can be bought and sold for traditional currencies or other virtual coins.
Business
By Foo Yun Chee BRUSSELS (Reuters) -The European Commission on Friday defined the scope of revised copyright rules adopted last year following criticism from governments, including France and Poland, but EU broadcasters and internet activists said there was a danger of censorship. The revamped copyright directive, the first overhaul in two decades, aimed to provide fair compensation for the bloc's $1 trillion creative industry and its 11.7 million employees. A central provision, Article 17, backed by the creative industry, would force Google-owned YouTube, Facebook's Instagram and other sharing platforms to install filters to prevent users from uploading copyrighted materials