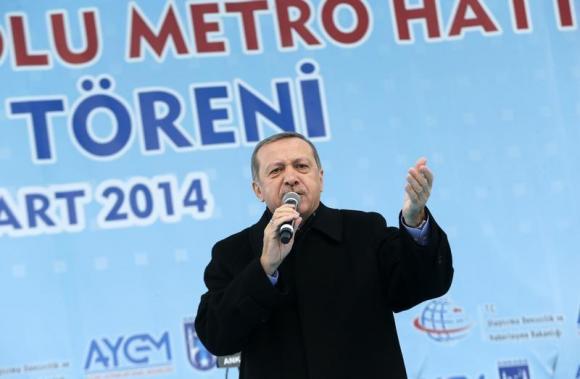 ISTANBUL (Reuters) - A Twitter account behind a string of leaks in a Turkish corruption scandal posted late on Thursday what it presented as police files detailing graft allegations against four former ministers, dealing a further blow to Prime Minister Tayyip Erdogan weeks before elections.
The Twitter account using the pseudonym @HARAMZADELER333 posted links to a 299-page document and a 32-page document presented as police files from an investigation that became public on December 17 with a series of dawn raids.
Reuters could not verify the authenticity of the documents.
The former ministers have denied any wrongdoing.
Former interior minister Muammer Guler, former economy minister Zafer Caglayan and former environment minister Erdogan Bayraktar each saw a son detained on December 17 as police went public with their long-running corruption inquiry. All three resigned just over a week later.
Former EU minister Egemen Bagis was replaced in a reshuffle.
The corruption scandal has grown into one of the biggest challenges of Erdogan's 11-year rule and comes as his AK Party is campaigning for pivotal municipal elections on March 30.
Guler and Caglayan echoed Erdogan in depicting the corruption inquiry as baseless and a conspiracy when they resigned, but Bayraktar turned against the prime minister, calling at the time for him, too, to quit.
Police files on the four ex-ministers were sent to parliament in late February, where a summary would usually be read aloud to deputies. However, the assembly went into recess for the election campaign period shortly afterwards and the files have been kept under lock and key ever since.
On Thursday, Turkey's opposition demanded a recall of parliament to hear the allegations against the four former ministers.
Erdogan has cast the graft scandal as a plot to smear him by Islamic cleric Fethullah Gulen, a U.S.-based former ally with influence in Turkey's police and judiciary. Gulen has denied orchestrating the corruption investigation.
(Humeyra Pamuk reported from Gaziantep; Writing by Nick Tattersall; Editing by Toni Reinhold)
This story has not been edited by Firstpost staff and is generated by auto-feed.
Find latest and upcoming tech gadgets online on Tech2 Gadgets. Get technology news, gadgets reviews & ratings. Popular gadgets including laptop, tablet and mobile specifications, features, prices, comparison.
Updated Date: Mar 14, 2014 05:00:19 IST