Last ditch mediation in Palmer lawsuit against Infosys in visa fraud case
The judge has ordered petitioner Jay Palmer and Infosys to participate in a mediation conference to see if the matter can be resolved without trial.
New York: In a last-ditch effort to determine whether a settlement can be reached, a US federal judge hearing whistleblower Jay Palmer's visa misuse allegation case against software giant Infosys Ltd has ordered a mediation conference between the two parties on 24 July.
Palmer's trial lawyer Kenneth J Mendelsohn said that the order for a mediation conference is a "fairly standard procedure," and was not unexpected following a pre-trial meeting earlier this week.
It will be premature at this stage to make any assumptions about Infosys' prospects for settling the case. Infosys tried to get its employee Palmer to settle the case last year, to avoid having all of its dirty laundry aired in open court, but it had backfired. It is hard to tell whether things will work out differently this time round.
"The judge has ordered us to do a mediation conference in good faith. He expects us to put animosities behind and see if we can get a fair resolution rather than allowing a judge and jury decide," said Mendelsohn.
"We'll abide by the court's ruling. But if they (Infosys) come in and keep acting as they have been and act like they have done nothing wrong, then we'll have no other choice but to take it to court," he added.
If the mediation effort fails, Infosys, accused of visa and tax fraud, will have to defend itself against Palmer's lawsuit next month. Claims that Infosys routinely brought Indian tech workers into the US on B-1 visas to do work that actually required an H1-B visa will be heard at trial on 20 August.
The civil lawsuit brought 17 months ago by Palmer against Infosys has already spawned a criminal investigation by US authorities into the visa practices of the Indian software giant. Attempts by Infosys to portray Palmer as a lone wolf who's spreading "falsehoods" about the company, also fell flat after two other Infosys managers in the US submitted damning internal whistleblower reports of visa fraud.
All three whistle-blowers, including Palmer have said Infosys misused short-term B1 visitors' visas to bring in low-cost engineers from India. They have submitted internal reports pointing to Indians on business visitor visas who were working full time at client sites and Infosys was billing for their work. This is illegal as a B-1 visa is only valid for entry into the US for attending meetings and training. Infosys also paid the Indian employees for full-time work in the US without withholding federal or state income taxes.
Palmer who was hired in the US by Infosys in 2008 as a project manager alleged that his managers sought his help to circumvent US visa regulations and that Infosys failed to act when he reported the illegal conduct.
Infosys had tried to get Palmer to settle the case in September last year but it went nowhere. According to people close to the negotiations, things backfired after Infosys chief marketing officer Paul Gottsegen called Palmer a liar and a fortune hunter for red-flagging the visa issue. When Palmer demanded a public apology, Infosys baulked. Evidently, Palmer wasn't interested in "getting as big of a payout as he can" from Infosys as Gottsegen had crudely suggested.
Infosys' continuing US visa woes, court troubles, missed annual sales guidance, and lackluster outlook has clients mulling contingency plans, according to Forrester analyst Stephanie Moore.
She wrote in a blog post on Forrester's website that clients are thinking of "contingency plans" to protect themselves from risk in case Infosys, the company most identified with jobs being "Bangalored" becomes an "election-year scapegoat for American job loss."
Infosys has about 1,50,000 employees, $7 billion in revenue and a $4 billion war chest for major acquisitions.
World
Just a day after an 18-year-old shooter had killed over a dozen students, police arrested a suspect walking towards a Richardson high school in Texas with what appeared to be a rifle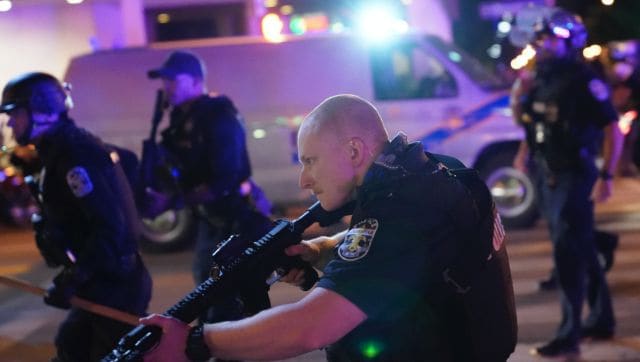 World
The Justice Department report came out after a shocking weekend showed how the vast surplus of guns has made its mark on US society