Large parts of Bermuda plunged into darkness as Hurricane Humberto clips island
By Don Burgess HAMILTON, Bermuda (Reuters) - Hurricane Humberto knocked out power lines in Bermuda on Wednesday night, plunging half of the Atlantic archipelago into darkness, as the storm whipped the British territory with powerful winds and rain. Hurricane-force winds were expected to pummel Bermuda on Wednesday night, the Miami-based U.S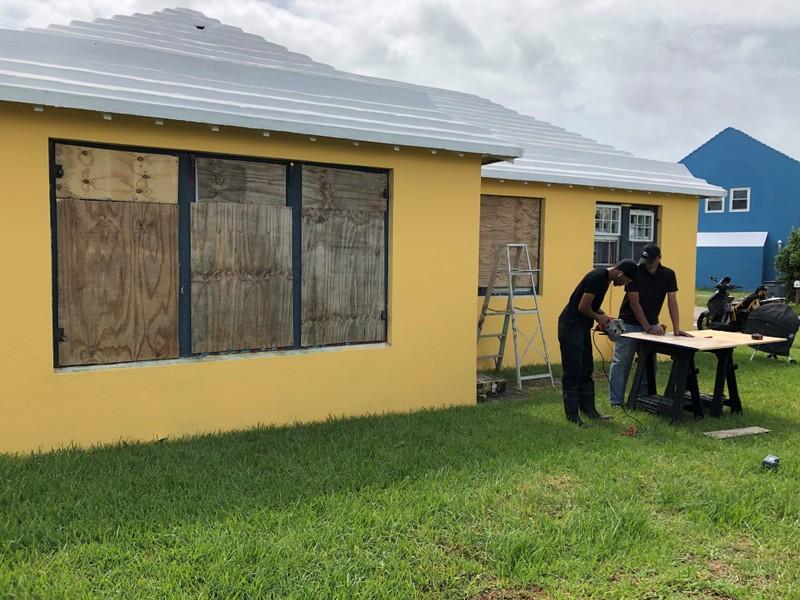 By Don Burgess
HAMILTON, Bermuda (Reuters) - Hurricane Humberto knocked out power lines in Bermuda on Wednesday night, plunging half of the Atlantic archipelago into darkness, as the storm whipped the British territory with powerful winds and rain.
Hurricane-force winds were expected to pummel Bermuda on Wednesday night, the Miami-based U.S. National Hurricane Center said, although the core of Humberto was expected to pass just to the northwest and north of the archipelago.
More than 27,000 homes and businesses had lost electricity by early evening, according to electricity company Belco. Flights were cancelled and some residents in the capital, Hamilton, covered windows with wooden planks and metal sheeting.
Bermudan officials warned residents to stay off roads and prepare for possible tornadoes as the hurricane picked up forward speed and weather conditions worsened.
James Dodgson, director of the Bermuda Weather Service, said conditions were already worsening and that winds could reach hurricane strength.
"I can't even rule out some isolated tornadoes. ... We have a very serious situation as we have a very big hurricane moving by to our north," he told a news conference.
On Wednesday, the storm's eye was located to the west of the archipelago, which lies about 650 miles (1,050 km) east of the United States.
The storm packed 120 mile-per-hour (193 kph) winds and picked up speed during the afternoon, moving at 20 mph (31 kph). Humberto was a Category 3 hurricane on the five-step Saffir-Simpson hurricane scale, the NHC said.
Bermuda National Disaster Coordinator Steve Cosham warned that the storm could topple trees and rip down power lines, while tornadoes could damage buildings.
Resident Saivo Goater placed boards across the sliding glass doors of his two-story dwelling, remembering back-to-back hurricanes in 2014 that ripped off parts of his roof.
"I don't want to go through that again," Goater said. "It's better to be safe than sorry."
Officials ended government ferry services and were closing a major road leading to the airport on Wednesday evening. They also opened a shelter at a high school with room for 100 people.
Schools were closed and ambulances on standby, a witness said.
The Atlantic storm season has picked up pace in recent weeks.
The Bahamas is still reeling from the devastation of Hurricane Dorian, and the remnants of Tropical Depression Imelda have moved inland across the Gulf coast of Texas and southeastern Louisiana as it weakened, bringing warnings of flash floods and heavy rains.
(Reporting by Don Burgess in Hamilton, Bermuda; Additional reporting by Rich McKay in Atlanta, Daina Beth Solomon and Stefanie Eschenbacher in Mexico City; Editing by Dan Grebler and Peter Cooney)
This story has not been edited by Firstpost staff and is generated by auto-feed.
Find latest and upcoming tech gadgets online on Tech2 Gadgets. Get technology news, gadgets reviews & ratings. Popular gadgets including laptop, tablet and mobile specifications, features, prices, comparison.
World
By Steve Holland and Trevor Hunnicutt WASHINGTON (Reuters) - U.S. President Donald Trump, still being treated for COVID-19, abruptly ended talks with Democrats on an economic aid package on Tuesday, drawing criticism from presidential rival Joe Biden that he was abandoning Americans in the midst of a pandemic. Trump's tweet breaking off talks for a new round of stimulus spooked Wall Street, sending stocks down as much as 2% from their session highs and tarnishing one of the metrics that the Republican president has touted as a sign of his success.
World
By David Brunnstrom WASHINGTON (Reuters) - A senior U.S. defence official said on Tuesday Taiwan's plan to boost defense spending by $1.4 billion was a step in the right direction, but insufficient to ensure resilient defense in the face of an increasing Chinese threat. In August, the Taiwanese cabinet proposed T$453.4 billion ($15.24 billion) in military spending for coming year, versus T$411.3 billion ($13.99 billion) budgeted for this year, a rise of more than 10 percent
World
By Anthony Esposito CANCUN, Mexico (Reuters) - Mexicans formed long lines at supermarkets near Cancun on Tuesday to stock up in preparation for a forecast hit overnight from powerful Hurricane Delta, while the resort ordered hotels evacuated on its famed Caribbean shoreline. The Category 4 hurricane on the five-step Saffir-Simpson scale of intensity was about 215 miles (345 km) east of Cozumel off the Mexican coast, packing maximum sustained winds of 140 miles per hour (220 kph), the U.S. National Hurricane Center (NHC) said.