Landslides, floods kill five children in southeastern Bangladesh
DHAKA/KUTUPALONG REFUGEE CAMP, Bangladesh (Reuters) - Heavy monsoon rains triggered landslides and flooding in southeastern Bangladesh on Wednesday, killing five children and forcing a thousand people to relocate, including in the Rohingya refugee camps. The children were killed in landslides near Cox's Bazar and Ramu, said Kazi Abdur Rahman, a senior Bangladesh government official in the area. Three more people were injured and taken to hospital and a thousand were evacuated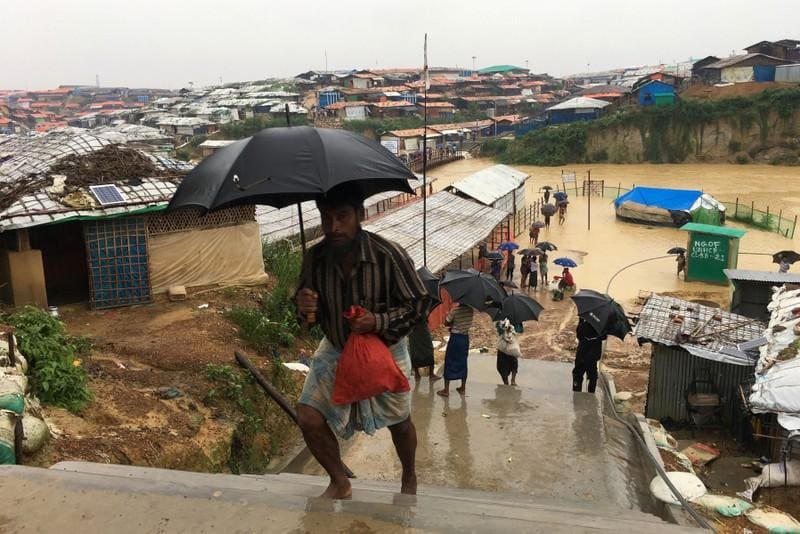 DHAKA/KUTUPALONG REFUGEE CAMP, Bangladesh (Reuters) - Heavy monsoon rains triggered landslides and flooding in southeastern Bangladesh on Wednesday, killing five children and forcing a thousand people to relocate, including in the Rohingya refugee camps.
The children were killed in landslides near Cox's Bazar and Ramu, said Kazi Abdur Rahman, a senior Bangladesh government official in the area. Three more people were injured and taken to hospital and a thousand were evacuated.
It was not immediately clear how many Rohingya refugees were relocated. Aid agencies have warned that the monsoon, which typically peaks in July, could threaten many thousands of people.
"A number of families were moved due to flooding and minor landslides," said Abul Kalam, the Bangladesh government official in charge of the refugees. "The rain shows no sign of stopping but there has been no major catastrophe inside the camps," he said.
The UNHCR and IOM were also unable to immediately provide figures.
Nearly 700,000 Rohingya Muslims have fled across the border from Myanmar since Aug. 2017 when the Myanmar military launched a violent crackdown in Northern Rakhine State. The Rohingya say thousands were killed or raped and their homes were burned down. Myanmar denies this and says its security forces were conducting legitimate counter-insurgency operations.
In the Rohingya refugee camps in Bangladesh, the market near the Modhuchara bamboo bridge began flooding in the early hours of the morning, said a refugee who lives there.
"We were awake when the flooding started," said Abul Hakim. "We could not sleep well because of the fear of flooding."
"I want to move from here. There is a high risk of flooding and drowning and a high risk of landslides," he said as his one-and-a-half year-old grandson played in the water.
He said there were about 15 Rohingya families living in the area near the market, and it was the second time it had flooded. Floodwaters near Hakim's bamboo and plastic shelter were shin-deep.
At least three refugees have been killed in the monsoon since early May.
As of July 18, about 21,000 refugees had been relocated because their shelters were threatened by landslides, the UNHCR said.
(Reporting by Serajul Quadir in DHAKA and Clare Baldwin in KUTUPALONG; Editing by Andrew Bolton)
This story has not been edited by Firstpost staff and is generated by auto-feed.
Find latest and upcoming tech gadgets online on Tech2 Gadgets. Get technology news, gadgets reviews & ratings. Popular gadgets including laptop, tablet and mobile specifications, features, prices, comparison.
Business
By Jessica Resnick-Ault NEW YORK (Reuters) - Oil prices strengthened on Wednesday, as OPEC and its allies were seen complying with a pact to cut oil supply in September, even as concerns loomed that recovery in fuel demand will be stalled by soaring global coronavirus cases. Early in the day crude was boosted by a bullish stock market. Even as equities whipsawed on pandemic worries, oil stayed higher, buoyed by expectations that OPEC could staunch a supply glut
Business
By Tina Bellon and C Nivedita (Reuters) - Tesla Inc will further cut the price of its Model S "Long Range" sedan in the United States to $69,420, the electric carmaker's chief executive, Elon Musk, announced in a tweet https://bit.ly/2H0JCP0 on Wednesday. The anticipated drop marks the second time this week Tesla has cut the price for the high-end sedan, following a 4% cut of the Model S's price in the United States on Tuesday to $71,990.
World
By Jeff Mason DES MOINES, Iowa (Reuters) - Under siege over his handling of the novel coronavirus pandemic, President Donald Trump on Wednesday cited what he said was his son's mild bout of the virus as a reason why American schools should reopen as soon as possible. Trump made the comment about his son, Barron, as the president swept into Iowa on a mission to shore up support in battleground states that he won in 2016 but is in danger of losing to Democrat Joe Biden barely three weeks before the election. First lady Melania Trump announced in a statement earlier in the day that the virus that struck both her and her husband had also infected their 14-year-old son