Kurdish referendum: Turnout high as Iraqi Kurds defy threats from Baghdad, Ankara to hold independence vote
Iraqi Kurds voted in an independence referendum on Monday as tensions rose with Baghdad and neighbouring countries over the historic vote.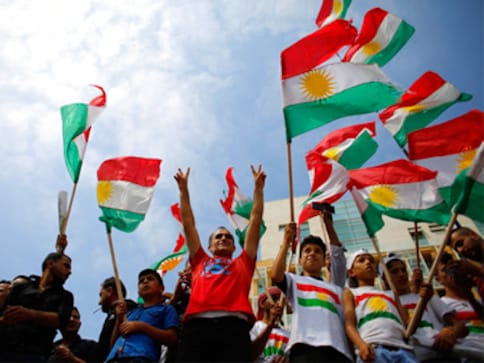 Arbil (Iraq): Iraqi Kurds voted in an independence referendum on Monday as tensions rose with Baghdad and neighbouring countries over the historic vote.
The referendum was proceeding peacefully but there were fears of potential unrest, especially after lawmakers in Baghdad demanded that troops be sent to disputed areas where the referendum was taking place.
As night fell, a curfew was imposed in parts of the disputed city of Kirkuk, police said.
Iran and Turkey, which both worry it will stoke separatist aspirations among their own sizeable Kurdish minorities, were also increasing pressure on Iraq's Kurds, with Ankara saying it would shut its border and threatening to block key oil exports.
An overwhelming "Yes" outcome is expected, but the vote is non-binding and Kurdish officials have said there are no plans for an immediate declaration of independence.
Voters headed to the polls early, many men dressed in traditional Kurdish dress of brown shirt and billowing trousers for the occasion.
"I came very early to be the first to vote for a Kurdish state," Diyar Abubakr, 33, said outside a polling station in regional capital Arbil.
Initial results are expected to be announced 24 hours after polls close.
Polling stations are scattered across the three northern provinces of autonomous Iraqi Kurdistan — Arbil, Sulaimaniyah and Dohuk — as well as in disputed border zones such as the oil-rich province of Kirkuk.
A total of 12,072 polling stations are open for more than 5.3 million registered voters.
Left without a state of their own when the borders of the Middle East were redrawn after World War I, the Kurds see themselves as the world's largest stateless people.
Baghdad has declared the vote unconstitutional and parliament voted on Monday to demand Prime Minister Haider al-Abadi "deploy forces" in areas disputed with the Kurds.
Asked about the risks of armed conflict, Abadi's spokesman Saad al-Hadithi told AFP: "If there are clashes in these zones, it will be the job of federal forces to apply the law."
Karim al-Nuri, a head of the Badr Brigade which forms part of the powerful Hashed al-Shaabi paramilitary units, suggested the group was ready to deploy to "Kirkuk and the disputed zones occupied by armed gangs, outlaws who do not respond to the army command."
Kirkuk, home to Arabs, Kurds and Turkmen, has been a particular point of concern and late on Monday police said a curfew was being imposed in the centre of the city and in Arab and Turkmen areas "to ensure security, monitor the situation and protect the citizens of Kirkuk".
Abadi on Sunday pledged to take all the "necessary measures" to protect the country's unity, as his government urged all countries to deal only with it on oil transactions.
Turkey's President Recep Tayyip Erdogan on Monday threatened to halt these oil exports, angrily denouncing an "illegitimate" referendum.
Erdogan also said Turkey's Habur border crossing with Iraqi Kurdistan would be closed.
World
A 10-article memorandum signed between the two countries and NATO addresses all of Turkey's objections and promises to establish a permanent mechanism to monitor implementation
Opinion
The decade-long and single-minded persecution of Julian Assange by the Western powers is a resounding warning to all people in pursuit of truth
World
NATO Secretary General Jens Stoltenberg met representatives from the three countries to try to make progress on the issue. While he described the talks as 'constructive' Turkey made it clear there was still work to be done