When the weather forecast is grey woollens: What the KTLA row tells us
Sexism straddles both ends of the spectrum. Women are either too dressed up or dressed down – seen through a man's eyes – in a 70-mm Saint vs Slut 24/7 show.
Bare shoulders can cause climate change. A Los Angeles weather anchor in a sleeveless sparkly dress apparently got her audiences so hot and bothered that she had to cover up on live TV. A male co-anchor handed her a sweater 'because we're getting a lot of emails'. Confused KTLA meteorologist Liberte Chan, interrupted mid-bulletin, first took it for concern – 'You want me to put this on? Why, because it's cold?' before she went, 'I look like a librarian now.'
Men, you know, wear the pants, and women something shapeless and gray.
Coming right on the heels of the high-heel controversy, sexism straddles both ends of the spectrum. Women are either too dressed up or dressed down – seen through a man's eyes – in a 70-mm Saint vs Slut 24/7 show.
When Nicola Thorp, a part-time receptionist in London, spoke up against wearing heels to work, not only did the company revoke its footwear fatwa against flats, British Business Secretary Sajid Javid said heels should not be a compulsory part of official dress code. The world over, women totter about on stilettos though – not because baritones command them to but because they want to – and boo to bunions, sciatica, limps, hammertoes and osteoarthritis. Kate Moss, Victoria Beckham, Heidi Klum, Jennifer Lopez... most stylish women have funny looking feet. That's their walk. But to have bosses breathe down your feet, ordering spiky heels or flip-flops!
The key sartorial factor is choice. If men wear the same black suit on TV day after day or to party after party, women prefer–courtesy social pressure and perhaps vanity–to go for a costume change each time. No one else can decide how much is too much or how little is too little except the one who wears or the one who bares. Hemlines can rise, necklines can plunge, corsets can hamper blood circulation, make-up be glued on and eyebrows tattooed, as long as it is voluntary. If beauty is in the eye of the beholder, beautification is in the hands of the beheld.
The weather anchor, strangely enough, says she found the live wardrobe interruption acceptable, even funny. The man who handed her the sweater said it was a bit of a joke and Chan went ha ha, lest someone says women can't take a joke. Viewers' temperatures may have shot up, but she is cool with seen shrugging on a cardigan on air by her own account.
'Cloudy with a chance of misogyny: TV meteorologist told to don cardigan,' said Chicago Tribune. 'Maybe it's time to stop making newscasters dress like strippers,' said New York Daily News. Headlines like two boxers in a ring.
Some cases of body shaming are iffy. Like when Kim Kardashian-West displayed all of her botoxed bulk in a bathroom selfie and Bette Midler tweeted, 'If Kim wants us to see a part of her we've never seen, she's gonna have to swallow the camera.' The twitterati went into a tizzy, with tweet and counter-insult-tweet flying about, and the FAQ: who is sexist here? But an underlying doubt was if mere exhibitionism was being elevated to moral debate, thus enhancing the exhibitionist's chances at, well, exhibition.
Women are all the time chewing bottom lip over butch/sexy, demure/sexy, tomboy/sexy, motherly/sexy, and anything/sexy. And if they get off on the wrong foot or forget to button up, it is their call. Wardrobe malfunctions and knights in shining armour don't always have to hold hands.
But most cases are black and white, like in the case of the gray sweater. Chan's LBD was reportedly a second choice; the first dress had clashed with the sets. Aware of the two-faced mob – with one section having sent the numerous emails beseeching her to cover up and another mocking the cover-up – popularity ratings have to keep an open mind on viewer opinions, however diverse, however asinine.
Chan is lucky no one tugged down her neckline midway through her weather bulletin just because someone phoned in for more cleavage.
Here is the video that created the controversy-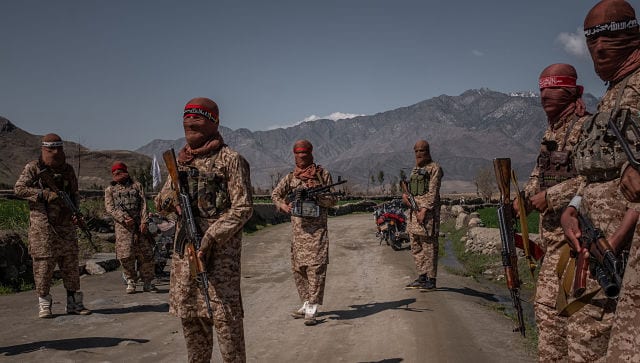 World
While the government in Kabul has brought reforms, including on women's rights and voting, Taliban have reiterated that they want an "Islamic system" in Afghanistan
Sports
The NBA and its players union announced that four-time NBA champion James led jersey sales and his 2020 NBA champion Lakers were still the hottest money spinner in merchandise sales.
Entertainment
This Stephen King adaptation is a yawn-fest with brief fangirl moments when Moore appears on screen.