Kremlin critic turns up alive at televised briefing about his 'murder'
By Matthias Williams and Andrew Osborn KIEV/MOSCOW (Reuters) - A dissident Russian journalist reported murdered in Kiev on Tuesday dramatically reappeared alive on Wednesday during a televised briefing by Ukrainian state security about the killing, which they then said they had faked. Authorities said Arkady Babchenko was shot dead at his flat and found by his wife in a pool of blood. But he took to the podium before stunned reporters and said he had been part of a Ukrainian operation to thwart a Russian attempt on his life and expose those behind it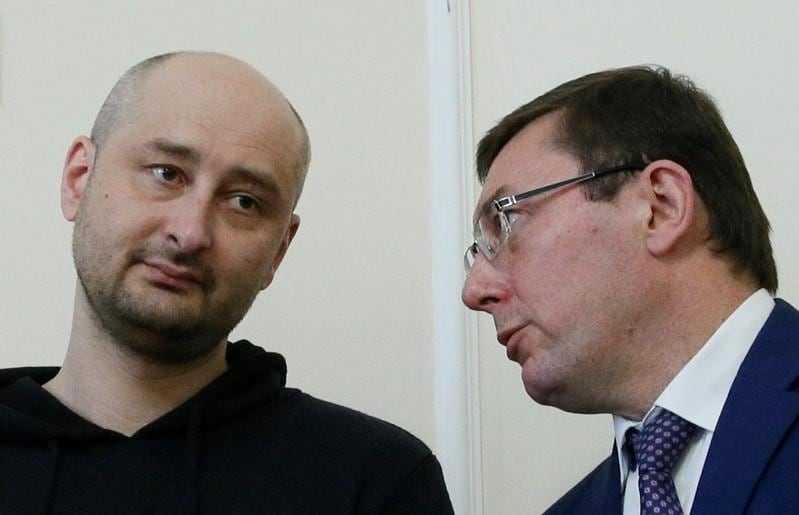 By Matthias Williams and Andrew Osborn
KIEV/MOSCOW (Reuters) - A dissident Russian journalist reported murdered in Kiev on Tuesday dramatically reappeared alive on Wednesday during a televised briefing by Ukrainian state security about the killing, which they then said they had faked.
Authorities said Arkady Babchenko was shot dead at his flat and found by his wife in a pool of blood.
But he took to the podium before stunned reporters and said he had been part of a Ukrainian operation to thwart a Russian attempt on his life and expose those behind it.
"I would like to apologise for what you have all had to go through," said Babchenko, who looked on the verge of tears. "I'm sorry but there was no other way of doing it. Separately, I want to apologise to my wife for the hell that she has been through."
His reappearance elicited gasps, then cheers and applause from journalists at the briefing.
Babchenko, 41, is a critic of President Vladimir Putin and Russian policy in Ukraine and Syria.
His reported murder sparked a war of words between Ukraine and Russia. The two countries have been at odds since a popular revolt in Ukraine in 2014 toppled a Russian-backed government in favour of a pro-Western one.
It also produced a flurry of condemnations from European capitals and Washington, and sent shivers through the journalistic communities in both countries.
This was in part because several prominent Russian journalists critical of Putin's policies have been murdered in recent years. Opposition groups and human rights organizations say the Kremlin is behind the killings. The Kremlin denies this.
But there were signs of a backlash against Ukraine. Some media organisations said the staged plot undermined the credibility of journalists. Others said it had handed the Kremlin a propaganda gift.
Babchenko praised the operation, however, and thanked the Ukrainian Security Service, the SBU, for saving his life. He said the most important thing was that what he called other big acts of terror had been thwarted.
He later took to Twitter, promising to die "when I am 96 after having danced on Putin's grave".
STING PLOT
The SBU said it received information about a plot to kill 30 people in Ukraine, including Babchenko, but had thwarted it.
The security service declined to say who the other 29 people were but said it had detained a Ukrainian citizen recruited by Russia to find someone to kill Babchenko. He was given $40,000 to organise the murder, $30,000 for the killer and $10,000 for being an intermediary, the SBU said.
The detained man had been ordered to buy weapons, including 300 Kalashnikovs, grenade launchers, and explosives which were to be stashed in central Ukraine, it added. A video of the man being detained was shown to reporters.
"We managed not only to break this cynical provocation, but also to document the preparation of this shameful crime by Russian special services," SBU chief Vasyl Hrytsak said.
General Prosecutor Yuriy Lutsenko, who appeared alongside Babchenko, said it had been necessary to fake the journalist's death so that the organisers of the plot to kill him would believe they had succeeded.
Ukraine's prime minister, foreign minister, the European Union, the United States and the Organization for Security and Co-operation in Europe were among the many to condemn Babchenko's reported murder.
News that he was alive brought a mixture of relief and praise for the Ukrainian security services, including from President Petro Poroshenko, but a backlash from certain quarters about how the incident was handled.
"Reporters Without Borders expresses its sharp indignation on learning of the Ukrainian secret service's manipulation carried out as part of an information war," Christophe Deloire, secretary general of Reporters Without Borders, said on social media. "It is always very dangerous for states to play with facts and especially on the backs of journalists."
Poroshenko welcomed Babchenko with a hug at the presidential administration and said the journalist and his family would be given protection.
RUSSIAN MOCKERY
Russian state media mocked Ukraine for solving a murder it had staged itself, while the Russian Foreign ministry said it was happy that Babchenko was alive, but said Ukraine has used his story as propaganda.
The New York-based Committee to Protect Journalists said it was also unimpressed.
"We are relieved that Arkady Babchenko is alive," said the CPJ's Nina Ognianova. "(But) Ukrainian authorities must now disclose what necessitated the extreme measure of staging news of the Russian journalist's murder."
But in Kiev journalists who had gathered in the central Maidan square to mourn Babchenko cracked open champagne.
"That was the best news conference in my life," said Olga Musafirova. "I have never experienced such emotions at any official event. We watched ... at a studio of a TV channel and I realized that I burst into tears and it was tears of joy."
Another journalist, Sergiy Grishyn, said "Babchenko will have to give me money for pills" for the stress he'd suffered.
Anton Gerashchenko, an adviser to the interior minister, who had announced Babchenko's death on Tuesday, went on Facebook on Wednesday to compare the operation to the fictional detective Sherlock Holmes faking his own death.
Babchenko has lived in the Ukrainian capital since receiving threats at home for saying he did not mourn the victims of a Russian military plane crash.
Ukrainian Prime Minister Volodymyr Groysman had said in a social media posting late on Tuesday that he was convinced what he called "the Russian totalitarian machine" had not forgiven Babchenko for what Groysman called his honesty.
Moscow has described the allegations as part of an anti-Russian smear campaign.
(Additional reporting by Tom Balmforth and Maria Kiselyova in Moscow, Pavel Polityuk, Olena Vasina and Natalia Zinets, Margaryta Chornokondratenko and Sergei Karazy in Kiev; Editing by Christian Lowe and Matthew Mpoke Bigg)
This story has not been edited by Firstpost staff and is generated by auto-feed.
also read
World
COPENHAGEN A South Korean woman wanted for questioning in connection with the scandal that brought down president Park Geun-hye has withdrawn her appeal against extradition from Denmark, the Danish state prosecutor said on Wednesday.
World
By Philip Pullella and Steve Holland | VATICAN CITY VATICAN CITY Pope Francis urged U.S.