KP Oli's India visit: New Delhi must keep commitments to Kathmandu, go beyond 'patronage' to rejig ties
After KP Oli's visit, India must keep its commitments to Nepal meet & schedules as far as possible to reverse its reputation for big talk and nothing else.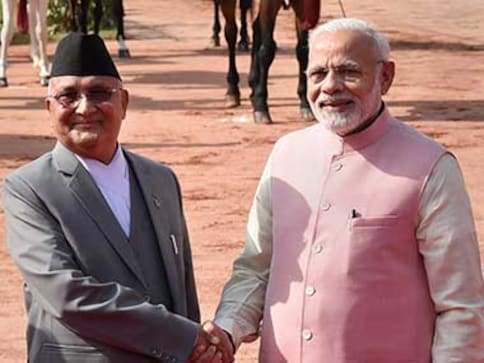 The triumphant return of Prime Minister KP Oli to power in Nepal has been dutifully recorded by the media in his home country as 'historic', as indeed it was. This time around, New Delhi exerted itself to make sure there were no overtones of patronage in its welcome to the newly elected prime minister of a small but vitally important country.
Signals of a warm welcome to Oli were evident when aid projections for Nepal were increased by more than 43 percent in the recent budget to reach Rs 650 crore, even while overall allocations of aid to South Asia as a whole fell considerably. Nepal is also to be the beneficiary of India's own belated connectivity project, with rejuvenated rail and road connections and eventually, a waterway connection.
Days earlier, the Integrated Check Post at Raxaul was inaugurated. Here's the problem. That check post was recommended all of ten years ago and a Lands Port Authority was set up in 2008 to implement the setting up of such posts across India's borders to facilitate movement of goods and people, together with facilities for money exchange, and all the paraphernalia that goes with it. It's not that planners haven't foreseen what is needed. The problem is that we take almost a lifetime to get these projects off the ground even after it has been decided positively on from the very top.
By all logical processes of thought, Indian policymakers should have prioritised a range of highways and rail networks to link neighbours into our large economy and through it to other destinations beyond. The Janakpur railway line, for instance, was originally set up by the British in 1937, to bring in much-needed timber, even while it facilitated the movement of small traders. The colonial era rails finally fell into disuse and there were talks of a tie-up between the Indian Railways and the Nepal Railway Corporation.
Again, there were reports of misuse of funds and materials by contractors, and as the joint statement between the two sides noted, while one section – the Jayanagar to Janakpur/Kurtha and from Jogbani to Biratnagar Custom Yard – is to be completed in 2018, the rest is designated as being 'on priority'. Don't hold your breath.
None of this implies that India does not give aid. India gives generously and well, and almost always with prioritisation done by the host country. This means quite realistically, that politicians and leaders of the recipient country get to score points on where they allot aid and when.
That in itself is no bad thing, as long as it gets adequate publicity among the people of that country. A good example was the building of the Afghan Parliament – which was to be completed by June 2013 – which provides New Delhi with a kind of everlasting public positive profile. But it is also necessary that Indian priorities get tied in, so that we shift from simply aid to 'aid and trade'.
Bangladesh, for instance, is also a recipient of Indian aid, with Rs 175 crores sanctioned in this year's budget. Some part of this should go towards improving border facilities at Benapole, where container consignments are reported to be forced to wait for more than two weeks to overcome congestion.
Bangladesh is the ninth largest importer of Indian goods, but bilateral trade is only at $7.5 billion, which incidentally is the rise after it dropped precipitously in previous years. The obvious sea route was only recently opened up, with an agreement for direct shipping signed in late 2015. The first direct ship followed a year later. Earlier, and surprisingly, direct shipping was via Colombo or Singapore. Remember the Cholas? They were sailing out of India into these waters in the third century. Somewhere, we lost our way.
And finally, there is nothing at all remiss in advertising our aid and assistance to friends and neighbours alike, especially so when the glamour of the Belt and Road Initiative is turning heads around us. Information on Indian assistance is meagre and frustratingly outdated and vague.
For instance, a power point presentation 'hidden' cunningly in the Indian Embassy website informs us that the Government of India disburses Nepali Rupees 2,000 crore every year in pensions for 125,000 Nepalis ex-servicemen. That's nice to know. The problem is that there is no indication as to which year this refers to. Nor is there any precise data on the status of ongoing projects and the Indian grant component.
If this is sensitive, the Ministry of Foreign Affairs may like to provide at least a single figure for grants or concessional loans for each country. Next time Beijing comes along with a loan offer, analysts of a recipient country will be able to showcase a few comparative figures to Delhi's advantage. And finally, at the absolute very least, keep the Embassy/High Commission websites updated. Our embassy in Afghanistan is doing sterling work. Try uploading some of it for a current year.
The commitments to Nepal must be kept, and schedules met as far as possible to reverse our reputation for big talk and nothing else. It is inevitable that plans for five rail cross-border rail links will be beset by disputes over land, financial sanction, tendering processes, delivery of aid, and all the rest that paralyses anything we do, including the physical movement of a file from ministry to ministry.
A suggestion for those wanting this to move into the fast lane. Push the project file online, so that its movement can be tracked by top officials. Where there's nothing to hide, throw the doors – or windows – open.  Now that's a connectivity to strive for.
India
Prime Minister Narendra Modi will be paying a day-long visit to Lumbini on the occasion of Buddha Purnima on 16 May
Politics
The Bharatiya Janata Party, powered by Brand Modi, has scored massive victories in Uttar Pradesh and Uttarakhand, while treading new ground in Assam and Manipur
World
The Indian Educational and Cultural Foundation will sign one MoU each with Lumbini Buddhist University and Tribhuvan University and three MoUs with Kathmandu University on Monday