Kosovo president visits disputed area after similar visit by Serbian leader
PRISTINA (Reuters) - Kosovo's president made a rare visit on Saturday to a disputed, mainly ethnic Serb area in the north of the country, angering Belgrade just three weeks after Serbia's president infuriated Pristina by visiting the same area. 'Let's work together for a new Kosovo...Kosovo is one, unique, independent and a sovereign country,' President Hashim Thaci told Kosovo media at Lake Gazivode, an artificial lake in a mainly ethnic Serb area. Serbia's President Alexander Vucic had visited the lake on Sept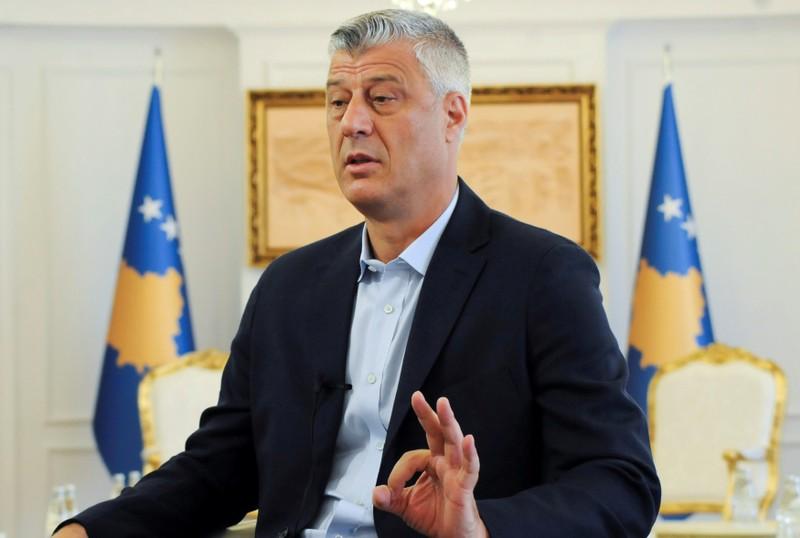 PRISTINA (Reuters) - Kosovo's president made a rare visit on Saturday to a disputed, mainly ethnic Serb area in the north of the country, angering Belgrade just three weeks after Serbia's president infuriated Pristina by visiting the same area.
"Let's work together for a new Kosovo...Kosovo is one, unique, independent and a sovereign country," President Hashim Thaci told Kosovo media at Lake Gazivode, an artificial lake in a mainly ethnic Serb area. Serbia's President Alexander Vucic had visited the lake on Sept. 8.
Kosovo's mainly ethnic Albanian security forces generally stay out of the small, mainly ethnic Serbian pocket of territory in the north, which Kosovo and Serbia dispute.
Thaci was quoted as saying he had coffee with workers at the lake. Serbia accused Kosovo police of seizing control of the lake and briefly detaining four workers. Kosovo said the police were there to provide security for the visit and nobody was detained.
The fate of ethnic Serb villages in northern Kosovo is one of the main issues of disagreement between Serbia and Kosovo, a former province of Serbia which declared independence after Serbian forces were driven out by NATO bombing in a war in 1999.
Both sides have said they could agree to swapping Kosovo territory populated by Serbs for Serbian territory populated by Albanians. However, expectations of such a deal dimmed in recent weeks after a meeting between Thaci and Vucic was abruptly cancelled. Vucic toured the disputed area the next day.
Marko Djuric, head of Serbia's government office for Kosovo, said Serbia was putting its military as well as police under high alert as a result of Kosovo action in the area.
"Due to an Albanian attack against the north of Kosovo and the arrest of some Serbs who have not committed any crime, I ordered the police director to put all special police units in state of the highest readiness," Serbian Interior Minister Nebojsa Stefanovic said.
Vucic was expected to address the nation later on Saturday.
Thaci's unexpected visit to the north came hours before ethnic Albanian nationalists held a planned demonstration in the capital Pristina against the president's willingness to discuss adjusting the border with Serbia.
Moving the frontier "is not a correction but a pain and loss for us", Albin Kurti, leader of the opposition Vetevendosje party, told a crowd of thousands at the demonstration. "Kosovo cannot be partitioned. We will not negotiate independence."
(Reporting by Fatos Bytyci and Ivana Sekularac; Editing by Peter Graff)
This story has not been edited by Firstpost staff and is generated by auto-feed.
World
ATHENS (Reuters) - Greek police used teargas and water cannon to disperse people who had gathered in central Athens on Saturday to protest against mandatory COVID-19 vaccinations. More than 4,000 people rallied outside the Greek parliament for a third time this month to oppose mandatory inoculations for some workers, such as healthcare and nursing staff.
World
ISTANBUL (Reuters) - Two Turkish soldiers were killed and two were wounded in an attack on their armoured vehicle in northern Syria, and Turkish forces immediately launched retaliatory fire, Turkey's defence ministry said on Saturday. "Our punitive fire against terrorist positions is continuing," the statement on Twitter on said. It did not specify where the attack occurred, but media reports said it was in the al-Bab area.
World
By Marcelo Rochabrun SAO PAULO (Reuters) - Protesters took to the streets in several Brazilian cities on Saturday to demand the impeachment of far-right President Jair Bolsonaro, whose popularity has fallen in recent weeks amid corruption scandals against the backdrop of the pandemic. This week, news broke that Brazil's defense ministry told congressional leadership that next year's elections would not take place without amending the country's electronic voting system to include a paper trail of each vote. Bolsonaro has suggested several times without evidence that the current system is prone to fraud, allegations that Brazil's government has denied