Kim's right-hand man sidelined after North Korea-U.S. talks failed: South Korea lawmaker
By Hyonhee Shin SEOUL (Reuters) - North Korea has replaced Kim Jong Un's right-hand man who steered nuclear talks with the United States, apparently blaming him for a failed summit between the two countries, a South Korean lawmaker said on Wednesday.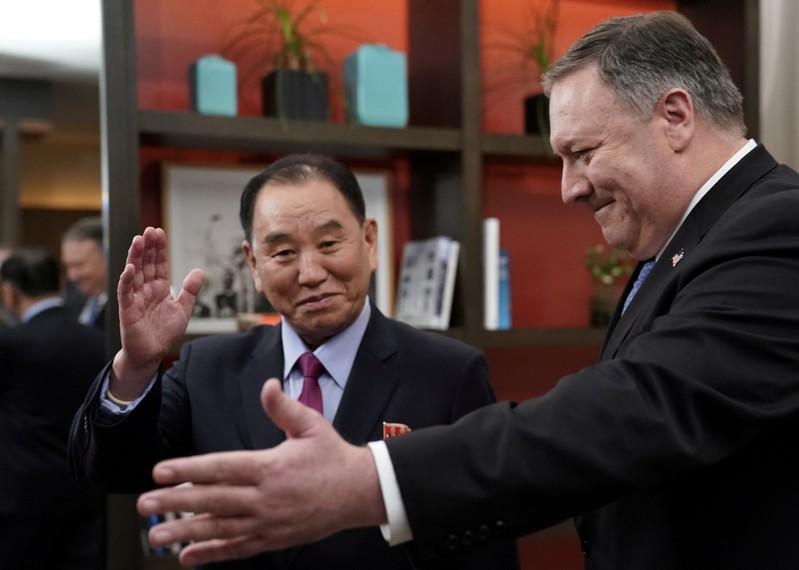 By Hyonhee Shin
SEOUL (Reuters) - North Korea has replaced Kim Jong Un's right-hand man who steered nuclear talks with the United States, apparently blaming him for a failed summit between the two countries, a South Korean lawmaker said on Wednesday.
Kim Yong Chol was removed as head of the United Front Department, the North Korean Workers' Party apparatus that traditionally oversees ties with South Korea and increasingly with the United States, Yonhap news agency reported.
He appears to have been "censured" after the second Trump-Kim summit in February, in Hanoi, failed to reach a deal on the sanctions relief Pyongyang would get in exchange for dismantling its nuclear programme, Lee Hye-hoon, head of South Korea's parliamentary intelligence committee, told Reuters.
The National Intelligence Service and Unification Ministry, in charge of affairs with the North, declined to comment.
A spokeswoman for the U.S. State Department said it was aware of the reports but withheld further comment except to add: "As we have said before, we remain ready to engage in constructive negotiations."
Kim Yong Chol, a hardline military commander who also holds the title of vice chairman of the ruling party's Central Committee, has been Kim Jong Un's top nuclear envoy and counterpart to U.S. Secretary of State Mike Pompeo.
North Korea's foreign ministry demanded last week that Pompeo be replaced in talks by someone more mature. Pompeo said last week he would remain in charge of the U.S. negotiating team.
The future of U.S. engagement with North Korea has appeared to be in limbo since the Vietnam summit, with no sign of direct contact between the two sides.
Kim Yong Chol did not accompany Kim Jong Un to Russia this week for talks with President Vladimir Putin, unlike the North Korean leader's four trips to China and two summits with Trump which the envoy attended as a top aide.
This month, Kim Yong Chol was named a member of the State Affairs Commission, a supreme governing body chaired by the young leader.
Kim Yong Chol's removal from the United Front Department, if true, would be a positive sign for future nuclear talks, said Cheong Seong-Chang, a senior fellow at South Korea's Sejong Institute.
Hawks like Kim Yong Chol have sought to retain the status of nuclear weapons state by offering partial denuclearisation in exchange for the lifting of key sanctions, he said.
"The unrealistic negotiating strategy that Kim Jong Un presented in Hanoi showed that he failed to reach a rational judgement because his eyes and ears were covered by those hawks," Cheong said.
A South Korean official told Reuters it was too early to draw any conclusion about Kim Yong Chol's political fate or its impact on nuclear negotiations.
Lee said Kim Yong Chol was replaced by Jang Kum Chol, a relatively unknown official who the Unification Ministry said had never been mentioned in North Korean state media until this month.
After a meeting of the North's Central Committee this month, the official KCNA news agency said some department directors were replaced. It named Jang as one of the newly appointed directors and a member of the committee.
Kim Jong Un has warned that the collapse of the Hanoi summit risked reviving tension and said he was only interested in meeting Trump again if Washington showed more flexibility, setting a year-end deadline.
(Reporting by Hyonhee Shin and Jack Kim; additional reporting by David Brunnstrom in Washington; Editing by Darren Schuettler and James Dalgleish)
This story has not been edited by Firstpost staff and is generated by auto-feed.
Find latest and upcoming tech gadgets online on Tech2 Gadgets. Get technology news, gadgets reviews & ratings. Popular gadgets including laptop, tablet and mobile specifications, features, prices, comparison.
World
HONG KONG (Reuters) - Hong Kong authorities threw a security blanket across the city early on Wednesday, the 23rd anniversary of the former British colony's handover to Chinese rule, hours after new national security legislation took effect in the financial hub. The contentious law will punish crimes of secession, subversion, terrorism and collusion with foreign forces with up to life in prison, heralding a more authoritarian era for China's freest city.
World
By Susan Cornwell (Reuters) - Former fighter pilot Amy McGrath said on Tuesday she was ready to take on Senate Republican Majority Leader Mitch McConnell after edging out a Black progressive to clinch the Democratic nomination for the seat.
Business
By Rodrigo Campos NEW YORK (Reuters) - A global stocks index rose on Tuesday and marked its largest quarterly gain since 2009 as investors continued to look for signs of an economic recovery while shrugging off data showing a rising number of COVID-19 cases. The possible return of Libyan oil production, which has been at a trickle since the start of the year, weighed on crude prices. World shares rose 18.7% this quarter, the biggest quarterly gain in 11 years, but are still down more than 7% so far this year due to a slump of 34% between Feb.