Khamenei names new chief for Iran's Revolutionary Guards
By Parisa Hafezi DUBAI (Reuters) - Iran's top authority Supreme Leader Ayatollah Ali Khamenei has replaced the head of the influential Revolutionary Guards Corps, state TV reported on Sunday, days after the United States designated the elite group a foreign terrorist organisation. The TV station did not give a reason for the change when it announced the appointment of Brigadier General Hossein Salami to the position and his promotion to the rank of Major General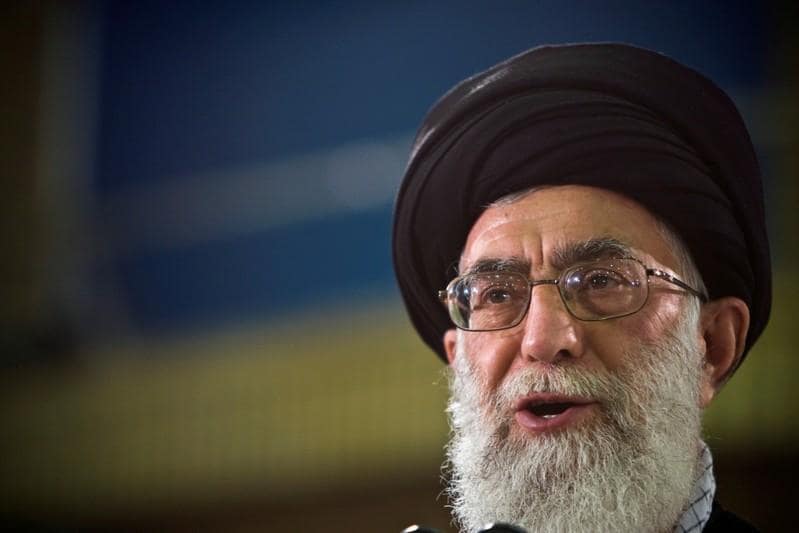 By Parisa Hafezi
DUBAI (Reuters) - Iran's top authority Supreme Leader Ayatollah Ali Khamenei has replaced the head of the influential Revolutionary Guards Corps, state TV reported on Sunday, days after the United States designated the elite group a foreign terrorist organisation.
The TV station did not give a reason for the change when it announced the appointment of Brigadier General Hossein Salami to the position and his promotion to the rank of Major General. He
served as deputy commander of the Guards for years and is known for his hardline comments against Israel and the United States.
"The Supreme Leader has appointed Salami as the new commander-in-chief of the Guards, who will replace Mohammad Ali Jafari," it said.
Major General Jafari had held the post since September 2007.
President Donald Trump on April 8 designated the Guards a terrorist organisation, in an unprecedented step that drew Iranian condemnation and raised concerns about retaliatory attacks on U.S. forces. The designation took effect on April 15.
Tehran retaliated by naming the United States Central Command (CENTCOM) as a terrorist organisation and the U.S. government as a sponsor of terrorism.
On April 13, Salami was quoted by Iran's semi-official Tasnim news agency as saying that he and the IRGC were proud of being designated a terrorist group by Washington.
POLITICAL CLOUT
The IRGC, created by late Ayatollah Ruhollah Khomeini during Iran's 1979 Islamic Revolution, is more than a military force. It is also an industrial empire with political clout and is loyal to the supreme leader.
Comprising an estimated 125,000-strong military with army, navy and air units, the Guards also command the Basij, a religious volunteer paramilitary force, and control Iran's missile programmes. The Guards' overseas Quds forces have fought Iran's proxy wars in the region.
The IRGC is in charge of Iran's ballistic missile and nuclear programs. Tehran has warned that it has missiles with a range of up to 2,000 kms (1,242 miles), putting Israel and U.S. military bases in the region within reach.
Salami, born in 1960, said in January that Iran's strategy was to wipe "the Zionist regime" (Israel) off the political map, Iran's state TV reported.
"We announce that if Israel takes any action to wage a war against us, it will definitely lead to its own elimination," Salami said after an Israeli attack on Iranian targets in Syria in January, Iranian media reported.
Israel sees Iran's nuclear and ballistic missile programmes as a threat to its existence. Iran says its nuclear work is for peaceful purposes only.
Israel, which Islamic Iran refuses to recognise, backed Trump's move in May to quit a 2015 international deal on Iran's nuclear programme and welcomed Washington's reimposition of sanctions on Tehran.
(Writing by Parisa Hafezi; editing by William Maclean and Emelia Sithole-Matarise)
This story has not been edited by Firstpost staff and is generated by auto-feed.
Find latest and upcoming tech gadgets online on Tech2 Gadgets. Get technology news, gadgets reviews & ratings. Popular gadgets including laptop, tablet and mobile specifications, features, prices, comparison.
Business
By Diptendu Lahiri (Reuters) - Gold prices surged to their highest since October 2012 on Tuesday, driven by a weakness in the U.S. dollar and widespread monetary stimulus packages by central banks as a jump in coronavirus cases dents the economic outlook
Business
By David Shepardson WASHINGTON (Reuters) - India's ministry of civil aviation said on Tuesday it was considering allowing some international carrier flights to resume after Washington accused India of "unfair and discriminatory practices." The Indian ministry said in a statement posted on Twitter that as "we move from controlled and managed aviation evacuation of our citizens in different parts of the world and foreign nationals from India, we are now looking at the possibility of establishing bilateral arrangements." The U.S. Transportation Department issued an order Monday to require Indian air carriers to apply for authorization prior to conducting charter flights beginning in 30 days. The department sought "to restore a level playing field for U.S.
Business
By Devik Jain and Medha Singh (Reuters) - Wall Street's three major indexes rose on Tuesday as improving economic data and the prospect of more stimulus bolstered hopes of a swift recovery, while a jump in technology shares powered the Nasdaq to another record high. White House advisor Larry Kudlow said tax rebates and direct mail checks are on the table in the next coronavirus relief bill.