Kerry meets Saudi king to discuss Syria before Vienna talks | Reuters
JEDDAH U.S. Secretary of State John Kerry met Saudi Arabia's King Salman in Jeddah on Sunday to discuss the fragile truce in Syria, before broader talks with Russia, Iran and other countries in Vienna on Tuesday. Kerry has said he hopes to strengthen a 'cessation of hostilities' agreement between Syrian government forces and rebels, which has been undermined by fighting in some areas, and to increase humanitarian aid deliveries to besieged areas
JEDDAH U.S. Secretary of State John Kerry met Saudi Arabia's King Salman in Jeddah on Sunday to discuss the fragile truce in Syria, before broader talks with Russia, Iran and other countries in Vienna on Tuesday.
Kerry has said he hopes to strengthen a "cessation of hostilities" agreement between Syrian government forces and rebels, which has been undermined by fighting in some areas, and to increase humanitarian aid deliveries to besieged areas.
On Friday, he said the meetings with the king and the Saudi interior and defence ministers - the two most senior princes - would try "to make sure that we can get this cessation better footed and, frankly, better observed and implemented throughout the country."
The United States, Saudi Arabia and some other Western and Gulf states plus Turkey back rebels fighting to remove President Bashar al-Assad, who has military support from Russia and Iran.
However, diplomats in the Gulf say Saudi Arabia sees U.S. support for the rebels as inadequate, and fears that Washington may abandon their shared stance that Assad must immediately leave power as part of any negotiated political deal.
Kerry and his Saudi counterpart Adel al-Jubeir have previously characterised disagreements over Syria as being limited to "tactical differences" not objectives.
On Tuesday the United States and Russia will co-chair a meeting of the International Syria Support Group, which includes Arab League and European Union countries as well as Turkey, Iran and China.
(Additional reporting by Angus McDowall in Riyadh; Editing by Robin Pomeroy)
This story has not been edited by Firstpost staff and is generated by auto-feed.
World
Reports suggest that they captured President Alpha Conde and dissolved the government, bust the ground situation remains unclear
World
Their official meeting or reunion took place on Monday (13 September) in Texas, but the two had earlier met at the border last week. They met each other after communicating on social media.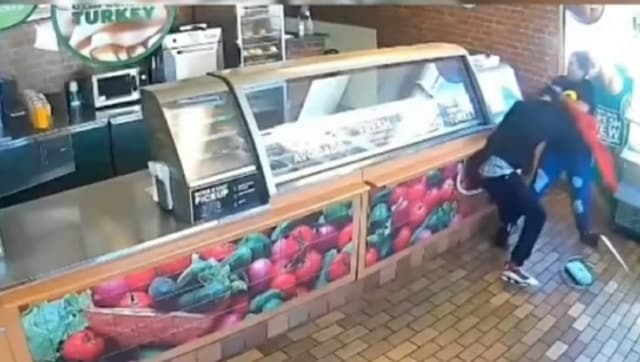 World
The video, captured on 5 September, shows Sotelo fighting off an armed robber, hitting him repeatedly with his own gun.